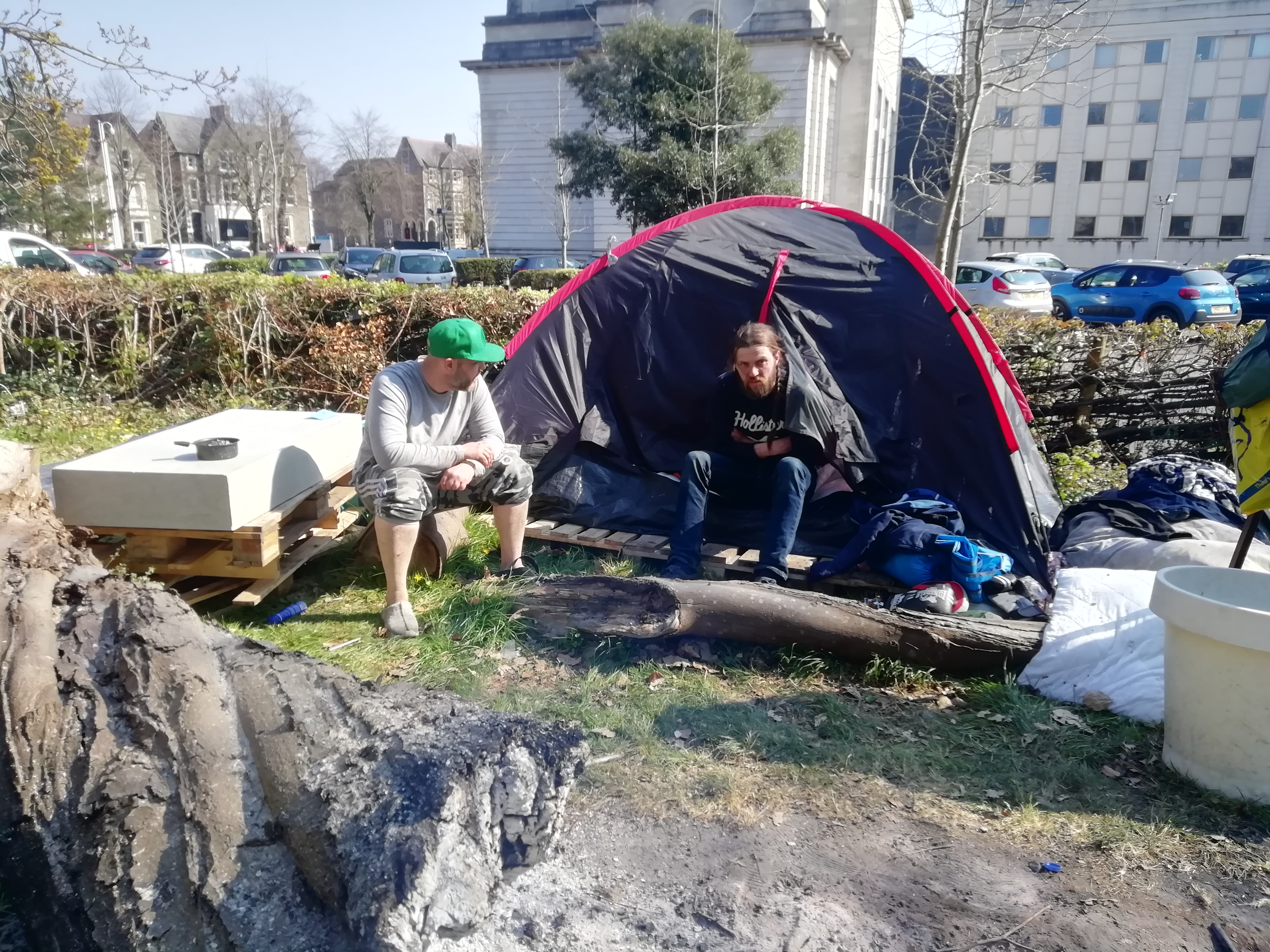 HOMELESS people are staying put in tents on Museum Avenue despite a 24-hour notice of leave issued on Wednesday.
Cardiff council says "anti-social behaviour" and "health and safety concerns" led them to start removing tents from Museum Avenue fields.
On Wednesday a 24-hour notice was issued to those in tents on the field by Cardiff's Student Union.
This follows action in February when tents were removed from the centre of town.
Despite heavy criticism, Coun Lynda Thorne defended this plan last week. "Authorities are only removing tents that have been left empty for at least 24 hours," she said.
However, two tents still remain on the site. The group of three moved to the site only yesterday and today refused offers of housing assistance from the council. They are determined to remain on the field.
One of the three men, Jay Burnett, told The Cardiffian: "The other tents have just been moved on but we want to stay here because we have more rights here than if we were in a hostel.
"I won't go in a hostel if it smells too bad. On top of that you are constantly watched on camera yet people steal your things. You could have a nice pair of shoes, go to sleep, wake up and there's two people fighting over whose they are."
Another of the men, who wishes to remain unnamed, travelled down from the Midlands but says the problem in Cardiff is far bigger than it is there.
In January he was sleeping outside shops on cardboard as there was no other options available.
He said: "I would rather have frozen to death out there than stay in one of these hostels. Worse yet, it's the way that they treat you when you are removed."
The council has said that it is working with tent occupiers and encouraging people to engage with the services on offer.
It claims that since January they have helped 40 rough sleepers into accommodation, 14 of whom were occupying tents.
A Cardiff council spokesperson said: "Our outreach team have made numerous attempts to engage with tent occupants there, to provide information and to help them access accommodation and support services. However, some are refusing to engage with us.
"As the encampment is in breach of a bylaw prohibiting tents being erected in Cardiff parks, a notice to leave was issued to the tents on Wednesday giving individuals 24 hours to remove the tents, before council and police officers attended to remove them."
Mr Burnett believes that for the problem to be tackled "moving people on" is not the way to do it. He believes that authorities should let homeless have a chance to govern themselves.
He added: "If the council employed some of us, we could tackle the problem within and police ourselves. We know who is who, we can set up a tent complex that welcomes all the homeless and help to stop this cycle.
"We need to work together to tackle this. Maybe we could have a coffee shop, entirely employed by homeless and if anyone breaks the rules they're out. We want to share opportunities amongst those of us and support each other."
In January, Councillor Kathryn Kelloway came under fire when she called for tents to be "torn down" from the centre of town.