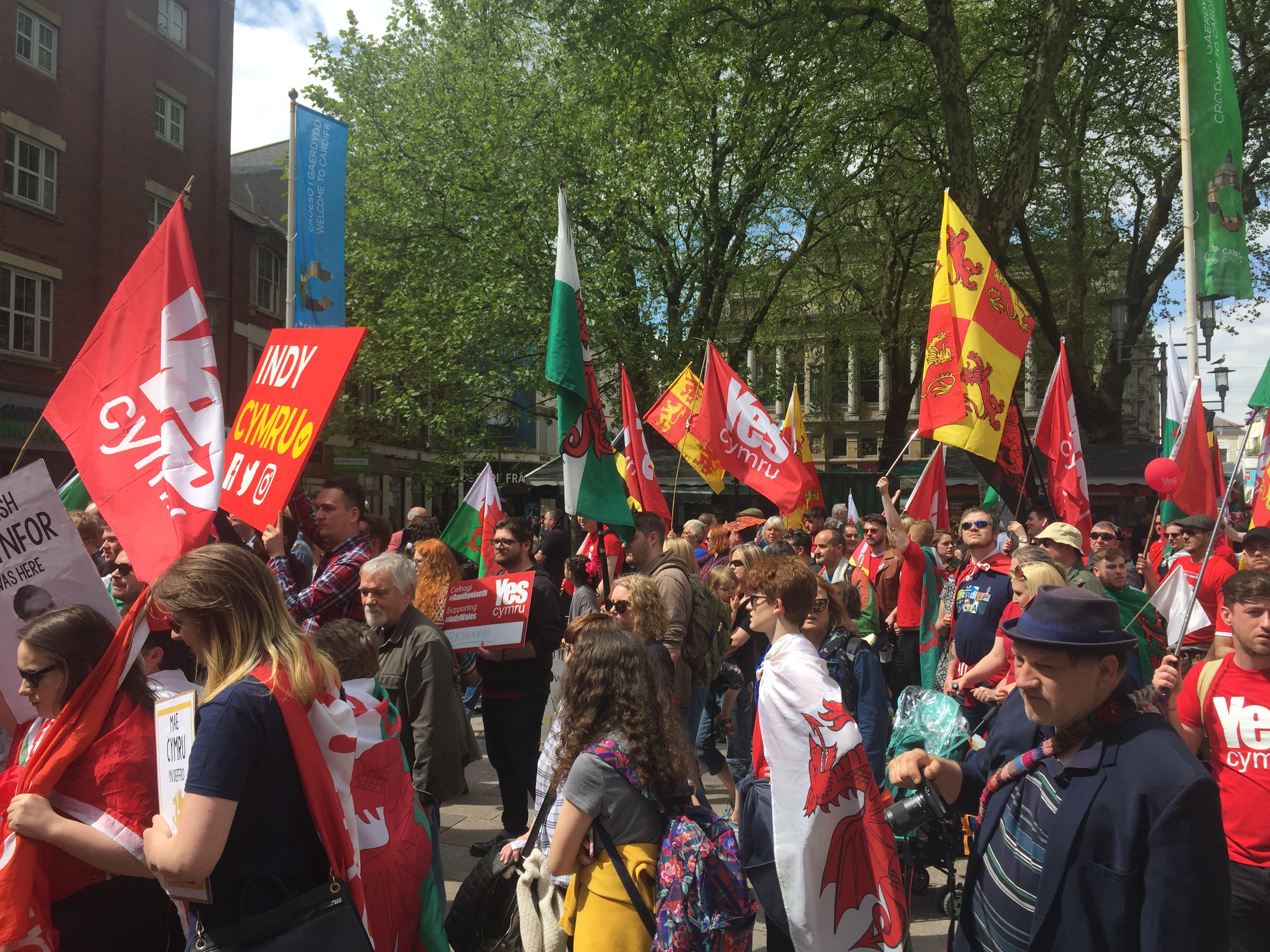 CARDIFF city centre was alive with chants, music and flying flags today as hundreds of people marched in support of Welsh independence.  
Organised by All Under One Banner Cymru, this afternoon's march has been dubbed the "first ever" event of its kind. People from all over Wales and further afield flocked to show support for the cause.  
One independence supporter, Graham Bowen, 57, from Cardiff, said: "I'm marching to show the amount of support for an independent Wales, which would be much better than it is at the moment economically with Brexit hanging over us.  
"Brexit will be absolutely catastrophic for Wales and I think the only way is for an independent Wales within Europe."  
Families, individuals and organisations rallied together to promote Welsh independence, marching from City Hall and along Queen Street. People from Ireland, Scotland and Catalonia also showed their support.  
Katie Hall, 23, from Cardiff, said: "Welsh independence should be a thing. I hope people who have doubts about it now have confidence that we can be an independent country because a few years ago that seemed impossible."  
Marika Fusser, 48, travelled from Caernarfon to fight for Welsh independence.  
She said: "Wales should be looking after itself. It has very different priorities from England, so why should England decide what Wales does or doesn't do? 
"I hope this raises awareness and that there will be even more people next time."  
Supporters gathered at The Hayes, where notable figures and politicians made speeches about Welsh independence and how it could lift Welsh communities from poverty, improving the nation's health and economic prosperity.  
Ben Gwalchmai, Labour for Independent Wales, said: "What England votes for, England gets. That is why we have to change. Our movement is for fairness, justice and a better future for Wales."  
Plaid Cymru leader, Adam Price, won the hearts of the crowds with promises that independence will "abolish poverty, premature death, sickness, homelessness and despair in Wales".  
He said: This march is a milestone on the path to freedom. Wales is waking, rising and rejecting second-class status to claim its place as an equal among Europe and the rest of the world." 
Mr Price shared a promising outlook for Wales' future, suggesting independence could create the opportunity to become an "energy powerhouse" once more, harnessing its tidal and wave power potential.  
Supporters were captivated by Mr Price's emotive speech. He said: "When this great story of our nation's independence will be written in the very near future, it is this generation that will be able to say we got there because we marched united in one goal under one banner. We marched with our minds and our hearts already free."