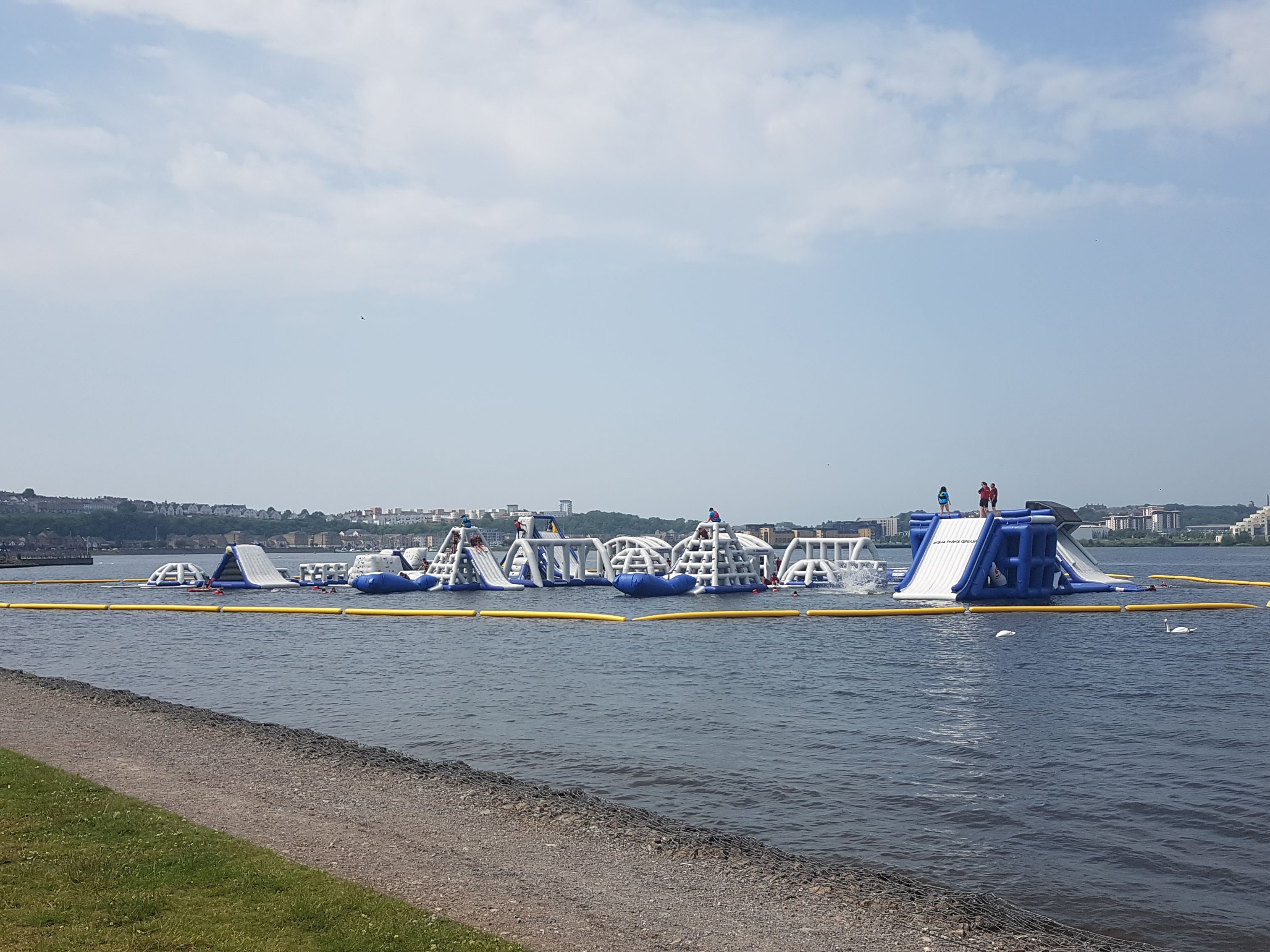 A HUGE water park has opened on Cardiff Bay for the summer, the first of its kind to come to the Welsh capital.
The park looks like a floating obstacle course and features slides, climbing walls, trampolines, blast bags and towers to jump off.
Head of marketing for operators Aquapark, Daniel Griffiths, likened the course to popular action game show Total Wipeout.
"You come down and have a watch and you can see people enjoying themselves.
We have a big obstacle over in the corner which you can do somersaults and flips off and it's always fun to watch people trying to land those."
Aquapark Cardiff opened this weekend on Saturday, June 29and will be open seven days a week until Monday, September 9.
Those brave enough to take on Cardiff Bay's chilly waters will have 50 minutes to try and get around the massive course, which measures 100 metres by 80 metres.
Visitors are given a wetsuit and a life jacket floating aid.
Mr Griffiths added that participants are welcome to wear goggles and said beach shoes can help with climbing over the slippery course.
The course has plenty of sections with something for everyone.
Brave adrenaline seekers can try somersaulting off high towers or attempt the monkey bars.
A popular obstacle with participants and onlookers was the blast bags, with large cheers from the crowds every time someone was launched into the air by a friend jumping on the bag behind them.
At the end of a session on the opening day, one young girl could be heard shouting: "That was the best thing I have ever done in my life!"
Mr Griffiths said: "Everybody seems to be really enjoying it."
The park is staffed on the water by several lifeguards on large obstacles and another in the water.
You must be eight years old or above to go on the park and be able to swim 25 metres unaided.
Tickets must be booked in advance through the website.
They are £20 and cover the cost of a 10-minute briefing, a wetsuit and a life jacket floating aid.