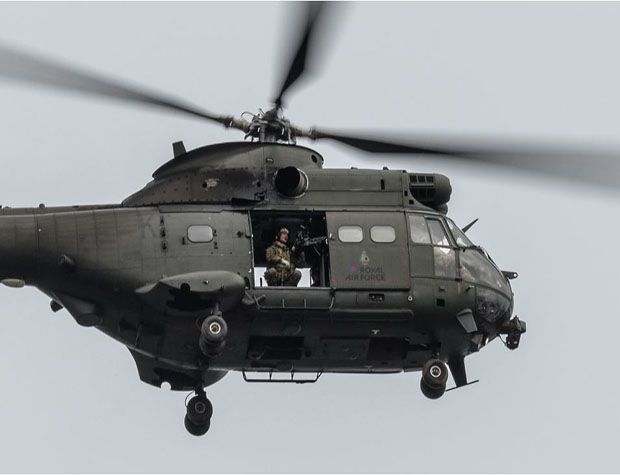 Puma helicopters from the RAF's 33 Squadron have landed near the Wales Millennium Centre and Cardiff Castle, to the delight of onlookers
RESIDENTS of Cardiff have been surprised by the appearance of military helicopters across the city.
The helicopters are part of 33 Squadron of the Royal Air Force and are taking part in Exercise Dragon Hart.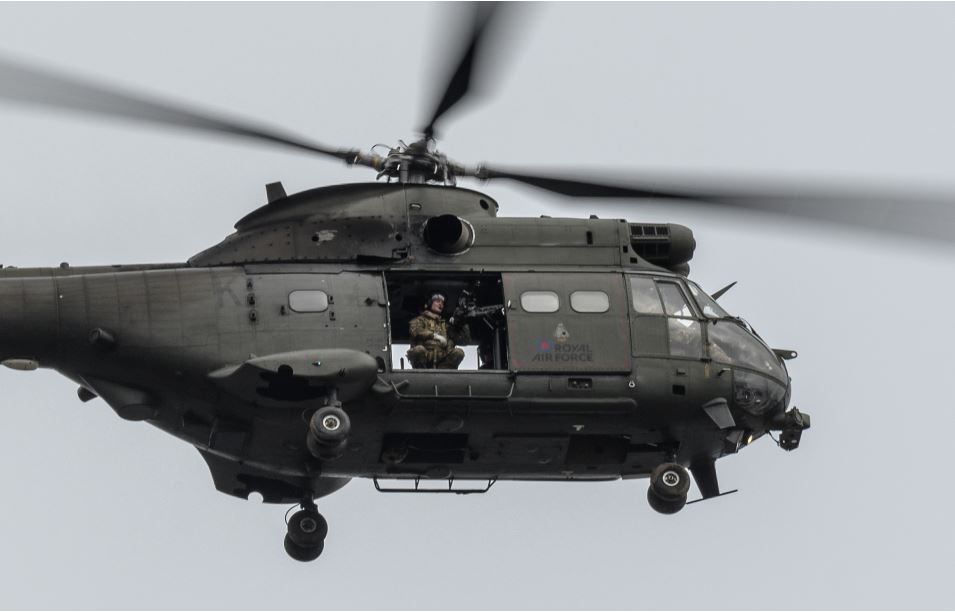 The Puma helicopters have caused excitement as they appeared in different locations in and around the city, from outside the Wales Millennium Centre to a field next to a school.
Peter Howlett, of Butetown, photographed the helicopters from his back garden on Tuesday afternoon.
"I saw them fly over my house and went out to take some pictures," said Mr Howlett, who photographs wildlife and landscapes as well as aircraft.
"I'd also seen them fly over Cardiff Bay the night before and looked up what they were doing. From that, I found out that it was Exercise Dragon Hart."
The Squadron, whose headquarters are at RAF Benson in South Oxfordshire, has been taking part in essential training in the Cardiff, Newport and Swansea areas ahead of their deployment to Afghanistan later this year.
The team is training alongside South Wales Police and using numerous authorised landing sites around Cardiff, as well as flying by day and by night to hone their skills in a safe environment.
Nigel Harris, from Barry, works in Cardiff and Newport, where he says an army Chinook helicopter flies over his workplace every week.
Mr Harris saw two of the Puma helicopters land alongside Cardiff Castle on Wednesday.
"As I was walking into town towards Canton Bridge I could see one of them peel away and lower as it got to the castle. It was quite dramatic in a way," Mr Harris said.
"The Puma pulled up to the clock-level part of it, and then reversed and dropped into the castle.
"I didn't see too many military there. There was someone who was flying the helicopter and one military man in the back who walked off towards the back of the castle and spoke to a couple of people.
"They jumped back in the helicopter about five minutes later and flew off. It's a novelty sight to what you usually see in Cardiff city centre at lunchtime."
Mr Harris added that he had seen one of the helicopters in Barry on Tuesday, and that those on social media had reported them landing in various other Cardiff landmarks.
"They seem to be dropping into a number of locations, so perhaps they're just testing out landing sites and access to certain areas," he said.
According to RAF Benson, the team is not just on pre-deployment training. They have also been training for unplanned scenarios that they may face during other operations, such as national standby or disaster relief.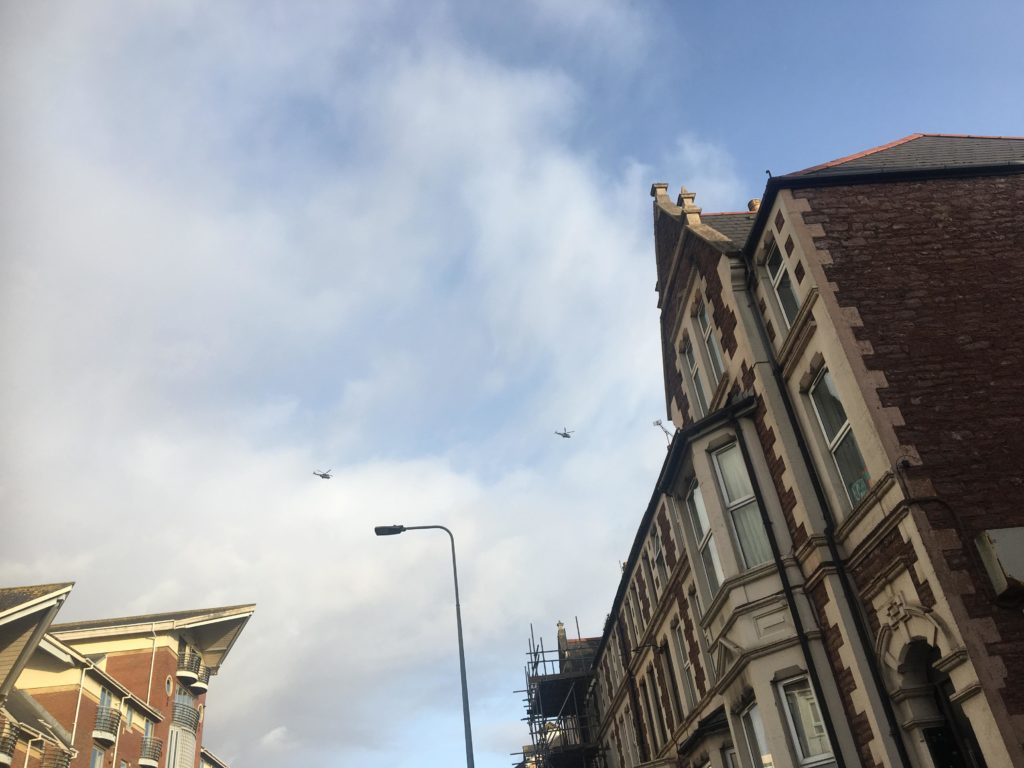 Carys Jones, a teacher at a Leckwith school, saw the helicopters hover in the field next to her classroom.
"They were just hovering around, whipping children into an absolute frenzy. One airman did a wave as they left, much to the utter joy of the pupils," she said.
The Puma crews also landed alongside the Senedd in Cardiff Bay, a first for the team training in Exercise Dragon Hart.
"Team Benson crews routinely operate in urban environments when deployed to Afghanistan as part of Op Toral, so need to practise their skills in the safety of the UK," an RAF Benson spokesperson said.
Operation Toral is the codename for British military presence in Afghanistan post-2014 as part of NATO's Resolute Support Mission.
"We are continuing to work alongside the military in a training exercise. You should expect to see puma helicopters flying across and landing at a number of sites in South Wales today and tomorrow," South Wales Police said in a tweet on Wednesday.
"Please don't be alarmed. This is part of our ongoing work to keep South Wales safe," they added.
The RAF said that the Puma aircraft can carry 16 passengers, 12 fully equipped troops or up to two tonnes of freight.
It is used in a variety of combat roles, such as moving troops, weapons, ammunition and stores on the battlefield, and the extraction of casualties and in response to medical emergencies on the frontline.
It is also employed during non-combatant evacuations, and humanitarian and disaster relief operations.
RAF Benson said that they had now completed their final night flight in Cardiff.