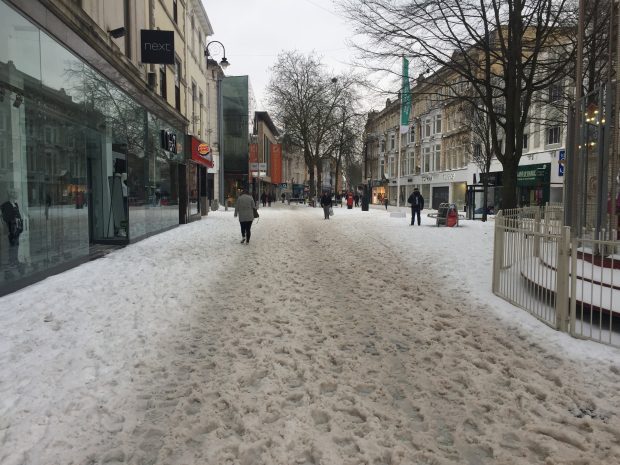 BUSINESSES across Cardiff were affected by the snow today, as many closed their doors to customers.
Fashion retailers Primark, River Island, Topshop and Zara on Queen Street shut due to the adverse weather.
However, some smaller shops have braved the snow to provide their services.
Wally's Delicatessen in the Royal Arcade is still open to sell food from around the world.
Assistant manager, David Richards said: "We have had a disastrous day, people have been told to stay indoors and they have done.
"We normally always try to open to the public and make the effort to come in, but its not as busy as we normally would be.
"We will still be open tomorrow, but there's going to be a lot of snow still, so it will be another quiet day."
Shopper Hayley Doroshenko-Nuttall, 21, said:  "I'm with a friend and we are about to go and make a snowman in Bute Park.
"We're surprised to see so many stores open like KFC and Office. I love the snow, I have about 19 layers on and I'm boiling."
Convenience store, SPAR on Queen Street is also still open.
Manager, Hamid said: "It's affected our store big style. We are most probably down by 75%.
"Queen Street is never like this, there's nobody around."
It is not just shops that are still providing their services.
Admiral car insurance, whose head offices are in Cardiff is still open.
James Carnduff, head of communications said: "Our offices are open but we have stressed to staff that they are only to come in if it's safe for them to do so.
"Staff safety is our number one concern. For those who have made it in, the canteens are giving out free hot food."
A spokesperson for Welsh Water said: "Our teams are working in the most challenging of weather conditions.  
"We do plan for these conditions and have invested in vehicles and equipment to help minimise as much as possible the impact of the weather on our operations.
"Maintaining services and supplies to customers in these difficult conditions is hugely challenging.
While maintaining services to all of our customers is important, we are prioritising responding to vulnerable customers who are having any problems."
The Royal Mail is also facing difficulty around the UK. A spokeswoman said: "Royal Mail is continuing to attempt to deliver to many UK addresses today.
"We are doing all that we can to get mail to our customers where it is safe to do so and apologise for this temporary disruption to our services."