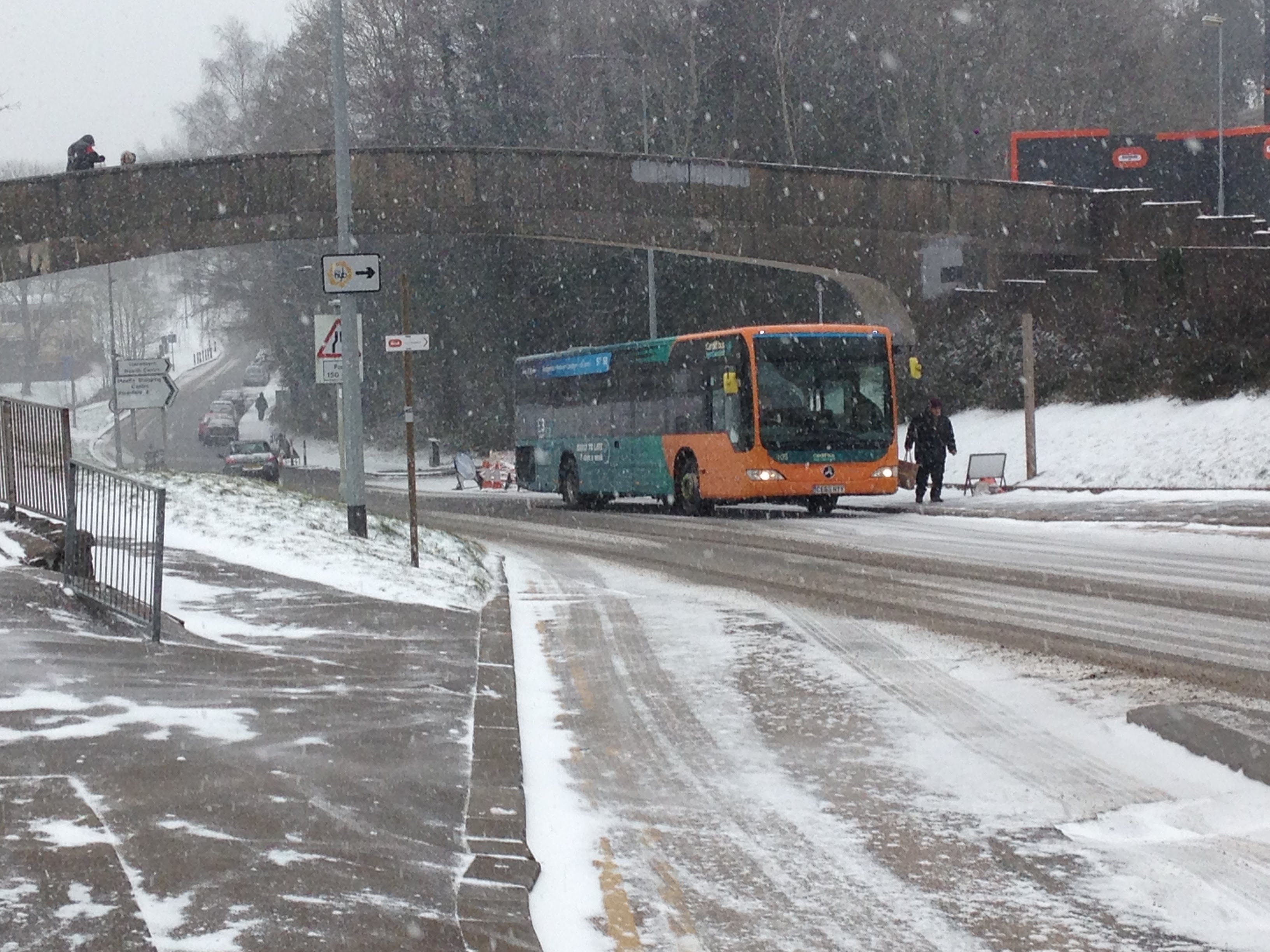 PASSENGERS have thanked Cardiff Bus drivers for ploughing on despite terrible road conditions last night.
The Cardiff Council-run bus service suspended all routes today but hopes to resume services at 8am tomorrow, depending on road conditions.
Passengers from around Cardiff took to social media to thank the Cardiff Bus drivers for their good work and coping under Storm Emma's treacherous roads.
Kath Wilson, 48, of Heath, said she was pleased that Cardiff Bus managers kept drivers off the roads as conditions worsened.
@Adrian1Robson Well done Cardiff Bus..you've risen to the occasion today. Get your drivers home safe &sound. Shocking conditions

— Kath Wilson (@katsitter) March 1, 2018
Darren Trebilcock, of Tremorfa, caught one of the last no. 2 Cardiff Bus services to Cathays last night and said "the back of the bus still tried to spin us" even at 10mph.
Mr Trebilcock, 44, said he was glad the Cardiff Bus was cancelled today so drivers and passengers kept safe.
"I'd rather see a cancelled bus than a crashed bus," he said.
Nigel Rutherford, a Cardiff Bus driver on the 57 route to Asda Pontprennau at lunchtime yesterday believed that the roads would become "more dangerous overnight".
"We have just got to concentrate and take it slow," he said.
Important Announcement – there has been little improvement in road conditions. Given weather forecast for this afternoon all of our services will remain suspended for the rest of today. We hope services will resume at around 8am but please check for updates. #cbupdate pic.twitter.com/2S1JYq1xOJ

— Cardiff bus (@Cardiffbus) March 2, 2018
But some felt 6pm was too late for Cardiff Bus to finish yesterday given that conditions made it difficult for drivers to get home.
Kelly Pinnell-Davies, 33, was concerned for the wellbeing of the drivers after they finished their shifts during Storm Emma.
"Driving a car in these conditions can be frightening and difficult, they're driving a few tons of metal with 50 lives on board.
"I know people will say 'they're just bus drivers, look at doctors and nurses' but without transport, no one gets anywhere," Ms Pinnell-Davies, of Pengan Green, added.
A spokesperson for Cardiff Bus denied claims that Cardiff Bus drivers slept in their depot in Leckwith, after being unable to get home on the treacherous roads.
"We have a robust and well tested cold weather plan. We had arranged hotel rooms, of which one driver took up that option. A supervisor also dropped off some of the last drivers in their own 4×4 vehicle," they said.
It is hoped that Cardiff Council's gritters and snow ploughs will make road conditions safe tomorrow.