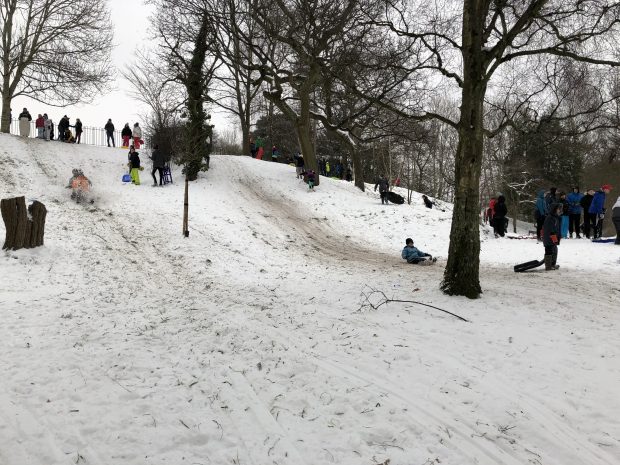 PARKS, hills and steep roads are being taken over by Cardiffians of all ages today, as sledging enthusiasts search for the best spot in Cardiff.
Sledgers and skiers have been spotted in Llandaff Fields, Insol Court, and on Pencisely Road to name a few.
Thomson Park in Llandaff reopened today after health and safety closed the steep slope yesterday evening.
Chris Rees, 44, from Llandaff has been sledging since he was four and now enjoys taking his daughter on the very same slopes in Llandaff Fields.
"This is my first time sledging for 20 years, it's great to take the kids out though. We have been to some of the same places I used to sledge on. It's also our dog Scout's first snow, she's really enjoying it.
"I remember the winter of 1982, we were off school for two weeks, building igloos and having snowball fights. I could have jumped out of my bedroom window into that snow drift, it was halfway up the house.
"I'd probably say that Wenallt Road, going north of Rwibina, is the best sledging spot in Cardiff.
Claire Capelin, 60, from Llanishen, has fond memories of Wenallt Road, using her "custom-built" sled: "My father made me a wooden sledge out of a pair of gates that were painted green. We walked from Ty-Wern Rd to the Wenallt pulling the sledge by its washing line rope.
"The sledge was kept in the garage and then moved to my shed when I got married in 1982. The next time it got used was by my daughter when she was about six or seven.
"I was unwell when it snowed, but my determined daughter went next door and asked the neighbours to pull her up the slope outside my front garden so she could slide the slope."
Cardiff Ski and Snowboard centre was also open today, the artificial surface using a thick covering of snow to give enthusiasts a more realistic skiing experience.
"Some proper snow for Cardiff's ski and snowboarders. It's fantastic," said Martin Stanton, 38.