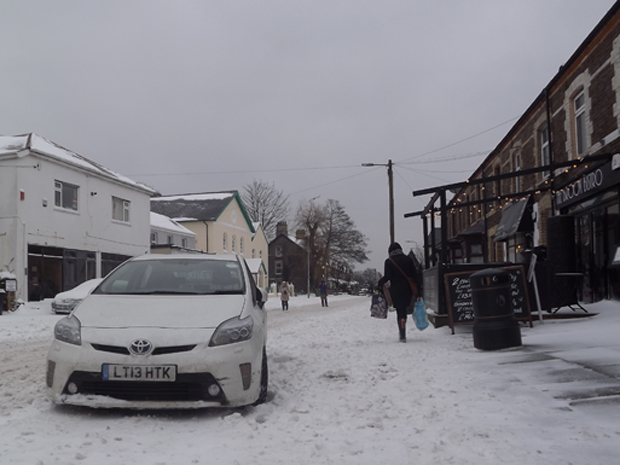 HEAVY snow has hurt High Street profits for small business owners in Whitchurch Village.
Many employers closed shop on Friday as employees and customers have been unable to get into the village due to disruption.
Paul Jenkins, owner of Talking Heads hairdressers, believes that he has lost "a lot of money" due to the snow.
Mr Jenkins decided to open but by 10am 12 of his 15 clients had cancelled. Three of his employees were also unable to get in as they live in Rumney, Ely and Llanedeyrn.
"Thursday, Friday and Saturday are our busiest times," said Mr Jenkins.
The only client in Mr Jenkins's salon is his wife, Sue, a lecturer at Cardiff University, which has also been closed due to adverse weather conditions.
Mr Jenkins has never seen snow as "bad" as this since he opened in 1997.
Wintry conditions mean Cardiff Bus are not running through the village. Arriva Trains Wales have also suspended services to Whitchurch until further notice. Only a few cars, mainly 4x4s, have braved the icy roads into the village.
Roger Walters, owner of Roger Walters TY NI Interiors, thinks events like this have a "devastating effect" on businesses in the village.
Mr Walters has only seen snow this heavy once in the 40 years that he has been open.
"The only thing I'm selling is spades and snow shovels," said Mr Walters, who has sold four already this morning.
Gee & Hayes, another hair salon across the village, has stayed closed on Friday after also being shut on Thursday.
The salon was fully booked but co-owner Adrian Gee had to cancel appointments for more than 30 clients.
While Mr Gee admits that the situation is "frustrating" he also points out that "clients won't go anywhere."
"It's just putting life on pause," said Mr Gee, who believes that people should make the most of the snow while it is here.
The last time Mr Gee saw winter conditions like this was in 1982.
"Hopefully we will be open tomorrow," said Mr Gee.
For now he plans to go sledging with his wife Ceinwen and two daughters, Sophie and Tegan. They still have to dig out their sledges, which are buried in their snowy back garden.