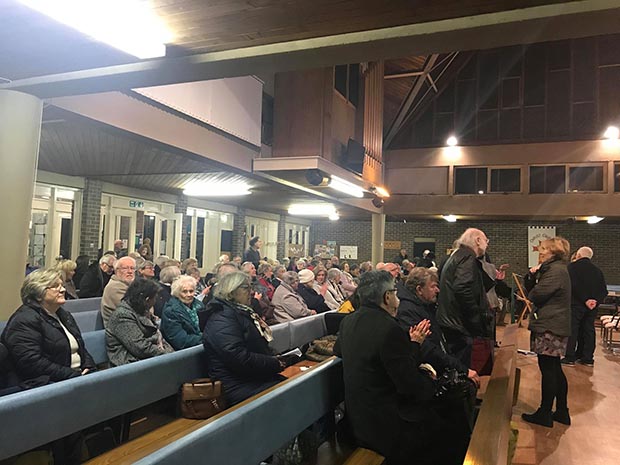 Reduced services are unfair, unreliable and unrealistic, say residents
BUS service cuts around Roath Park Lake are isolating elderly residents in Cyncoed, a meeting at Christ Church, Lakeside, heard.
At the meeting on Tuesday evening, attended by 137 people, Cardiff Bus spokesperson Councillor Chris Lay heard from angry residents.
Councillor Chris Lay heard residents' complaints (Image: Howard Kilvington)

137 people attended the meeting at Lakeside Christ Church (Image: Howard Kilvington)
Campaigner Ruth Davies said: "The 28 route via Shirley Road and Lakeside served a large area of Cardiff and a lot of people living here relied on it to get to the shops, cafés, churches and GPs.
"Many of them are elderly, or have mobility issues, and they cannot walk to the other side of the lake."
"People need to get out of their homes to feel that they are part of the community," she said.
Last March Cardiff Bus reduced the number 28 service to cover only Lake Road East and removed the number 54 service, leaving Lake Road West and Mackintosh Place without any bus service.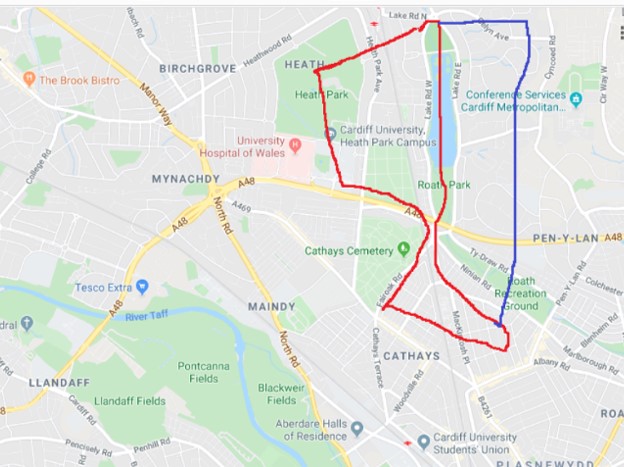 Chris Blackler, 75, lives on Lakeside Drive. She works in the city centre and used to wait 45 minutes for her bus to arrive. Now she drives part way and catches a more reliable bus route into the city.
Ms Blackler said: "I was fed up with waiting for a bus which would then be cut with no explanation.
"I have been so frustrated at the lack of compassion from Cardiff Bus. We are reliant on the service and they've abandoned us.
"They want us to give up and stop using them altogether, so that they can justify the cuts," she said.
Residents complained their buses are often late, and the stops are uncomfortable and inaccessible.  
They also said that electronic information boards at the stops were inaccurate, but residents depend on these because they cannot use the Cardiff Bus app.
Howard Kilvington, a campaigner from Lake Road West, asked why Lakeside residents usually have to wait over 30 minutes for a bus.
Mr Kilvington said: "In areas like Pentwyn, Pontprennau and Roath, buses arrive every six minutes.
"But too many buses serve Albany Road, it's over-crowded and over-polluted. This doesn't align with the recent White Paper published by the council
"Surely some of these buses can be redirected up to Cyncoed," he said.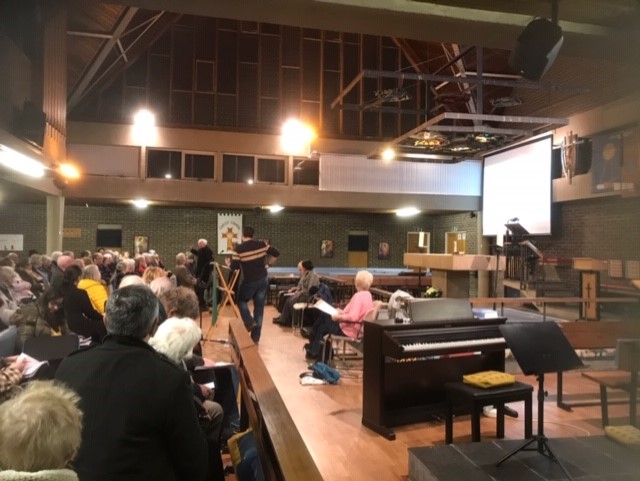 Coun Lay said: "Back last year, Cardiff Bus had financial difficulties, and one way around this was to cut some of our services.
"It was a city-wide problem, and we have to make our services financially viable.
"It was a really hard decision to make, and I recognise that this is about reliability and availability.
"I can't make promises, but I will be taking this feedback to Cardiff Bus," he said.
Coun Lay said he would be meeting with Councillor Caro Wild, cabinet member for strategic planning and transport, next week to discuss what happened during the meeting.
Councillor Bablin Molik, Cyncoed Liberal Democrat, said: "We still don't have the answers we want but hope that we soon will after Councillor Lay's next meeting with Cardiff Bus."