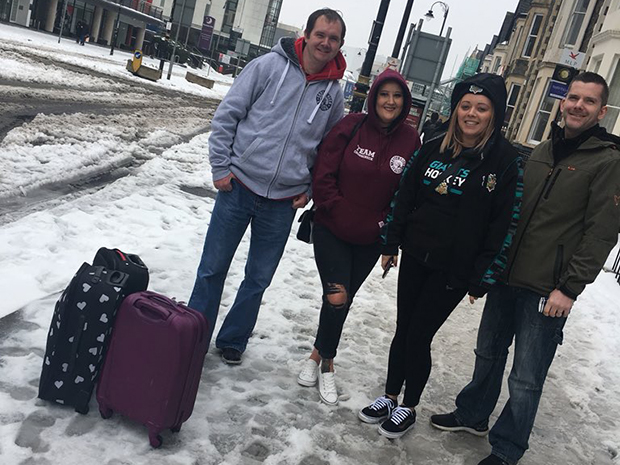 RIVAL ice hockey fans came together over the weekend to help each other get to the Challenge Cup final In Cardiff on Sunday.
Cardiff Devils and Belfast Giants were scheduled to play each other in the cup final at Ice Arena Wales on Sunday, but Storm Emma threatened the traveling fans.
As snow battered the UK, flights and trains up and down the country were cancelled and roads were icy and unsafe to drive on.
However members of the 'Red Army', the Devils fanbase, put themselves forward to brave the treacherous conditions and help Belfast supporters make it to the game.
Fans posted their willingness to help rival fans on Twitter, advertising for lifts from the airport.
@BelfastGiants any fan want picking up from cardiff airport sunday pm me i have a 7 seater so can pick up 6

— derrick farr (@FarrDerrick) March 3, 2018
One such Devils fan was Chlo Jones, who picked up some Belfast fans from Bristol Airport and safely brought them back to Cardiff.
Giants fans Stephen McBlain, Lynsey Sanders, Jo Sheehan and Gavin Sheehan were lucky as their flight was on time on Saturday, whereas other services were still having problems.
Ms Jones said: "I met them when I went to Belfast last year, was just in the sports bar afterwards and all got talking, we've been friends ever since.
"Rivalries went out the window to make sure they could get here.
"Due to bad weather here and in Belfast it was questionable that they would even make it here.
"I live up in a valley so made sure I parked on a main road rather than my street so I could give myself the best chance to get to Bristol to pick them up.
"I got there, flights on time and got them to Cardiff for the game.
"I know how much this sport means to people and how big this game was so glad that so many of our fans could help out."
Belfast fans expressed their gratitude on Twitter to the many selfless Devils supporters who went out of their way to bring everyone together for the big match.
And it wasn't just the lifts that gave them reason to celebrate – the Giants won the game 6-3.
This is soooo amazing, thoughtful, caring selfless and brilliant sportmanship! Cardiff fans you ARE THE BEST thank you so much for you generosity x @cardiffdevils your fans are amazing doing you proud x pic.twitter.com/7G12nkDaoE

— Lucy Hamilton (@LucyHamilton46) March 3, 2018