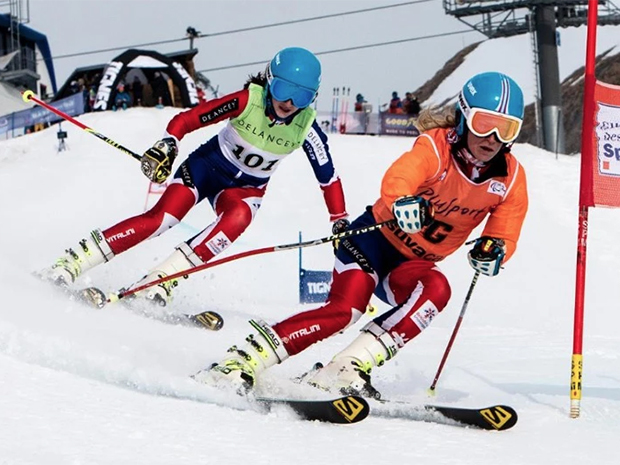 Lloyd crashed a rally car at high speed in September 2011. He broke his back, damaged his neck and crushed his spinal cord.
At first he was paralysed from the neck down and although he regained limited mobility, he was told he would no longer be able to enjoy his passions of skiing and rally driving again.
Menna Fitzpatrick was born with congenital retinal folds. She has no vision in her left eye and limited sight in her right eye, leaving her with just five percent of her vision.
She met Sir Steve Redgrave when she was 13 years old and held one of his gold medals and ever since she wanted her own.
It has been a long road to the Pyeongchang games in South Korea, but Chris and Menna will be the first Welsh skiers ever to compete in a winter Paralympics when they take to the slopes in the early hours of Saturday morning.
Defying the odds
Cardiff-based Chris, 43, attended a ski session in October 2012 with the Disability Snowsport charity and after a detailed review of his skiing he was told it would take four to five years to develop the skills needed to become a ski racer.  
But it took him just one year, and in August 2013 he was invited to become a member of the development squad with the British Disabled Ski Team.
In an interview with Paralympics GB, he said "My ultimate goal was just to get to the Paralympic Games, that's happened now and that's the big thing for me, anything else from there is just a bonus.

"It's always a proud moment to be representing your country, I'm chilled and relaxed so I'm just going to go out there and enjoy it and see what I can do while I'm out there."

Chris will be racing in the Men's Downhill tomorrow morning at 2.07am GMT where he will be hoping to beat his personal best.
"It's going to be amazing, this is a big moment, a proud moment, for me and family and I just can't wait to get out there and get started really," he told Paralympics GB.
"The conditions look like they suit me, everything looks positive so it's about going out there and achieving my dream of being at the winter Paralympics. Anything else is a bonus.
"My aim is just to go out there and do my best, I'm not really looking to do too much more than that."
 5% vision, 100kmph
Menna, 19, also Cardiff-based, learned to ski when she was five by skiing behind her dad down the slopes on family holidays.
In October 2010, she was spotted by a coach at the Chill Factore ski centre in Manchester and started regular training with the British Para Snowsport team.
Menna made her senior international debut for Great Britain in 2012 and in March 2016, she and guide Jen Kehoe made history by becoming the first British skiers to win the overall World Cup visually impaired title in Aspen.
Menna and Jen will be racing tomorrow morning at 12.30am (GMT) in the visually Impaired Women's Downhill where she will reach speeds of 100kmph.
In an interview with Paralympics GB, Menna said "We've been training a lot this past year, we've put everything into this so it's nice to have that feeling of relief, knowing that all of our hard work has paid off,
"It's absolutely amazing to be selected and going to Pyeongchang, I've been dreaming of going to the Paralympics ever since I started skiing, so I'm both delighted and a little bit relieved this has come around.
"To represent your country is amazing, I'm so proud to be from Great Britain and we are not traditionally known as a big skiing country – we don't have the mountains."
Tune in on Channel 4 to watch the coverage of the Paralympics from 12.30am and see Chris, Menna, and Jen take to the slopes for Team GB.