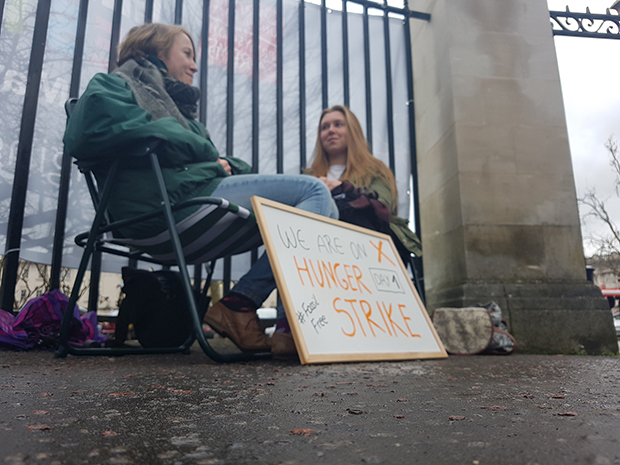 TWO students have started the second day of a hunger strike as they campaign against Cardiff University's investment in the fossil fuel industry.
Members of Cardiff's People and the Planet Society began the strike on Monday and will continue until the university releases a statement on change to its investment policy.
The group, which vandalised the University's Main Building last week at a cost believed to be £10,000, has escalated its activism and succeeded in getting a meeting with the Vice-Chancellor.
President of Cardiff People and Planet, Friederike Lürken who is one of the striking students said: "We've been lobbying on this for three years and we only got very few responses and in the few past weeks we have had fewer.
"A decision on this is going to be made next week so we decided to escalate our campaign to highlight how important this issue is for us and not only for us but for a lot of students and lecturers who have supported us during our campaign."
Members of the group met with the Vice-Chancellor, Deputy Vice-Chancellor and the Vice President of societies on Monday to discuss the issue.
"The meeting went well, it was very constructive, we actually agreed on quite a lot of points and I really hope that we will have good representation next week at the committee meeting," Ms Lürken said.
"They will have to suggest to the investment and banking committee to go through it all again and calculate what the consequence would be. But, obviously if the council would suggest full divestment then that would be a massive step so that's what we are hoping for."
The group's plan to spray chalk environmental slogans on pillars in the Grade II listed Main Building backfired last week, when the paint that was used stained the stone orange.
The slogans promoted an initiative set up by Go Fossil Free, a group urging companies to stop investing in fossil fuels by getting rid of stocks and bonds that are unethical or morally ambiguous.
Cardiff University did not respond over the cost of the clean-up but on Tuesday, the day of the attack, a spokesman said: "Whilst we fully appreciate there are strongly held views and we respect the right to lawful and peaceful protest where such actions cross the line then we reserve the right to investigate under our student disciplinary procedure.
"We are currently reviewing the University's ethical investment policy and the current draft includes for the first time a clear statement that the University will divest from companies that make more than 10% of their revenues from coal and/or tar sands."