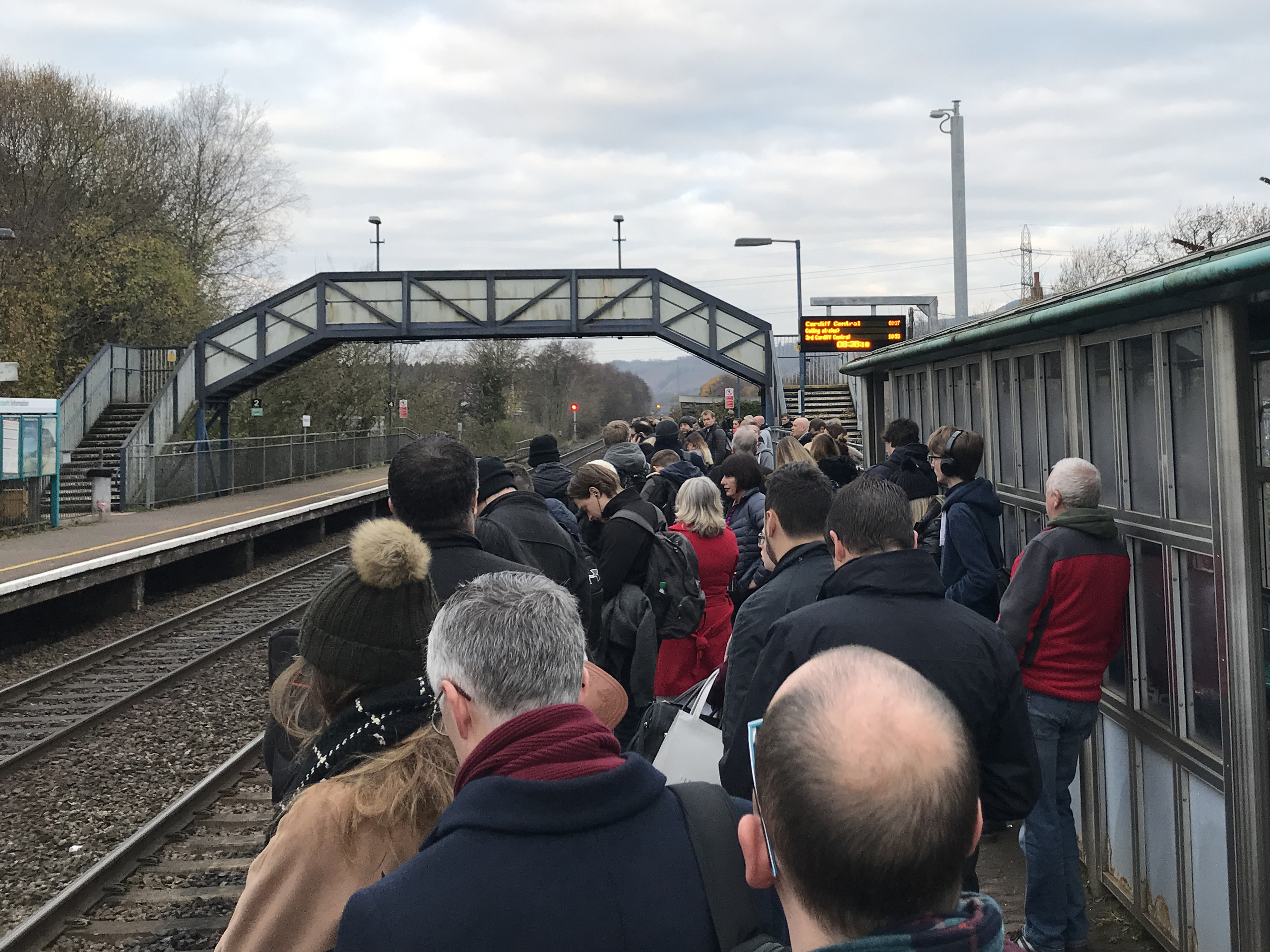 TRAIN users, who were already fed up with cancellations and disruptions, were told yesterday that things are only going to get worse.
Currently 37 out of 127 trains in Wales are out of service due to needing repair and all services will be affected for the next three weeks.
Transport for Wales, which recently took over running of the railways, are running reduced services across the country, significantly effecting the lives of people who rely on the train to get to work. 
This isn't a good start for the provider, run by joint French-Spanish company KeolisAmey, who inherited the 33-year-old stock from previous provider Arriva. 
But how bad are things for those who travel every day? We spoke to commuters on the Maesteg to Cardiff line every day for the last week about their experiences. 
Joanna Ranson 
Miss Ranson, 30, is a property administrator and works at One Central Square, starting at 9am and finishing at 5pm. 
She usually gets the 8.21am train from Pontyclun, a service that she says has been getting much busier in the last year. This train has been cancelled every day since November 15. 
Instead she tries to catch the Manchester Piccadilly train, which is due four minutes later and calls at Cardiff. It now stops at Pontyclun and Llanharan, despite previously travelling straight through without stopping. 
However in almost two weeks of attempting to get this train, it has not once showed up on time.  
"I've been late for work every day which isn't acceptable." Miss Ranson said about her recent experiences with Transport for Wales. 
On Monday 26 November, the added Manchester Piccadilly service did not stop at the station and travelled straight through. 
The next service was expected at 8.37am and turned up at 8.40am, Miss Ranson could not board this service as it was full.  
Her only option was to get a bus into Cardiff, which meant she was over an hour late for work. 
"I've lived in London for nearly a decade and we used to complain when the trains were not running or were overcrowded, it's silly now as sometimes getting the morning train to work is just like being on the tube again, except there are even less carriages." 
Miss Ranson usually gets the 5.19pm train home from Cardiff Central, a service which is often overcrowded and even leaves passengers on the platform. 
Last week a passenger was left on the platform after attempting to get this service, pleading with the train conductor that she would be late picking her son up as the next service is not for another hour.
Tammy Davies 
Mrs Davies, an office administrator, has recently moved to New Mill Gardens, Miskin, a five minute drive to Pontyclun train station. 
A contributing factor to Mrs Davies, 45, moving to the area was the provision of a free car park at Pontyclun train station, along with the short journey time of 13 minutes into the city centre where she works in Park Street. 
Like Miss Ranson, Mrs Davies has always relied on getting the 8.21am service to work, and the 5.19pm service home.  
"I have no other choice than to use the train, I don't know how long it would take me to get to work if I drove, and I cannot afford to pay for city centre parking," she said. 
Mrs Davies now pays £7.20 for her daily train ticket, a price she finds extortionate and her main worry during this period of delay has been around childcare. 
If Mrs Davies is late for work, which she was on two occasions last week due to rail delays, she must work the time back in the evening. 
It is essential that Mrs Davies gets on the 5.19pm service to Maesteg from Cardiff Central so she can collect her son from school, if she is late doing this, Mrs Davies faces fines of up to £20. 
Despite the delays, Mrs Davies has not made alternative travel arrangements, claiming the train service is the only option for her. 
Mrs Davies's colleague, Katrina, travels along the same line and has said her morning service from Pyle to Cardiff Central is included in the cancellations.  
A journey which usually takes her 34 minutes is now taking her up to an hour due to the service having to stop at extra stations like Pontyclun. 
Marlene Lewis 
Marlene Lewis, a lecturer at Cardiff University has been getting the train from Pencoed to Cardiff Central for the last 10 years and says she has never known it to be this bad. 
Mrs Lewis teaches at the school of Journalism, Media and Culture, which is currently in its first year of occupying a new building at Two Central Square.  
She gets the 7.13am service from Pencoed to Cardiff Central, a journey that takes 24 minutes. 
Mrs Lewis usually gets a seat on the service, however finds it is soon overcrowded when it reaches Llanharan and Pontyclun, often leaving passengers unable to board.
On Monday 19th, Mrs Lewis's train was delayed by 28 minutes. As the station only has a small waiting room, she had to stand outside in near-freezing temperatures. 
"I cannot see anything changing in the short term. I think it is going to take quite a while to sort this problem out and it is really frustrating," said Mrs Lewis. 
"I've noticed an increase in the amount of people using this train service this year. A lot of workers that are working on Central Square are using the train and there are more students getting it too."  
Joseph Atkin 
21-year-old dry liner Joseph Atkin, of Bronllwyn Road, Gelli, is one of the builders using the train service to get to work on the development at Central Square.  
Mr Atkin usually gets the 7.21am service from Pontyclun into Cardiff Central, where his work on the new BBC Headquarters is just a few meters away. 
He has been relying on the service for the past five months to avoid traffic coming from the valleys but has been half an hour late twice in recent weeks, causing him to lose one hour's pay. 
The new BBC building is expected to open in 2019 and will house around 1,200 members of staff. 
The BBC have made enquiries with TFW about how they are going to cope with the influx of people commuting to the area. but have been told that TFW currently have no plans to put on extra services to accommodate the city centre developments. 
Others Affected 
Beyond changes to signage, most customers said that they did not notice any change when TFW took over from Arriva. And it's early days so they haven't had a chance to introduce any improvements.
Aside from the current cancellations and delays, customers' main concerns are the limited amount of carriages on peak services, meaning there is a lot of overcrowding. 
Chloe, who is a student, has had to stay at a friend's house in Cardiff to avoid being late for early morning lectures. 
Other commuters, like Zoe, from Cwmbran is planning on driving into work instead despite the fact this will take a lot longer due to traffic and congestion.  
Passengers like Katrina are also complaining of an increased level of anxiety caused by the delays and overcrowding of the services.  
What do Transport for Wales say?
"Safety is our top priority and many of our trains are too damaged to run," said Colin Lea, Customer Experience Director for Transport for Wales Rail Services.
"The scale of the situation means that we do not expect to be able to return to the normal level of service for a further two to three weeks.  
"Progress is being made and we have sent trains away to other parts of the UK for repair, plus running our depot repair equipment around the clock with staff working overtime through the night.  
"This equipment, which we inherited from the previous operator, is however 33 years old and is not as effective as more modern kit." 
The unexpected amount of trains out of service has been blamed on seasonal conditions that has caused damage to train wheels. 
This comes at a time when passenger use is increasing as shoppers head to the city centre in preparation for Christmas. 
"Wherever possible, we aim to provide bus alternatives to train services where the shortage of trains is most affected, and enable tickets to be used on other public transport providers and alternative train operators," said Mr Lea.
"We thank them for their help in this difficult situation." 
The train operator is already preparing for seasonal damage next Autumn, promising to invest in additional trains and more modern repair equipment. 
As part of their bid for the contract the new operator promised to replace all trains at a cost of around £800m – the first fleet is expected to appear in 2021. 
Service changes can be found here.