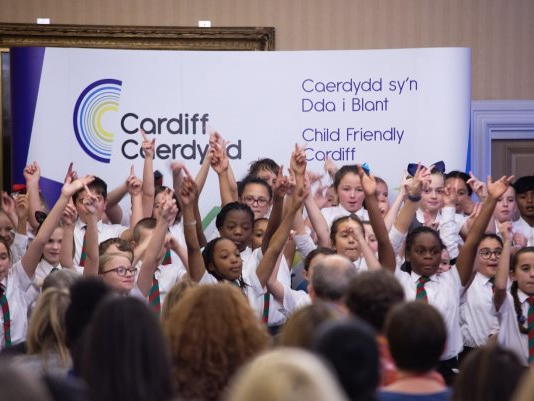 CARDIFF has taken significant steps to become one of the UK's first Unicef Child Friendly Cities.
The council launched its Child Friendly City strategy on World Children's Day last week to make the needs and voices of children central to its public policy and decision-making.
Council leader Huw Thomas said: "Our ambition is for Cardiff to be the first in Wales recognised as a Unicef Child Friendly City.
"I'm pleased that our partners across the public services share this ambition."
Young people are said to make up 30% of the population in some areas of Cardiff – particularly the deprived areas in the south of the city.
The rights of every child will be embedded in local services, programmes and policie, particularly in the area of education, family and health.
"We are already seeing progress in all three of these areas," said Sarah Merry, Cabinet Member for Education, Employment and Skill.
It is said that more than 50 schools are working toward Unicef UK Rights Respecting Schools status.
Initiatives such as a Street Play pilot are being introduced, in which applications for road closures can be made to enable children to play safely on residential streets.
Coun Merry said: "Cardiff has also adopted a 'Think Family' approach, making sure that public services are joined up and that children and families are given the right support in the first 1,000 days of a child's life."
Unicef's UK director of programmes, Anna Kettley, said: "I'm looking forward to seeing this strategy put to work over the next few years, transforming Cardiff into a city where all children, including the most vulnerable, feel safe, heard, nurtured and able to flourish."
The strategy is outlined by five goals:
Every child is valued, respected and treated fairly
Every child and young person have their voice, needs and priorities heard and taken into account
All children and young people grow up in a safe and supportive home
All children and young people have access to high quality education
Children have good physical, mental and emotional health.
"The fact that Cardiff is a city of young people is a huge opportunity." added Coun Thomas.
"If we want young people to be ambitious, successful and responsible citizens, we have a responsibility to them."
The collaboration with Unicef for Child Friendly status is a three to five-year journey, in which the progress and development of key areas are monitored and evaluated.
Unicef says there are about 1,000 Child Friendly cities around the world. The recognition process last between three and five years during which time progress in key areas is monitored.