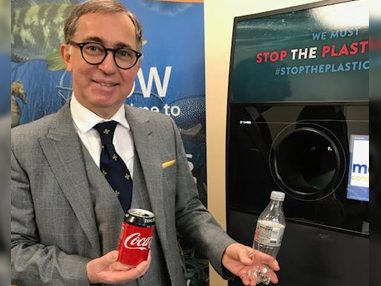 A BOTTLE refund machine was shown to 14 AMs by the Marine Conservation Society at the Senedd in a bid to stop plastic waste turning up on Welsh shores.
It is receiving cross-party support ahead of a Department for Environment, Food and Rural Affairs and Welsh Government consultation later this month.
When a bottle or a can is inserted into the machine, a voucher is printed out which would then be exchanged for money and could help Wales' effort to become a "Zero Waste Nation".
The scheme was tested by Iceland stores at five UK sites. Shoppers received a 10p voucher for every bottle returned and in November 2,583 bottles were recycled daily.
The machines could help reduce the amount of plastic damaging marine life as 70% of all litter found on UK beaches is plastic. People in UK are going through 13 billion bottles a year with 3 million of them being thrown away.
Tory AM David Melding, who sponsored the event on January 30, said: "I am so pleased to be able to bring this event to Cardiff Bay to give Assembly Members first-hand experience of how a deposit return scheme vendor actually works in practice.
"There are a lot of elements in this type of system that need close examination to see how it would work best, but if we can learn anything from the countries that already operate them, it's that they're effective and have phenomenal results.
"I hope this event fires the starting pistol for the establishment of a deposit return scheme in Wales. Let's make Wales plastic free!"
The MCS has been doing a beach clean up for 25 years around the UK and, on average, 53 drinks containers are found every 100 metres.
Dr Sue Kinsey, a MCS technical specialist, said: "Deposit return systems have been known to increase high-quality recycling levels to over 90% in other parts of the world and decrease littering. Imagine that in Wales.
"A scheme would result in a really positive impact on litter levels across Welsh beaches and countryside."
Gill Bell, the MCS head of conservation in Wales said: "Although Wales is the world's third best recycling nation, we need to move away from being a throwaway society to a circular economy – we believe putting a value on these items will lead to behaviour change.
"Countries where these schemes have been put in place have seen a significant reduction in littering of these items.
"We need a deposit return scheme in Wales for plastic and glass bottles, and drinks cans which will increase recycling rates, reduce beach litter and help meet our well-being goal of being globally responsible Wales."
Among the AMs at the event was Labour's Jenny Rathbone who said: "We urgently need to set up container deposit schemes to move forward and to stop plastic going into the ocean. I hope the supermarkets become early adopters."
She posted a picture of the machine on Twitter.
Hannah Blythyn, deputy minister for housing and local government who has responsibility for waste and recycling said: "It was interesting to have the chance to test the deposit return machine at the #STOPTHEPLASTICIDE showcase.
"It's distressing to see and hear about the amount of plastic, cans and lids which are being found on our beaches and in our seas and it is heartening to see the work the Marine Conservation Society does in reducing beach and marine litter.
"Whilst Wales successfully captures at least 75% of plastic bottles for recycling from households we still need to prevent marine litter and recycle more. We will shortly be consulting jointly with England on a Deposit Return Scheme and I am keen to hear a wide range of views as part of this."
The MCS also wants to see greater responsibility for the producers of the bottles with the introduction of an "extended producer responsibility" system – it would mean that a producer becomes responsible for the any costs caused by litter prevention and clean-up.
At the moment only 10% of these costs are borne by the producers while the rest is a burden on the taxpayer.
MCS also wants to see a levy on disposable drink cups in an effort to reduce consumption.
Denmark, Germany and Sweden have had great success with the machines and now on average recycle 90% of all bottles.