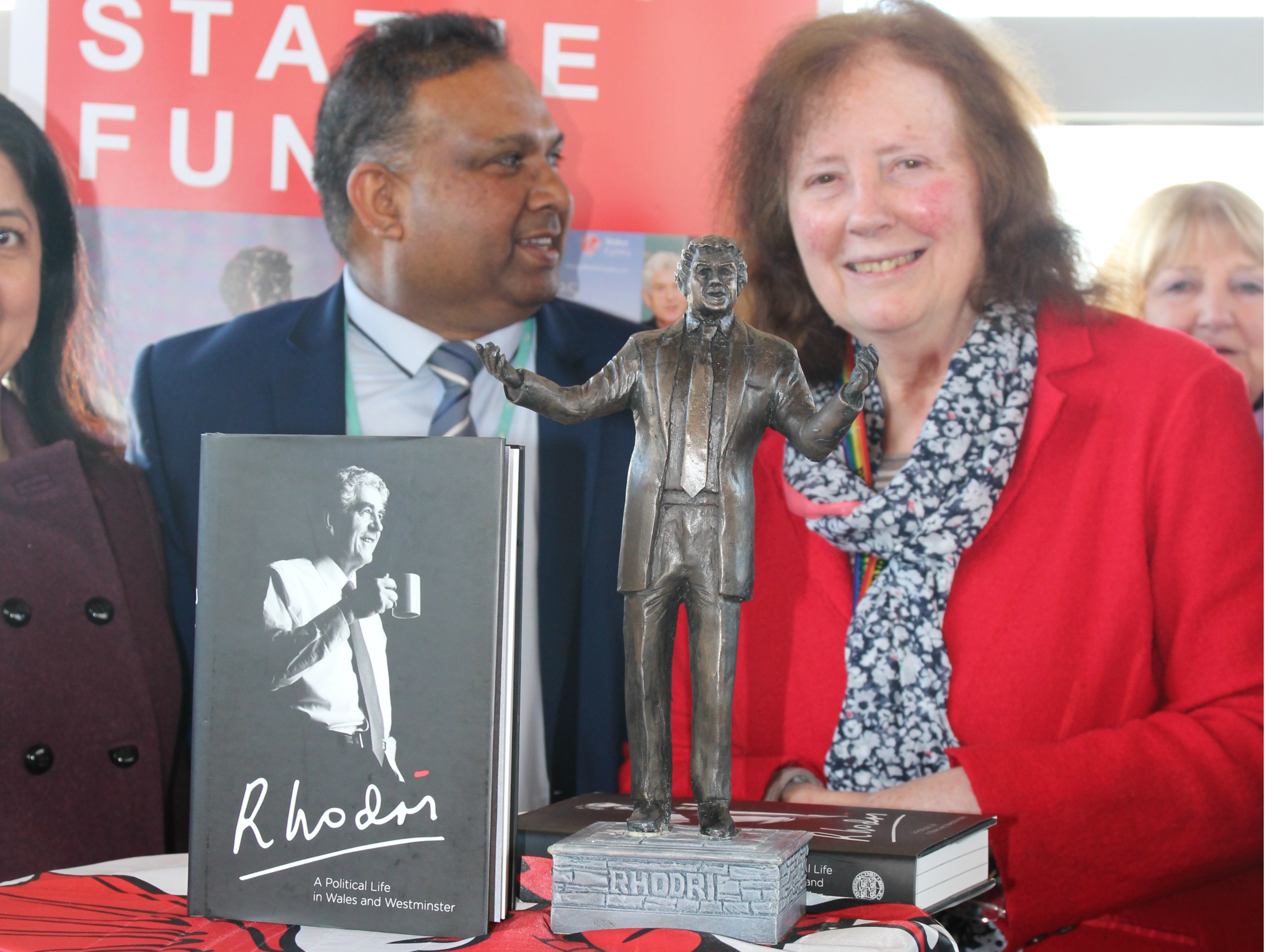 FAMILY, friends and colleagues of the late First Minister of Wales, Rhodri Morgan, gathered at the Senedd to appeal for funding for a statue in his honour.
Former First Minister of Wales, Carwyn Jones, who took over from Rhodri Morgan in 2009, offered his backing to the fund along with speakers from faith and ethnic communities.
Julie Morgan, AM for Cardiff North, addressed the crowd from a stage in the lobby of the Senedd, the institution Rhodri Morgan had fought for his whole political life.
Standing next to a prototype of the statue on a table draped in the Welsh flag, Mrs Morgan shared memories of her late husband.
"This was a very important place for Rhodri because he was here right from the beginning. It was the ultimate achievement for him, that there was a parliament in Wales that has grown and flourished.
"I know that if he was going to have a statue anywhere, he would want it to be here," said Mrs Morgan.
So far, £5,000 of the £125,000 needed has been raised. The statue will be placed near the Pierhead Building in Cardiff Bay by 2021.
Mr Morgan was a patron of the Hindu Council of Wales, and helped in having a statue of Mahatma Gandhi installed in Cardiff Bay. The organisation raised £1,500 for the fund at an event in December.
Many of the speakers mentioned Mr Morgan's support for all communities in Wales.
"Whichever community he met, he made them feel important. He had so much love, affection, respect and understanding of all faiths.
"He was not only the father of the nation, he was father of all communities in Wales," said Professor Saleem Kidwai OBE, secretary general of the Muslim Council of Wales.
Paddy Kitson, long-time friend and political ally of Mr. Morgan, told The Cardiffian: "Rhodri and I met in early 1963 when I was Jim Callaghan's full-time agent.
"When I got married, Rhodri was best man and we remained very close friends personal and political friends right up until his death. We always met on a Friday night down the pub."
Another influential Welsh figure is being recognised following the BBC Wales Hidden Heroines poll. A statue of Betty Campbell, Wales' first black headteacher, will be placed in Central Square, Cardiff City Centre, in 2021.
Local artists are being asked to contact the fundraising committee for the Rhodri Morgan statue. If you wish to be considered for the project email: rhodrimorganstatuefund@gmail.com.
Donations to the fund can be made here.