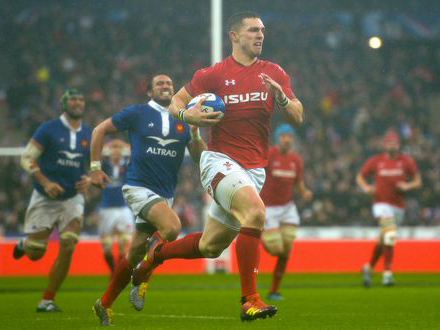 AND so it begins.
France lost when it seemed easier to win against Wales, England showed they can't be written off with a dominating performance against Ireland and Scotland went off the boil but still had enough to beat an underpowered Italian side. But what did we really learn from the opening weekend of the tournament?
Les mis-sed opportunity
Les Blues started well against Wales. They were beating Wales in almost every aspect of the pitch. The Welsh looked like they lacked the edge to compete. France had missed three kicks and still led 16-0. And then the half time whistle blew.
It is difficult to say whether France would have been able to see the game through if they hadn't missed those kicks, but Parra and Les Blues will undoubtedly being kicking themselves over their lack of precision.
A tale of two halves
George North scored twice as the Welsh team turned round what could have been a mauling, into a dramatic win. But Wales proved their grit and their world number three ranking to move to 10 games unbeaten. Wales looked like an entirely different team in the second half. It is clear which team Wales fans will be hoping arrive this weekend against Italy.
A forgetful Wales
Warren Gatland labelled his team as one that has "forgotten how to lose". The Kiwi said: "Our game management was poor, but we found a way to win" adding that "It's nice to get out of jail". But talking about what the game plan was after the first half, he said: "the message at half time was just to raise the tempo."
Slow starters
Ireland are notorious slow starters having  only won one of their previous four opening games in the six nations. That was last year with a late Sexton drop kick to narrowly beat France 15-13. But they finish like a train and have never lost a final weekend game under Joe Schmidt. They entered the tournament following an unbeaten autumn but looked second best throughout the match against England. They have a difficult game away to Scotland this weekend, and need to pick up the pace.
England "beat up" Ireland
In a game labelled beforehand as the battle of the fly halves, it was Farrell and England who came out on top.  "They beat us up" Ireland manager, Joe Schmidt, said. "There was some serious firepower out there." He put England's victory down to their physical game, in a match which Schmidt hasn't seen "so many physical dominant tackles occur" before.
This is only the second time England have won in Dublin since 2003 in the Six Nations and they will look to carry that momentum on when they host Les Blues at Twickenham.
Hat-trick hero
Blair Kinghorn scored Scotland's first ever hat-trick in the Six Nations. You would have to cast your minds back over 25 years to Scotland's last championship hat-trick, against Ireland. Scotland started quickly after Italy took the lead in the 10th minute. Gregor Townsend said Kinghorn "took his tries superbly. His timing on the ball, his strength and his footwork was excellent." And he admitted after the game that the hat-trick hero has made "selection that little bit harder."
Lapse in concentration
Scotland had their bonus point all but tied up with 25 minutes to spare. However, at 33-3, a late sin-binning of substitute Simon Berghan provided Italy with an opportunity during the closing minutes. One in which the Azzurri scored three tries and a conversion. The somewhat chaotic finish may slightly dampen the win for Scotland, but the Dark Blues will look to build from this. However, the result for Italy was their 18th straight defeat in the championship.
This weekend's fixtures:
Scotland v Ireland KO 14:15 Saturday, February 9
Italy v Wales KO 16:45 Saturday, February 9
England v France KO 15:00 Sunday, February 10