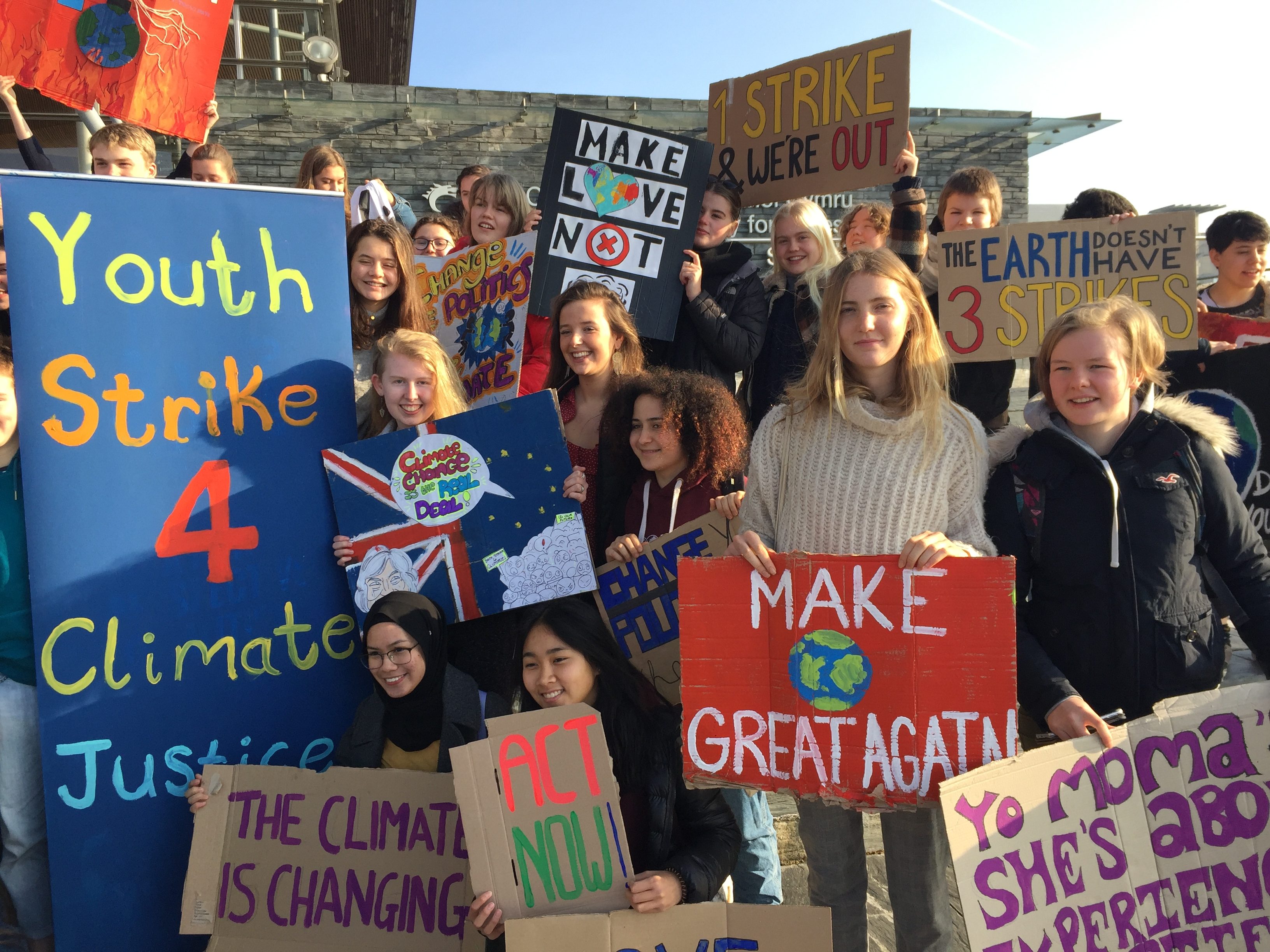 HUNDREDS of school children protested outside the Senedd today to demand the government declare a state of climate emergency.
More than 400 pupils gathered from different schools across South Wales including UWC Atlantic College,Vale of Glamorgan, Queen Elizabeth High School, Carmarthen and Radnor Primary, Canton.
Over 60 cities across the UK are seeing strikes by young people calling for the government to take urgent action on climate change.
The strikes have been inspired by Greta Thunberg, the 16-year old whose lone strike outside the Swedish parliament building inspired a mass movement – #FridaysForFuture — across the globe and saw her speak at a United Nations climate conference in December in which she attacked the business elite.
The organiser of the Cardiff Strike is Beth Irving,17, who is in lower sixth at UWC Atlantic College.
Speaking to The Cardiffian she said: "I am striking to demand that the government take action and recognise the situation as a climate emergency.
"We are seeing the real impact of climate change now and it's our generation that is going to be affected."
This is Beth's first climate strike but she is thrilled with the outcome and is leading chants such as "What do we want? Climate justice. When do we want it? Now!" and "2-4-6-8, can the climate really wait?"
"We have four demands," she said.
"The first one is for the government to declare a climate emergency. The second is to reform the national curriculum to teach people about climate change, and the third is to insist that the general public are educated about the severity of the situation.
"Finally we demand the government recognise that young people will be facing the effects of climate change and should lower the voting age to 16 and have our views incorporated by the government."
Beth Irving said her school had been mostly supportive of hundreds of their pupils striking and they even provided a bus for students to travel in.
At noon Beth Irving stood to read an open letter to the government.
"The fact we have a very small window of time to try to save the planet is one that should have sent politicians around the world into a panic and yet somehow we are faced with apathy and confusion," she said.
"Greta Thunberg reminds us of the urgency of the situation saying the house is on fire. More than that, though, our home is on fire and we need to stop it.
"The climate crisis is the defining issue of our generation, it should've been the defining crisis of the generation before us or even the one before that but today we are breaking the cycle of passing problems on to the next generation.
"Today we say enough. Enough excuses. Enough mistakes. Enough destruction of our planet.
"Across the world tens of thousands of pupils passionate about having a future are striking from school to create awareness and demand action is taken by the government.
"We demand that the government declare a climate emergency and prioritise the protection of life on earth."
The rousing speech was met with thunderous applause and at the end she invited other supporters to say why they were striking today.
Oma Nwibe, 19 in her final year of UWC was one of the pupils who stood up.
"I am striking because we cannot give up, we need to keep be strong enough and passionate to call for change.
"I came from the South of Nigeria where lakes are drying up, it's very sad to watch.
"I saw a statistic that said that 100 companies produce 70% of the emissions, so I hope that by striking the big organisations, who have the power, will change.
"If you want change we have to go out and get it. You cannot get it by staying in your bedroom, if you want to see a big fight, you need to fight on and keep resisting."
Sophie Gorman, 16, also from UWC Atlantic College, said: "I am striking because the IPCC report said we only have 12 years left to tackle the problem.
"I think we need to act together as a whole nation. We are not doing enough we should be taught more about it in school, the terrible effects of climate change."
Among those protesting this morning were 18 primary school pupils from Radnor Primary School in Canton, brought by their teacher Eoghan Walsh.
He said the pupils were part of an after school eco club, which achieved Green Flag status, meaning they have reached a national standard in education on environmental issues.
It has been tackling problems like plastic pollution and has started a campaign to encourage pupils and their parents to travel to school by walking, scootering or cycling.
Cara Thomas, 16, from Queen Elizabeth High School in Camarthen said: "My personal reason for being here is that I want to be a marine biologist and considering 50% of the Great Barrier Reef died in the last two years, I won't be able to have that job if it continues.
When asked if she thought things would change after this march she said: "Maybe not from this protest on its own but considering it's a nationwide event I think people will start to listen."
The next march will be taking place on March 15th outside the Senedd.