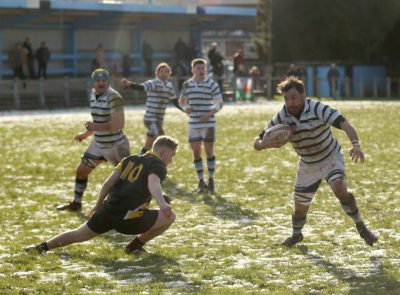 CLASH of the Cardiff rugby titans nears as Rhiwbina and Glamorgan Wanderers are fighting it out for promotion to the Championship, with Rumney lurking if the pair slip up.
March is make-or-break month with Rhiwbina and Wanderers still to play each other twice in what is likely to be one of the most unpredictable finishes to a National League East Central 1 season for some time.
Wanderers, who have played four more games than Rhiwbina, find themselves 12 points ahead of a team who finished fourth last season.
Meanwhile Rumney are 17 points behind Wanderers but have three games in hand and could close the gap to two points if they win them all.
Teams get four points for a win and have the chance to earn a bonus point if they score at least four tries. With six games left for Wanderers and 10 and nine left respectively for their rivals the title looks set to go to the wire.
The top club will join the fellow winners of Divisions 1 East, 1 West Central and 1 West in a two-legged playoff to determine which two Division 1 clubs will be promoted to the Championship.
Rhiwbina, who suffered a last-gasp defeat two weeks ago having won eight on the bounce, will need to recover that form if they are to defeat Dinas Powys RFC this weekend.
Dinas, who occupy third, lost last weekend but have an opportunity to leapfrog the Squirrels into second with a win despite having played six games more than them.
Meanwhile last year's runners-up, Wanderers, will be hoping to open up a bigger gap when they travel to Porth Harlequins on Saturday.
Since a poor October where they lost three in a row, Wanderers have maintained an impressive nine game unbeaten run.
Dinas Powys appear unlikely to mount a title challenge having played two more games than Glamorgan with a fifteen-point gap.
Rumney, who beat Glamorgan in their winless October, lost last month in the reverse fixture but still have a tricky clash with Rhiwbina next month.
Rumney are away to Mountain Ash this weekend.
Porth Harlequins v Glamorgan Wanderers RFC (Saturday 16th February, 14:30, The Welfare Ground)
Rhiwbina RFC v Dinas Powys (Saturday 16th February, 14:30, Caedelyn Park)
Mountain Ash RFC v Rumney RFC 14:30 (Saturday 16th February, 14:30, Dyffryn Pennar Park)