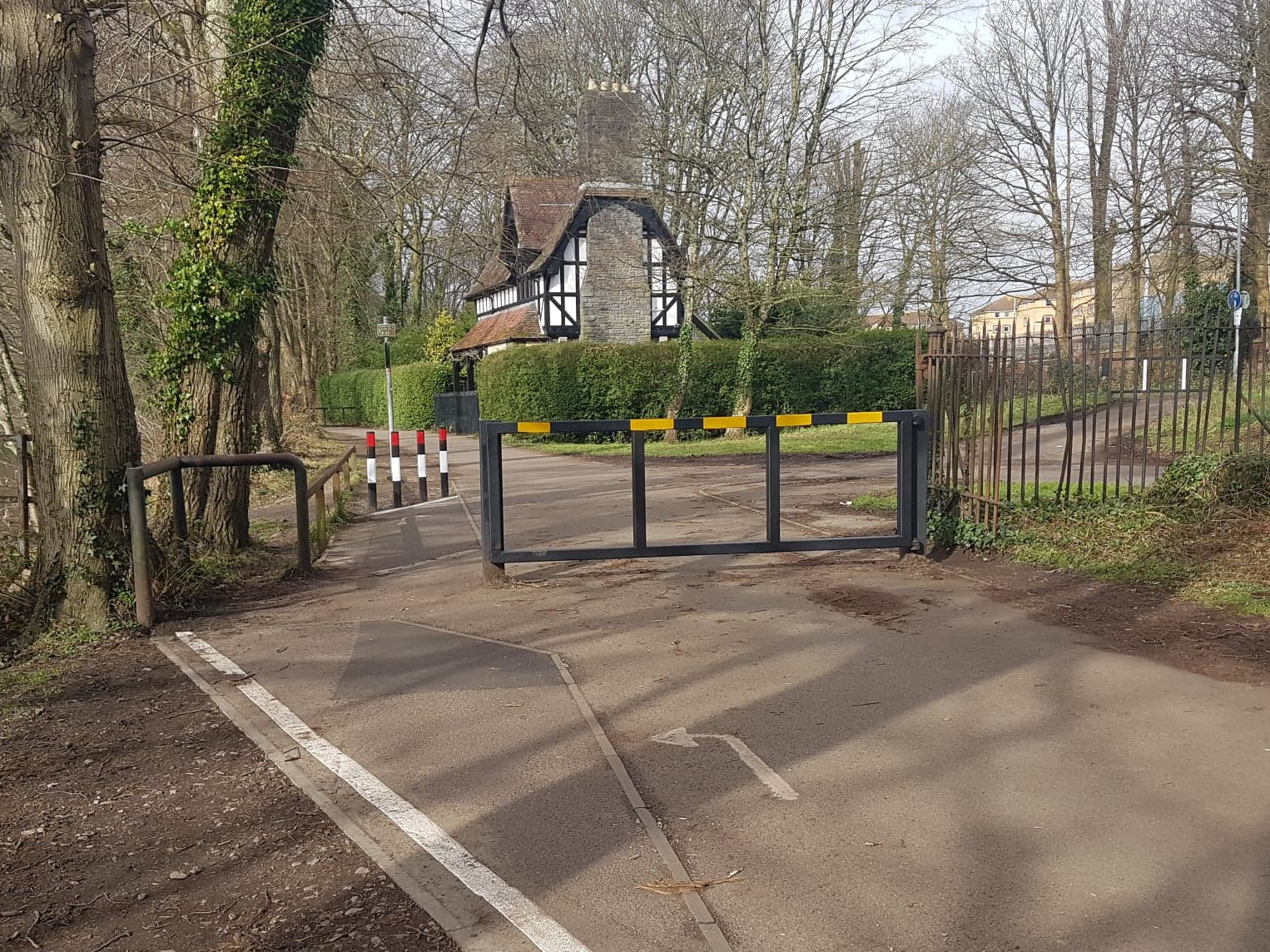 GATES on the Taff Trail have been repainted after cyclists described the white struts as a "booby trap". 
Cyclists had been concerned that in darkness the two white struts would appear to look like two bollards that could be passed through, causing crashes. 
A spokesman for Cardiff Council said: "All three sets of gates are being repainted and reflective tape will be placed across the top bar and upright sections to increase visibility as soon as possible." 
The three gates are close to each other just north of Blackweir Bridge on the Taff Trail. 
Two gates have been repainted while one gate on a pathway leading off the Taff Trail still has white struts. 
The council added: "We made a number of improvements to the area around the gates on the Taff Trail last week. 
"This included repairs to the path surface on the approach and around the side where cyclists pass, new concrete edging and paint to highlight the edge of the path. 
"Reflective bollards were also installed." 
When asked about the repainting of the gates, Nick Leney, 45, a cycle courier from Grangetown, said: "It's definitely better now it doesn't look like two bollards that you could ride between in the dark." 
Mr Leney added that he felt two bollards to cycle between would be better for traffic management on the trail. 
"Some pedestrians get cross and can be rude to cyclists if they have to take it in turns to get through a narrow opening and some cyclists travel faster than appropriate and are rude. 
"Bollards lessen the confrontation because there is room for both," said Mr Leney. 
Cardiff Council said: "We are currently investigating options to replace both sets of gates on the Taff Trail and the gates on the connecting pathway leading to Excelsior Drive with lockable bollards to ensure that cyclists can pass through this area safely whilst continuing to restrict unauthorised vehicle access." 
Limited accessibility because of the current gates is a concern for users of the Taff Tail. 
One Twitter user, CycleCammer, said he felt the gates were "anti-cycling" and would restrict access for hybrid or trike used by disabled riders. 
Cardiff Pedal Power, a charity group who encourage people of all abilities and ages to get into cycling, said that their adapted bikes and trikes can fit through these gates but for some riders it can be difficult to navigate the narrow space. 
while we agree that barriers are problematic, our bikes do actually fit through these! often the issue can be for us that many of our rides with certain conditions wont be able to judge if they can fit through small gaps so wont try, so we do advocate that gates are removed

— Cardiff Pedal Power (@PedalPower_Diff) February 14, 2019
However, the group did point out that some other barriers on the Taff Trail are restrictive for their bikes and for those using pushchairs and prams. 
these are all examples of ones where our bikes would be prohibited and we would advocate that they were removed, these also stop wheelchairs and buggies

— Cardiff Pedal Power (@PedalPower_Diff) February 14, 2019