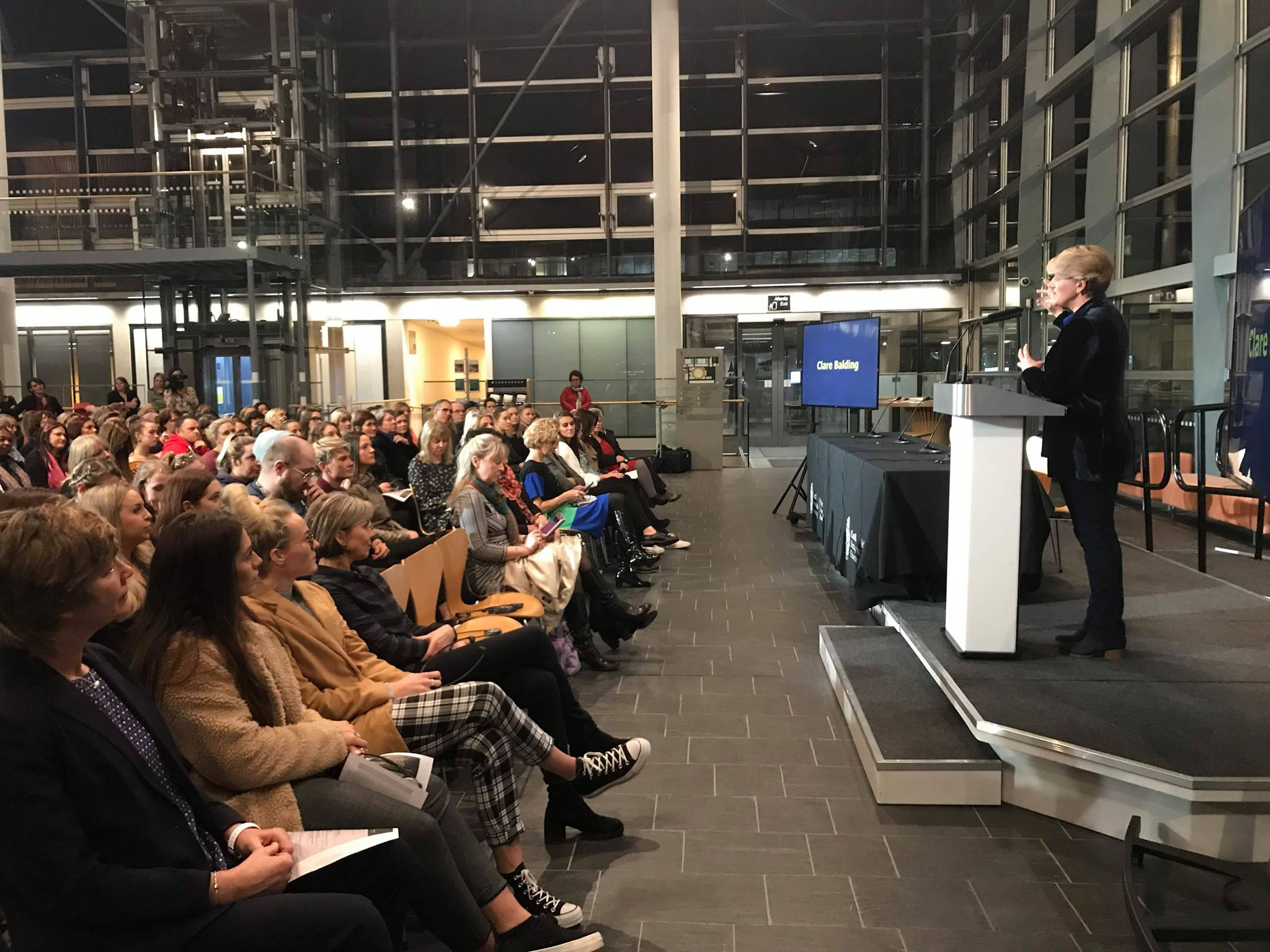 Video created and edited by Will Bolton.
WATCH Her Go, Amdani, saw some of Wales' most powerful female voices in sport call to increase opportunities for girls, media coverage and to smash gender stereotypes which continue to prevent girls from achieving their potential.
Clare Balding, Jazz Carlin, Liz Johnson and Anna Marie Phelps were just a few of the influential female faces of women's sport who made their mark at the Senedd yesterday for the Watch Her Go movement.
Clare Balding, the award-winning presenter, writer and broadcaster told The Cardiffian: "I think sport has a huge power, I think it is about much more than the game itself; it's an instigator of change.
"I think in a society where women have an awful lot more freedom than they did 100 years ago, it is still ridiculous that they don't have the same freedoms to play sports or to be paid to play sport and that we're still fighting for equality.
"We're struggling to get even just halfway towards what men have got in terms of professional organisations and set-ups and that's why I think this is important because it changes the way we think about everything and changes what women are able to do with their lives."
One of the key messages of the night was the lack of coverage of female sports on television and difficulties of following women's sporting fixtures online.
The gender gap in sport between men and women is still starkly apparent. In 2018, women's sports received only 5% of dedicated coverage, according to The Guardian.
And with 52% of the population female, they are the disadvantaged majority in sport.
Ms Balding said: "I think we've got to watch what's on, I think a lot of the time schedulers and influencers are very influenced by numbers so if they put a live football match on or a netball match or women's cricket match on and see the numbers drop, for what that slot would normally be, they panic.
"But actually, the exciting thing about putting on women's sport is you're appealing to an audience that hasn't ever been given what it wants. So I think the controllers need to be a bit braver and as an audience we want to be asking for what we want to see."
But this isn't the only issue. Watch Her Go understands that it begins at grassroots level, in schools, communities and families.
Many schools still do not offer rugby and football to girls, still entrenched by the stereotype that they are 'men's' sports.
Liz Johnson, a Welsh Paralympic swimming champion who won gold in Bejiing 2008, experienced this herself growing up.
She said: "For me, my largest challenge was to convince people that with a disability I could still compete and deserved the same opportunities than others.
"I liked football when I was little so I played with the boys. Because I liked 'boy' sports I was called a 'tom boy' but in reality who says it's a boy's sport?
"There's so many sports out there. I want to show that you don't all have to be one shape or size or like the same sport.
The Watch Her Go movement is deliberately timed ahead of International Women's Day on Friday, but also follows the campaigns like This Girl Can and the recent Nike advert voiced by Serena Williams Dream Crazier, which coins the slogan "show them what crazy can do".
However last night, although there was positive recognition for these steps and campaigns, there was a roaring demand for faster, bigger changes.
With the list for the top 100 earners of sport list in 2018 listing Serena Williams as the only female name, the issue of money in sport was another critical message of the evening; the lack of sponsorship, pay for female athletes and under-investment into sports for young girls were all raised as key issues.
Throughout the evening, it was clear that body-image and confidence are key concerns which prevent girls from not only doing sport but dropping out early because of insecurities.
Jaz Carlin, double Olympic medallist in swimming and first female Welsh swimmer to win a Commonwealth title, spoke on the issue of body-image and confidence.
She said: "It's quite scary really and sad that some girls feel that they can't do sport because of body confidence or because they don't feel confident in themselves doing it."
Since she announced her retirement last week, Jazz will now be working for Swim Wales, mentoring the current Welsh youth squad and promoting the Learn to Swim programme.
"Hopefully we can change that mind-set and make girls believe they can and have that confidence to go and achieve anything they want to do and if there's a sport they want to do they never know what they're going to achieve," Miss Carlin said.
The former American world number one professional tennis player Billie Jean King was referred to several times throughout the night as an inspirational and powerful influence for women in sport, and of course her phrase: "If you can't see it, you can't be it."
Sarah Powell, the chief executive of Sport Wales, said: "We're here today for young girls of the future to give them every opportunity to play sports. So, that's the same opportunity that boys and men have received.
"We want to raise the profile of sport for women so that means giving greater visibility though the media and in the papers, so that girls can see and believe that they can actually take part in sport.
"We want to look at how we can get more girls involved around the board table and thinking that they too can be leaders."
Other speakers involved former international football player Laura Jean McAllister, Jane Hutt AM, former hockey player Beth Fisher, former British rower Annamarie Phelps CBE, breakdance coach and owner Natalie Davies, hockey captain Leah Wilkinson and sports producer Sue Butler.
For more information, follow the Watch Her Go, Amdani, Twitter page here and use #watchhergo #amdani to share your experiences as a female in sport.