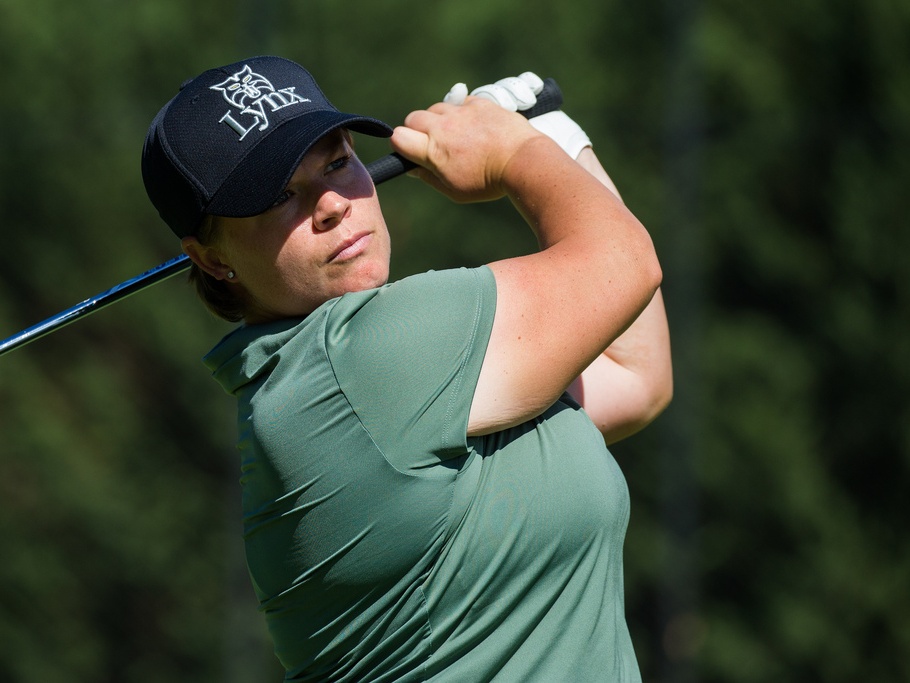 LYDIA Hall has been playing golf for 20 years but says something needs to be done if the women's game is to prosper.  
Hall, from Bridgend, has been with the Ladies European Tour for over 10 years but said uncertainty over the sport's future is rife.  
"The last six, seven years have been a massive struggle for women's sport. It's grown in Asia and the Middle East — golf specifically — but it's been difficult for the Ladies European Tour," said the 31-year-old.  
The problem? Hall says it all comes down to money, and there isn't the same financial support for the women's game as there is for men's golf.  
"Since the economic crash, a lot of companies cut ties so sponsorship went out of the window. 
"It's difficult event-wise and personally. Without sponsorships I can't do my job."  
Hall recalled the halcyon days of her career before she had to worry about having enough sponsorships and prize funding to sustain her profession.  
"When I started the Ladies European Tour in 2008 it was at its peak. Looking back, what a lifestyle I had.  
"I was 19, 20, travelling all throughout Europe, which is a lot of people's dream, and doing a job I loved."  
To the average onlooker, professional golf seems like an elite sport, but for female players it isn't as glamorous as you'd expect.  
"We have to work extremely hard to get events in comparison to the guy's game really. It's like this in every sport and also every profession," Hall said.  
"A couple of weeks ago my good friend Megan McLaren won the New South Wales Open in Australia and she won £14,000 which is great earnings. But her last win was a year prior. You've got to remember everything, all our flights and accommodation, is paid by us," she added.  
The yearly cost of events that has to be covered by the golfer is usually not met by prize funding and sponsorship deals.  
"Most of the time you've spent £2,000 before you've even teed up on a Thursday to compete, so you know you have to finish in a certain position to get that money back and make some," Hall said.  
"I'm always looking for sponsors, because it costs two grand per event and I'll be playing 20 events a year, so you're looking at £40-50,000 just to cover expenses."
Hall passionately defended the right for female players to be paid equally to their male counterparts.  
"The only way to earn is to finish high enough up, not everyone is guaranteed a pay cheque. And then obviously when we're playing for a fraction of what the guys are … I don't think we'll ever get parallel to them, but that's what we expect. 
"I think if we can just close that gap by just a small margin it will make the women's game, because a lot of girls are stopping now, I've had to think about it the last two years, purely because if you can't get sponsorship, you can't afford to do it." 
The Cardiffian asked Hall what could be done to end the disparity between sportsmen and women in terms of coverage, sponsorship and prize funding.  
"I think it ultimately starts with the media because people only can read what's in front of them, so I think if the media changes and there is an equal amount of words or pages for male and female, then that's the only way girls can see the inspiration.  
"We need to get more of a profile, more recognition, so we can grow and get better, get more events and then we're earning more money so we can stay playing." 
"If that doesn't change in the next few years maybe the Ladies European Tour won't exist. Who knows?" 
Hall also mentioned the problem with the media being saturated with rugby and football, to the detriment of talented sportsmen and women.  
She said she almost felt lucky that she did not win the South African Women's Open last week, as her success would have been drowned out by rugby coverage.  
"It's fantastic what the guys have done and it's going to grow Welsh rugby massively, but there are other sports in Wales for Welsh people to be proud of. 
"The media is just engulfed with rugby and football and until that slowly changes then we aren't going to grow the other sports, like cycling – what Geraint has done is unbelievable. 
"There are so many individual sportsmen and women in Wales but people have no idea because they don't get the credit for it."  
What's next for Lydia Hall?
After finishing in the top five in the South African Women's Open, Hall has high hopes for the busy summer season ahead of her.  
"I found something with my golf swing on the Tuesday in South Africa to take into the tournament and it worked. It was pretty close at times.  
"I had an eagle putt that shaved the edge of the hole on 16, which would have got me one shot within the lead. And the hole prior to that just lipped out on the par three. So, two shots and I was in a playoff."
Her next event in Jordan is the first of its kind, a mixed tournament where all players play for one prize.  
"It's our first event there, which should be interesting. It's a new format – talking about equality, it's 40 LET players, 40 from the European challenge tour and the Staysure tour (formerly known as the European Seniors Tour)," she said.  
"So, we're all playing in the same field for the same purse, so it'll be really exciting to play in that format and we're all playing for the one trophy," she added.  
She has previously attempted to get her tour card to play in American tournaments, but funding has meant this is a struggle for Hall.  
"It's so expensive to compete over there with entry fees, that you need to have a strong backing financially because you're not playing for a good prize fund. Even finishing fifth you're not making a profit." 
This year, Hall has decided to focus her attention on European tournaments.  
"We've got a big summer coming up with the Scottish Open and the ladies British Open.  
"If I can do well in those events then things can turn around and I'll hopefully gain my card that way for the LPGA (Ladies Professional Golf Association).  
"Hopefully, I'll have a few top fives and 10s and be on good form because ultimately I'd love to play in the Solheim Cup in Scotland in September. It's a long way off for me at the moment but if I have a few good performances, you never know." 
Hall, who still trains with the coach she first started with 20 years ago, John Peters, and was the first woman to win a PGA title, has a bright future ahead of her.  
But that future rides on women's sport getting more exposure and more financial backing.