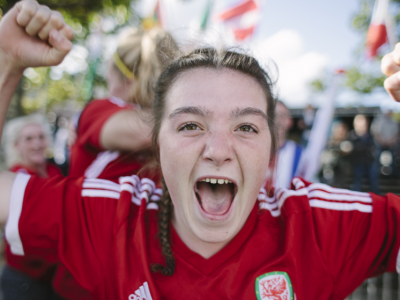 CARDIFF is set to host the 17th Homeless World Cup, in Bute Park this July.
The tournament, established in 2003, is organised by the Homeless World Cup Foundation.
Every year, teams of men and women who are homeless get the chance to represent their country during the week-long competition.
This year's tournament will welcome 64 teams with 48 in the men's/mixed category competing for six separate trophies, while the women's competition will see 16 teams playing for two trophies.
Players are recruited in each country by national partners who put word out through adverts in street papers and posters in hostels.
Teams of eight are chosen for their level of commitment, personal attitude, and sporting ability.
The tournament challenges attitudes towards homelessness and aims to be transformational for participants and members of the audience.
More than 500 players will travel to the capital for the week-long event from July 27 to August 3.
A Homeless World Cup spokesperson told The Cardiffian: "We chose Cardiff as a host city after a bid presented by Michael Sheen. Being such a nice city and a wonderful city for industry, it was a no-brainer."
This year's tournament aims to engage up to 200 adults experiencing homelessness from across Wales as staff and volunteers.
Council leader Huw Thomas said: "We're really pleased that Cardiff will be hosting the Homeless World Cup for the first time. However, hosting the Homeless World Cup is about much more than putting on a successful sporting occasion.
"Cardiff is no different from many other UK cities that have seen unprecedented rises in homelessness over recent years. This will be an opportunity for us to harness the power of football to make people think differently about homelessnes.It will play a part in the wider conversation about how to deliver change which can help end homelessness."
Wales came third in the Harald Peter Schmied Trophy last summer in Mexico.
The Welsh women's sides won the Women's Plate (Level 2) in 2015 in Amsterdam and the Cobana Bowl (Level 3) in Oslo in 2017. The male side also won the Men's Shield (Level 4) in Glasgow in 2016.
There are a total of eight trophies: six for the men's competition and two for the women's. The Homeless World Cup and Women's Homeless World Cup trophies are the top prizes.
Many players – 94% – have said the tournament changed their lives, through education, employment in social enterprises and other businesses, substance abuse rehabilitation, and supported housing.
How does it work?
There are two overall categories, men's/mixed and women's.
First Stage
After the draw, each team plays all of the other teams in their group once. Their relative position in the preliminary group determines the group they will play in during the Second Stage.
Second Stage
Each team plays each other team in its Group once in a round robin format. Once all the Group games have been completed, the teams' final position determines the last Stage of the competition. Teams that finish first or second within their group advance to play for the Homeless World Cup (men's/mixed) or Women's Homeless World Cup (women's). Those who finish in third and fourth place in their group compete for the next highest trophy, and so on.
Trophy Stage
Eight teams compete for each trophy, with each competition now following the standard form of quarter-finals, semi-finals and finals. This includes placing games for all teams and they all play three games in the Trophy Stage. The structure of the tournament ensures that each team plays matches until the final day of competition.
On the last day, every team knows their final position – and those standings then influence the rankings that will seed next year's tournament with different players.
For more information: Visit here.