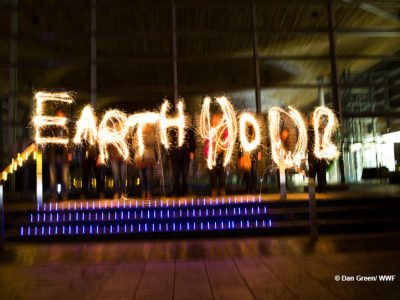 THIS Saturday Cardiffians and businesses across Wales are pledging to do more than just switch off their lights to help make a difference to the planet.
As part of Earth Hour celebrating its eleventh year, WWF Cymru is calling for people in Wales to pledge to make one small change in their everyday lives to help tackle climate change.
Organised by WWF, Earth Hour is a global project that aims to tackle climate change by encouraging everyone to turn off their lights for one hour.
It was estimated that last year over 400,000 people in Wales, including 136 schools took part as iconic buildings, including the Senedd and Cardiff Castle, joined global landmarks, from the Empire State building to Sydney Opera House, to switch off for the planet.
Some promises that have been chosen as examples of small changes people can make that as a collective can have a big impact on the future of our planet include refusing plastic cutlery, carrying a reusable coffee cup or reusing leftover food.
As part of this year's Earth Hour, Swansea City AFC are switching off the (non-essential) lights of the Liberty Stadium for the Earth Hour black out whilst also making a pledge to wash their white kit at 30°C.
Many buildings around the country and the world will be taking part but a significant amount in the capital are eager to get involved in tackling climate change.
Luke Todd, 32, who works at St. David's Hall, one of the businesses getting involved, believes that turning out our lights for just one hour will help to make a statement on Saturday evening for individuals, drawing attention and showing support for the environment in a bid to help tackle climate change.
He told The Cardiffian: "That's one reason but I think even when there has been a show the non-essential lights have been turned out. Previous years we have done this at home as a family. So [we would] use candlelight and other things instead.
"I think it's very important particularly to remember our effect and impact on the environment when concerns are becoming gradually more real."
Other organisations such as GoodGym are making a full day of it, running (literally) a fantastic day with GreenCityEvents.
The Welsh Government recently released a collection of 100 policies to tackle climate change one of which included a plan to ensure all public buildings are supplied with renewable electricity by 2020.
Cardiff councillor and Cabinet Member for Clean Streets, Recycling & Environment, Michael Michael, said: "Since the council first participated in Earth Hour 10 years ago we've taken some significant steps to reduce our impact on the environment.
"We've harnessed the power of the River Taff to generate renewable electricity at Radyr Weir, installed LED street-lighting and recently trialled electric vehicles in the city centre – but we can all still do more. I'd encourage as many people as possible to join us in marking Earth Hour this weekend."
WWF Cymru Director Anne Meikle said: "We are the first generation to know we are destroying the world. And almost certainly the last that can do anything about it.
"It is not too late, but we can no longer simply switch off to the world's destruction and watch nature disappear. Instead we need to switch off for Earth Hour and create a powerful collective voice to call for real action to protect our planet."
Cardiff has several events lined up for this Saturday:
Head4Arts are running a series of workshops in communities to create origami cranes and talk about the effects of climate change on migratory birds.
Tin Shed Theatre company will entertain the public by performing live immersive theatre performances, inspired by the natural world, throughout Cardiff City Centre.
GoodGym, has organised fitness runs that benefit the environment. They will run through Cardiff centre spreading native wildflower seeds. The run will include a planting session at Plasnewydd Gardens and a seedbomb making workshop at Chapter Arts Centre in partnership with GreenCityEvents.
You can learn more about this years Earth Hour here.