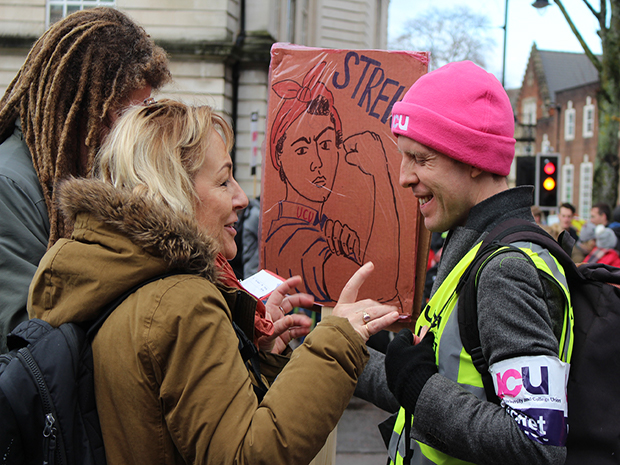 Lecturers, librarians, IT staff and others are striking for eight days over pensions, pay and job security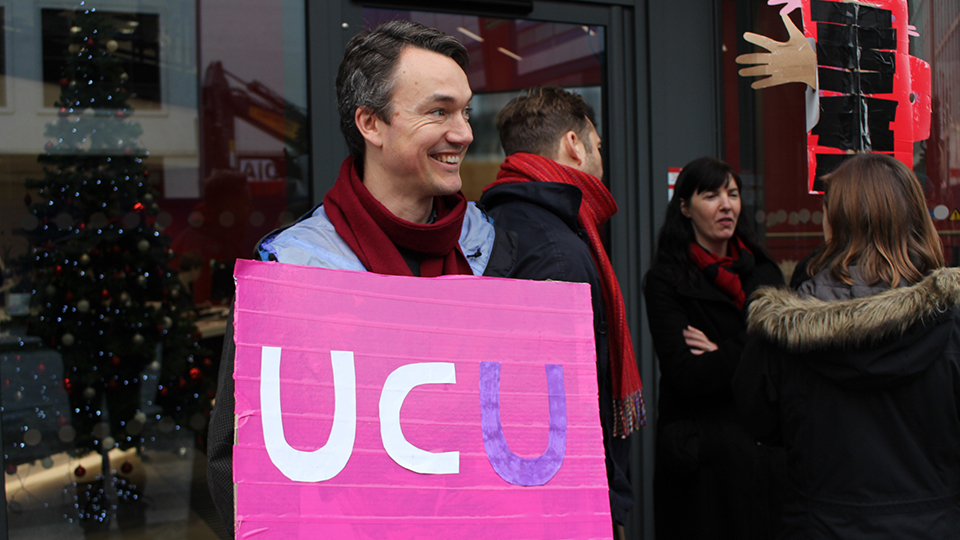 AFTER nearly two years of negotiations on pensions, pay and workloads – university staff in Cardiff are striking over a "perfect storm of problems".
Members of the University and College Union at Cardiff University are on strike with colleagues across the UK for eight days between 26 November and 6 December.
Andy Williams, media spokesperson for Cardiff UCU and senior lecturer, said workload levels are making staff "unhealthy".
"There's not a member of staff I know who doesn't know a colleague who's gone off on the sick with stress," he said.
"At Cardiff University we've even had colleagues kill themselves because of the workload they have to deal with."
Dr Williams was referring to Dr Malcolm Anderson who taught accounting and took his own life at the university in February 2018. At his inquest the coroner said Dr Anderson was under "huge pressure in terms of work and other things".
Speaking earlier this year to the BBC, Dr Anderson's wife called on the university to tackle workload pressures faced by staff in order to prevent another tragedy occurring.
Dr Williams said there is a "perfect storm of problems facing pay and employment" which has triggered the current industrial action.
As with previous industrial action in 2018, the dispute is partly about proposed changes to university staff pension schemes. Dr Williams said that, for some, this could cut their post-retirement income in half.
However, this year's strikes also centre on temporary work contracts, overwork, staff pay, and Cardiff's gender pay gap – which, at around a 21% mean disparity, is above the 15% national average for universities.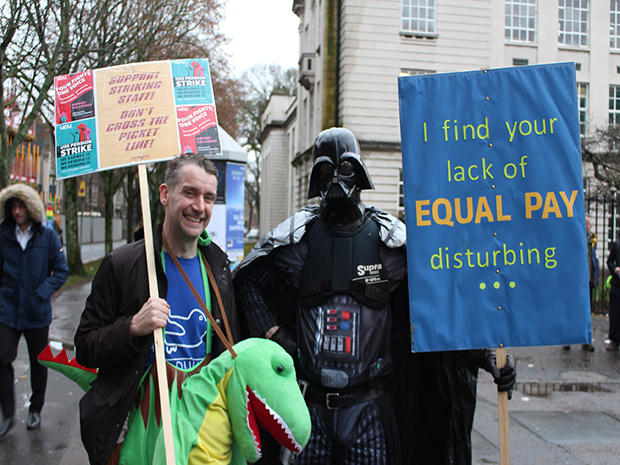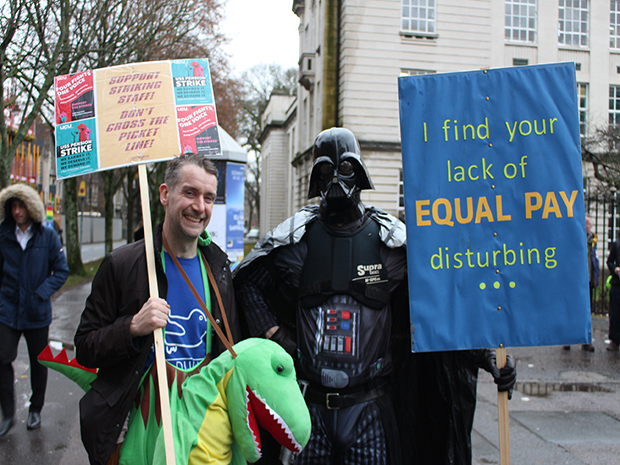 The strikes will affect more than one million students nationally, including over 30,000 in Cardiff, with lecture cancellations. Striking staff will be holding pickets, rallies and teach-outs across the eight days.
"We don't want to strike", said Dr Williams. "We don't want to harm our student's education. It's a last resort, we are at the end of our tether.
"It will harm students, there's no doubt. We're going to bring universities to a standstill, but we are completely justified in doing it.
"When it came to the crunch last time, students listened to us and understood what our issues were, they didn't act like disgruntled purchasers- they acted like citizens.
"They acted like comrades. And they supported us every step of the way."
Bonnie Weaver, first-year astrophysics student at Cardiff University, backed up Dr Williams' claim.
She said: "I support them. The issues they're facing are really unfair and I completely understand.
"Having spoken to my personal tutor, I can tell this is really not what they want to do."
Bella, a postgraduate translation student, said: "I'm supporting the strike today in solidarity with my lecturers and academic staff. I'll be missing out on several lectures, but this is a small price to pay for my lecturers to be able to retire comfortably.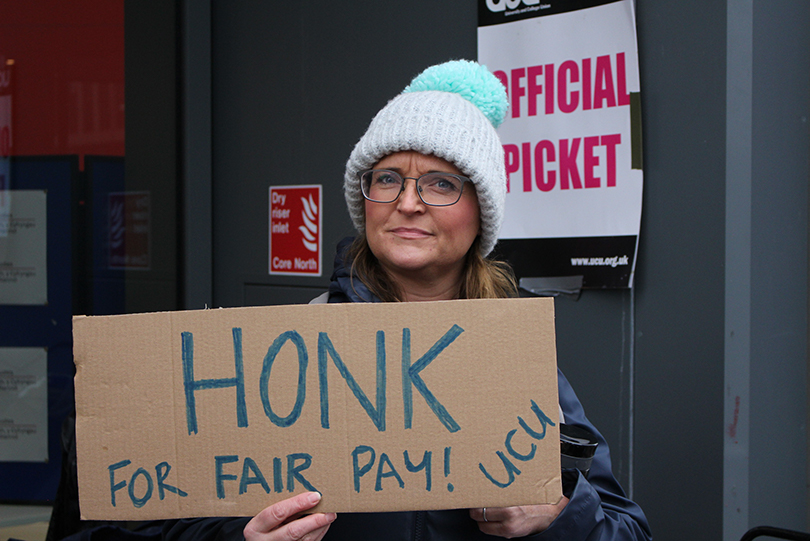 "The gender pay gap is absolutely unacceptable and the disproportionate number of BAME staff on temporary contracts is unbelievable.
"Hopefully the strikes will bring about some form of talks to resolve these issues, and in the meantime, we'll keep looking for Colin."
The UCU has been directly appealing to Professor Colin Riordan, Cardiff University's Vice-Chancellor, to restart negotiations, with the hashtag #WheresColin on Twitter.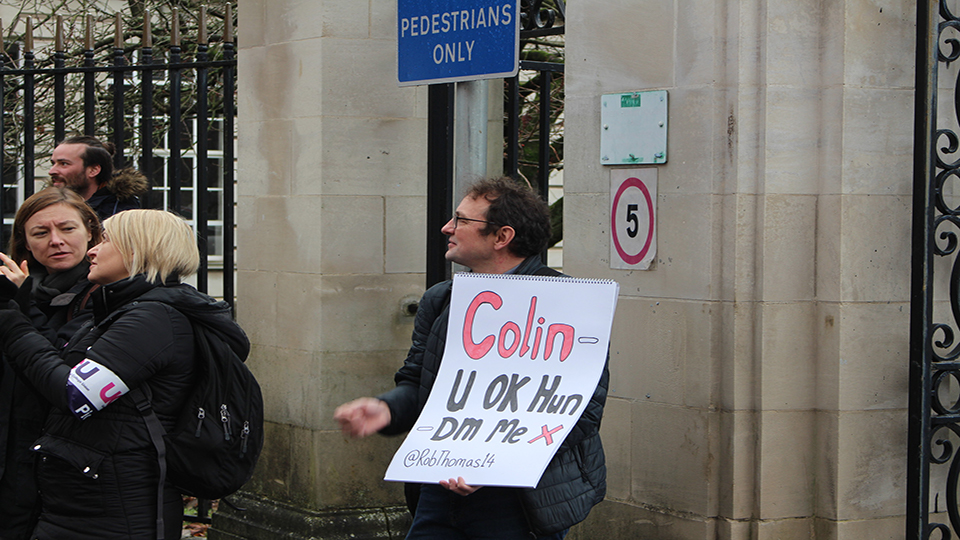 Dr Williams said university staff were "fobbed off" by employers who rejected the results of a panel of experts, which represented employers and union members, on pensions in 2018.
The panel said the pension scheme's deficits the Universities and Colleges Employers Association (UCEA) calculated should be re-evaluated.
Professor Mark Smith, Chair of UCEA, said: "The universities represented in these negotiations have shown they place a high value on their employees.
"They continue to offer fair pay and excellent pensions benefits as part of a national, sector-wide framework."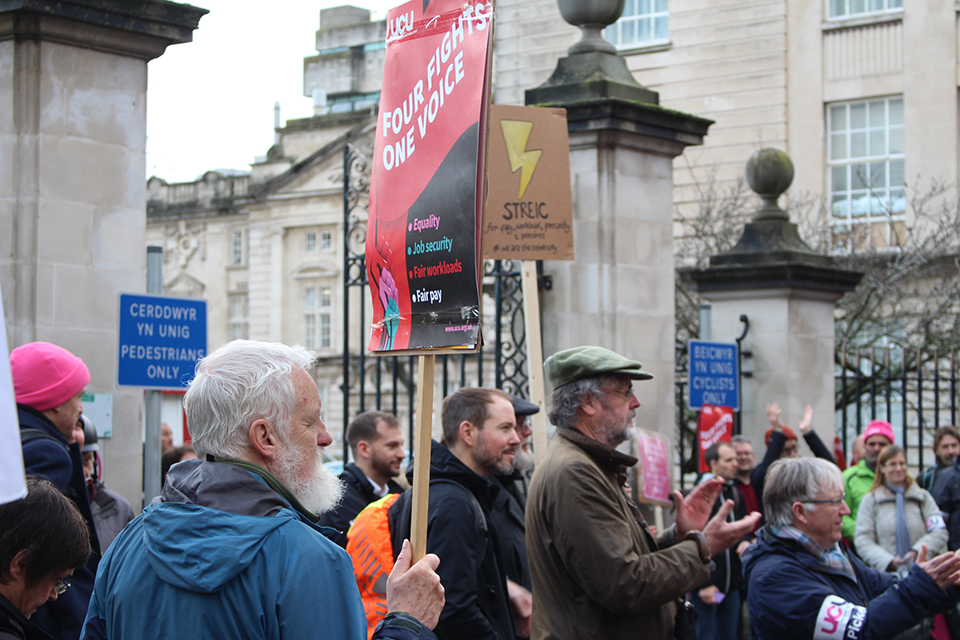 UCEA and UUK, in public statements, said they don't think staff have been "forced" to strike.
A Cardiff University spokesperson said: "The university takes the welfare of its staff extremely seriously.
"We are committed to working with all the members of the University community, including the recognised trade unions, to ensure the welfare of our staff. This work remains on-going."
Dr Williams said: "I'd say to the UCEA that you should work at the coal face again. They don't see their colleagues literally losing their minds, going out sick, having their mental health degraded day in day out by unsustainable workloads.
"I think they should take a good look at themselves in the mirror before saying insulting things like that.
"This strike can be called off. It can be called off or cut short if decent offers are made and we're not asking for the world."