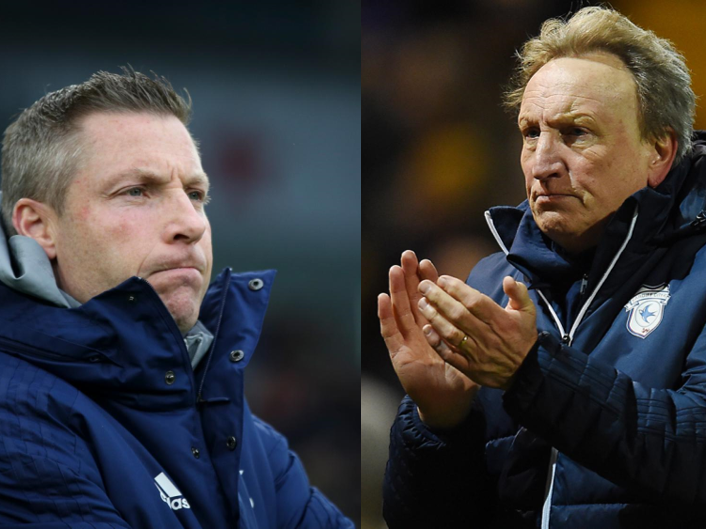 Bluebirds boss played down comparisons to predecessor, but the figures tell a different story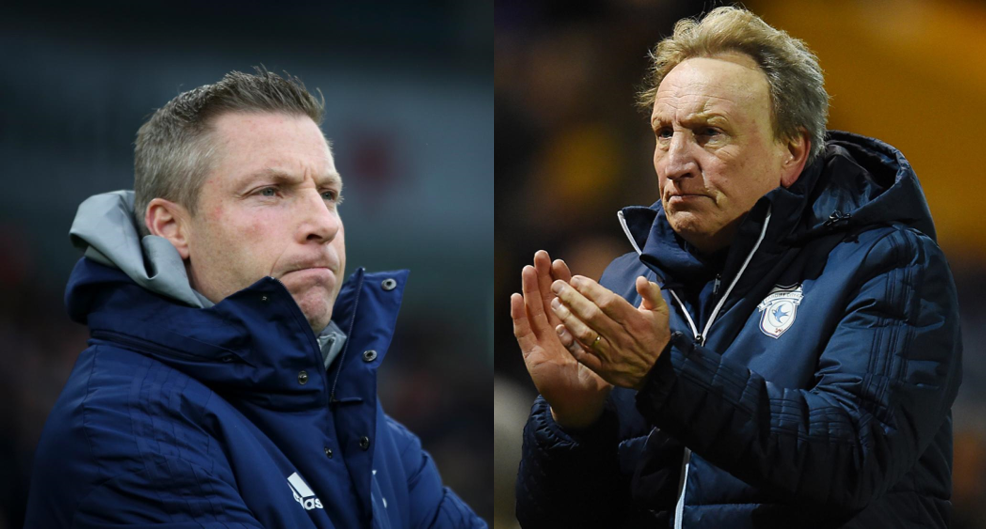 CARDIFF City manager Neil Harris has continued the direct playing style of his predecessor Neil Warnock, according to figures from his first 17 games at the helm.

Harris was quick to dismiss suggestions made by fans and the media that he was "Warnock Mark II" when appointed as Bluebirds boss in November last year, despite employing a similar style at previous club Millwall.

"[Warnock's] his own man, and I'm respectful towards that," he said.

"Some of those principles [of directness and physicality at Millwall] I will stick to, I want to adjust because of how I am as a coach.

"I also have to be respectful of the players that we've got, and we can't change overnight – it will take time."

Three months into Harris' tenure, any shift in the Bluebird's style of play has been minimal, with the so-called 'Warnock Way' seemingly still alive and well at Cardiff City Stadium.

Though the term has been disputed by the man himself, this 'Way' refers to the straightforward, risk-averse and often-unglamorous playing style employed by the veteran manager.

Possession is minimal and the number of attempted passes is low, with the ball moved quickly up the pitch, while set pieces and the team's aerial threats are a regular source of goals.

Despite his side sitting ninth in the table and just three points off a play-off spot, Harris is yet to move on from this approach, with Cardiff's figures for possession, passing, aerial duels and set-piece goals showing little deviation from Warnock's reign.
PASSING AND POSSESSION

Cardiff currently sit bottom of this season's Championship table in terms of passing and possession, with both managers contributing to this lowly position.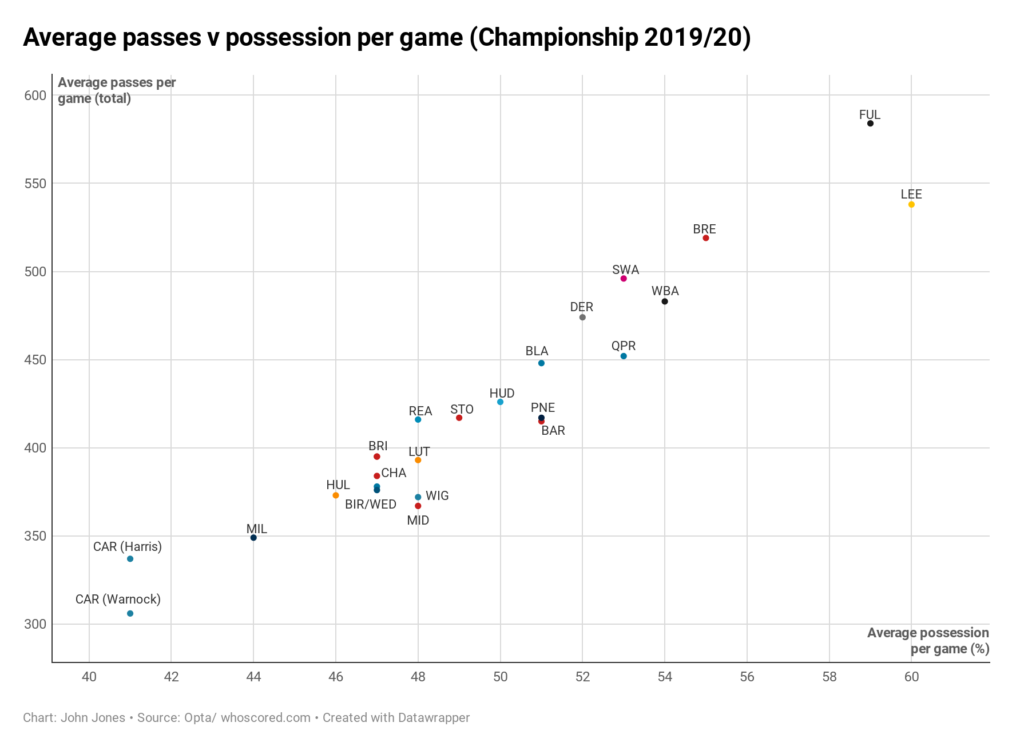 Across Warnock's 16 games before his resignation in November, the Bluebirds achieved an average of just 41% possession and attempted an average of only 307 passes per game.

Though Cardiff's average number of passes has marginally increased to 336 under Harris's 17 games, their average possession remains unchanged.

These statistics are put into perspective when compared to those of their fellow top ten opponents.

Fulham top the passing charts, with an average of 584 passes per match, while also enjoying 59% possession – just less than second-place Leeds, who have achieved 60% possession and made an average of 538 passes.

Rivals Swansea have the fourth-highest passing record in the league, making an average of 496 passes per game, while the only team that comes close to Cardiff's figures is Millwall – Harris' previous club – who have made 349 passes, with an average possession of 44%.

However, not having possession is not necessarily a bad thing – when Cardiff won promotion to the Premier League under Warnock in 2018, they had the fourth lowest possession rate in the Championship, while no team attempted fewer passes.


AERIAL DOMINANCE

Where Cardiff fall short in passing and keeping the ball, they make up for in the air.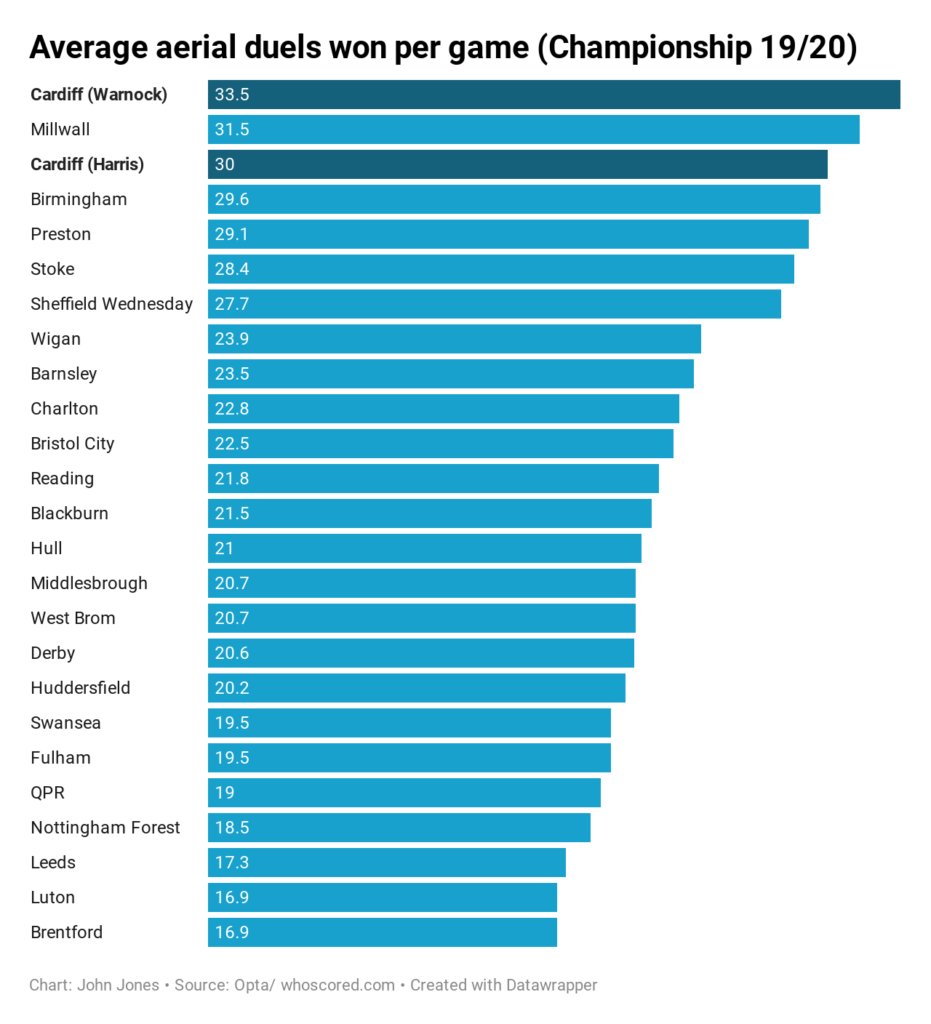 On average, no Championship team has won more aerial duels this season than the Bluebirds (31.7), with Warnock (33.5) and Harris (30) each recording similar numbers.

Again, Harris' presence in this table is clear, with Millwall the only team challenging Cardiff's aerial prowess.

City are certainly not short of height, with 6ft 4in Sean Morrison and 6ft 6in Aden Flint among the league's most prolific danger men in the air.


SET PIECES

Following their 2-2 draw with Wigan at the weekend, Cardiff have now scored more goals from set-pieces (18) than any other team in the league.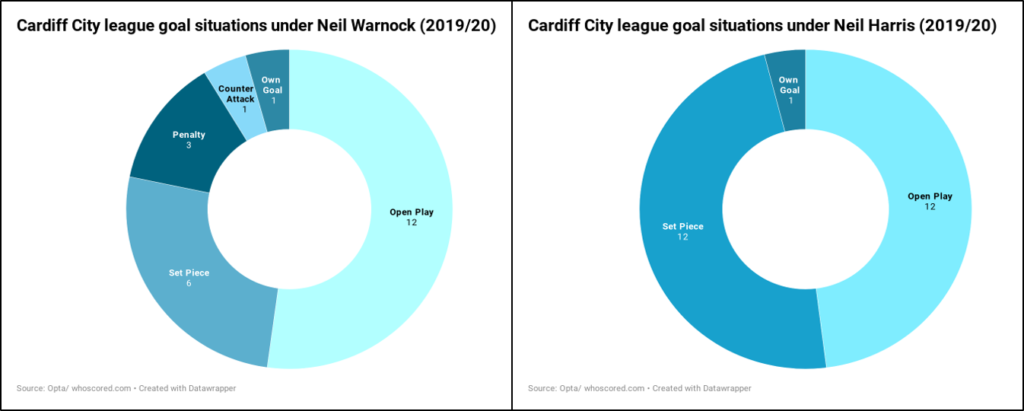 Both goals in Saturday's game came from the long throwing ability of Will Vaulks, which has been utilised well since Harris's arrival in November.

The strikes took the Bluebird's set-piece tally under Harris up to 12, level with the number of goals they have scored from open-play.

This figure is double that of what Warnock achieved in a similar number of games this season, but posing a danger from set-pieces was still a big part of Cardiff's game under his tenure.

In their last season in the Championship, the Bluebirds scored 21 goals from set-pieces, sitting joint-top with league winners Wolves.

WHAT DO THE FANS THINK?

It's clear that elements of the 'Warnock Way' are here to stay under Harris – but do Cardiff fans really care? Do they need to be concerned about the attractiveness of their team's football as long as they are gaining points? Do they have faith in their new manager?

Keith Morgan, chair of Cardiff City Supporters Trust, says that it's still too early to draw conclusions from these statistics.

"It was always going to be an evolution, not a revolution," said Mr Morgan.

"He has needed time to test out whether players can change their style – some can, some can't – but you've got to go through that learning curve before change can happen.

"You can't turn a Ford Focus into a Ferrari overnight – I think we'll continue to see a gradual improvement until the summer, when he has a chance to make a change in personnel."

City fan Mabon Evans, 22, shares Mr Morgan's faith in Harris.
"I didn't really expect him to make an instant impact due to the similarity between his and Warnock's style of football," he said.

"But he has made a steady start considering, and he has started to figure out his best XI as the season has gone on.

"In terms of the style of play, I believe that winning football is the priority, which is why the Warnock Way was so popular, as it prioritised winning over anything else – but when it doesn't work, it is atrocious to watch."

Fellow Bluebirds supporter Danny Pearce, 20, says that, in his eyes, the team's playing style comes second to their results.

"I think Harris' style of play is a progression from Warnock" he said. "We've kept the ball better and things like that.

"In an ideal world, I'd love to see us play amazing football, but as long as we get points, I don't care."