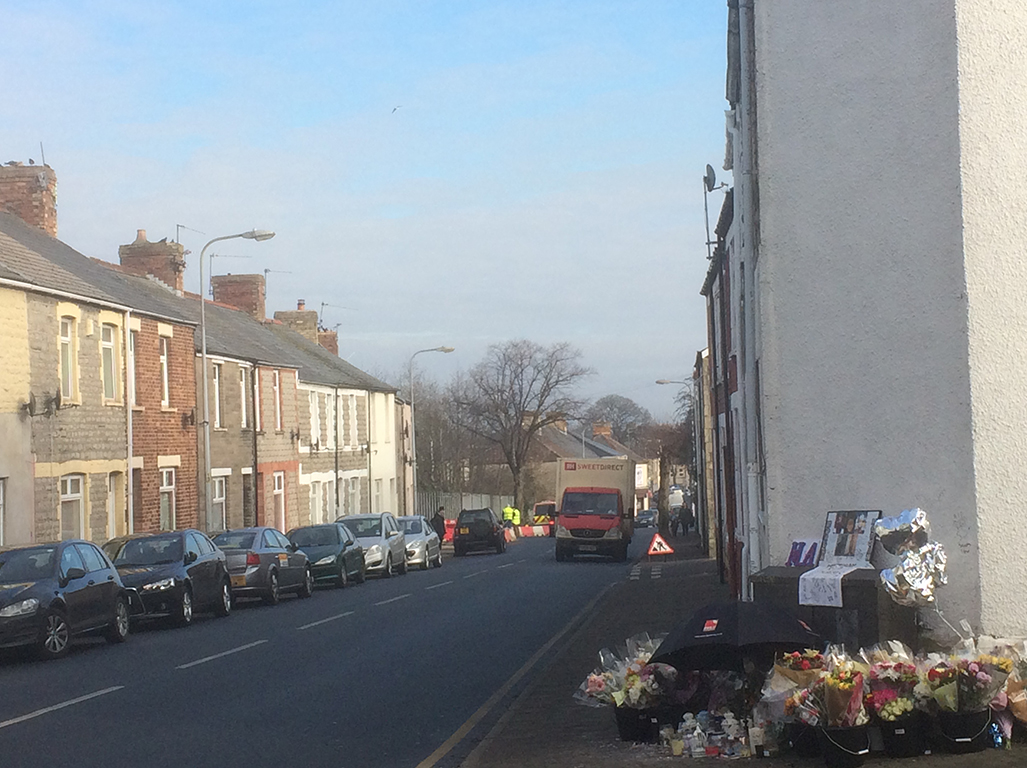 A PETITION has been signed by dozens of Barry residents to improve safety in the Witchell area following the death of a teenager.
Morgan Ackerman was hit by a white Skoda Octavia taxi on January 3 at 10.30pm. He was taken to University Hospital of Wales, Cardiff but died of his injuries.
A statement from the family said the16-year-old, known as Morgie, was "loved by everybody who knew him".
The collision took place at the Barry Road junction with Llewellyn Street. Janet Brown, 78, lives on Llewellyn Street and withdraws her pension from the post office on Barry Road.
"It's absolute murder on Saturdays, I'm afraid to leave my house. I had to run across the road last week when I was halfway across, which isn't good for my arthritis," she said.
"This has always been a dangerous road. There was a motorbike accident on the road a long time ago. But nothing's going to be done about it."
The petition was started by independent councillor Richard Bertin. The petition says: "We, the undersigned, would like the Vale of Glamorgan Council to improve road safety measures around the Witchell area on Barry Road in response to the recent tragic traffic accident. The Vale Council must improve measures to avoid future accidents and deaths in the interests of the safety of the local people.
The petition calls for:
Improved signs and warnings

A pedestrian crossing to be installed outside the post office

A ban on parking on the post office block; and

Better enforcement and speed monitoring in the Witchell area.
Lynn Buldock, 56, from the Witchell area, said: "This is the worst road in Barry. My friend's son was killed in an accident 12 years ago. This road should be one way. There's nothing to slow cars down."
Austin Meshke was only 10 when he was hit by a Ford Transit van in 2005. He had just come back from a holiday in America. He was chasing his friend, Jack Bryant, when he stepped out on to Barry Road. He was killed instantly.
Catherine Harrison, 52, from the Witchell area said: "I was brought up around here. My brother was run over years ago when he was a kid. This road has always been dangerous. But the council are probably not going to do anything."
Residents say that it is difficult to cross at the blind bend which is made worse by cars illegally parking on double yellow lines outside the post office. Gareth McCulloch, 40, owner of Grizzly's on Barry Road said: "Something needs to be done. People park outside the post office and I've never seen a traffic warden this way ever.
"There's a school down the road. It should be 20mph and there should be speed bumps. I'm surprised I haven't seen more accidents."
Mr Hafiz, 57, owner of the Premier Store on Barry Road said: "The fault isn't the road. I have been here 11 years and seen no trouble.
"The problem is when people go to the post office and park outside and there is too much traffic. They need a zebra crossing, a traffic warden, speed bumps and if possible make the road one way."
Miles Punter, director of Environment and Housing Services, said: "The council's highways engineers will be meeting with officers from South Wales Police to assess whether any action is required in this area in light of the tragic accident."