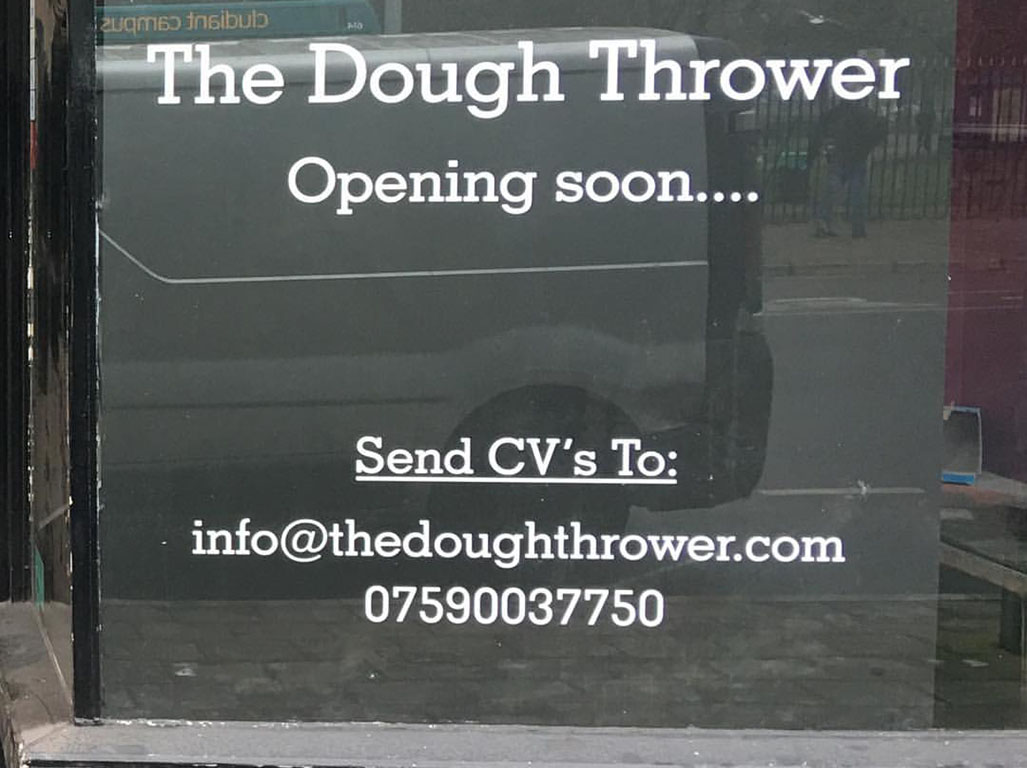 A FORMER elite sports coach, who was part of a Wimbledon winning team, is opening a pizzeria in Canton.
Ben Thomas, 36, is opening The Dough Thrower pizzeria on Cowbridge Road East after Cardiff Council granted him planning permission.
The restaurant is expected to open in late February or early March.
Before entering the food industry Mr Thomas spent 15 years working in sport. He was the strength and conditioning coach for the Bryan brothers for two and a half years during which time they won the Wimbledon Men's Doubles in 2011.
Mr Thomas also worked with Swansea Football Club in the sports science team under Brendan Rodgers and trained the Swiss national ice hockey team.
He grew up in Switzerland where he helped his grandparents at the family bakery from a young age.
He said: "Switzerland was a big influence and I was 10 when my passion really started. I wanted a shop since then but I never thought I'd have my own."
After working with the blind British sailing team and the British Kyokushin karate team, Mr Thomas decided to leave the fitness industry in 2014.
He said: "I achieved all that I wanted to in sport and I was a bit sick of it. I didn't like the way that newer trainers did things and some of the athletes were starting to question and doubt our work."
Encouraged by friends, Mr Thomas set up Surf Shack Bay, a pop-up pizza parlour in Ogmore-by-Sea.
"I've been working on my dough recipe for 20 years and my friends have always loved my pizzas. But Surf Shack Bay gave me the confidence that I could actually have my own shop," he said.
Jamie-Lee Eaton, 31, is from Sully and visited Surf Shack Bay. She said: "Their pizzas are fantastic. The staff are very friendly and their passion comes through. I'm really looking forward to the restaurant opening and I cannot wait to visit."
Mr Thomas wants to get local people in Canton involved with The Dough Thrower.
He said: "I want to hit the local vegetable stalls and I also want to get some of the local primary schools in. It'd be great to teach kids about good food and let them have a play around with dough."
He also believes that his experience in sport has prepared him for running the restaurant.
"Sport has given me all the tools. I know how to make people more efficient and how to get the best out of them," he said.
The Dough Thrower is a Career Wales' Apprenticeship and is advertising for young people to send in their CVs. It also promises to add £1 to the national wage that all apprentices are guaranteed under the scheme.
Mr Thomas says that this is part of the philosophy he had during his time in sport.
"Community is important and I want to mould young people and give them the opportunity to get the best out of themselves. A good environment is vital and I want to have a staff meal everyday to build camaraderie," he said.
Mr Thomas hopes to make The Dough Thrower into a chain in the future.
He said: "I want to cater to weddings and events, maybe even street food. Eventually I want to have two or three shops."