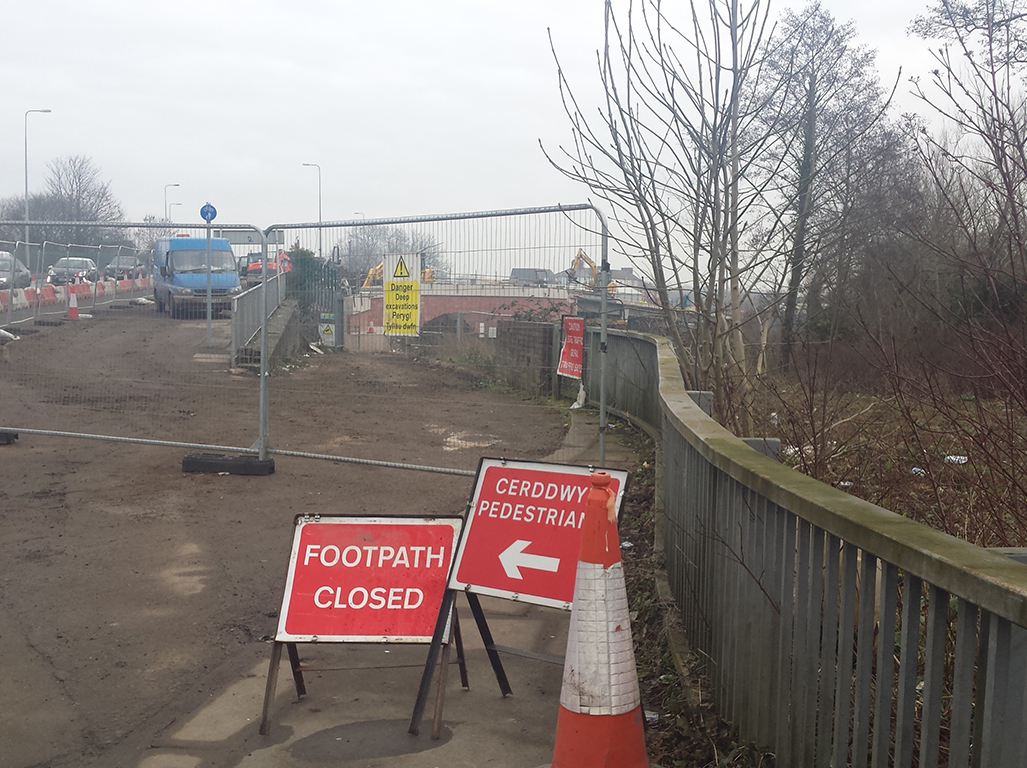 CONSTRUCTION work on Cowbridge Road West has caused major disruption for nearby businesses, companies in Ely and Canton have claimed.
One of two lanes heading into Ely and Caerau has been shut since work on Ely Bridge began last week, with businesses criticising its "ludicrous" impact on traffic.
The work is scheduled to continue for the next five months to install internet cables for 800 houses to be built on the site of the former Ely paper mill.
Paul Cottle, manager of the Coach House restaurant and pub on Station Terrace, said:  "It's absolutely ludicrous. It's affecting my customers, people can't get in or out. The traffic is backed down into Western Avenue and all the way up to the roundabout.
"The problem is the amount of traffic using Cowbridge Road West – it's huge. The whole highway management on this side of Cardiff needs to be addressed."
Meanwhile Suzanne Wills, 42, from Bowshers Garage on Cowbridge Road East, said: "Business has got quieter since the traffic started. I don't blame people, what used to be a four-minute journey now takes 40 minutes.
"It is what it is though, in the long run maybe it's a good thing as we might get customers from the new houses."
Shopkeeper Urvisha Patel, 29, from Riverside Terrace added: "It's standstill, especially at school times. It took me 40 minutes to get home from Tesco on Western Avenue.
"Customers have told me that the bus journey takes double the time, you can see the amount of number 17 and 18 buses that go over the bridge."
Following the lane closure both Cardiff Bus and First Cymru Buses have warned passengers about delays to public bus routes caused by the work.
In one Tweet published on January 17, Cardiff Bus stated: "The lane restrictions at Ely Bridge is causing some severe delays to the 1,2,13,17,18 & 96 Services."
According to Wheadon's bus company based on Station Road, the increase in traffic has also led to school routes taking up to one hour longer to complete.
Driver Steve Osling, 63, said: "A 40-minute run from Ely to Fairwater now takes me up to two hours, you can spend three quarters of an hour waiting on Fairwater Road. On the way back in the morning the bus is empty but in the afternoon I've got pupils on.
"Last week the traffic was backed up to Fairwater Pub and the traffic lights changed four times or five times without me moving."
Nick Wheadon, 25, confirmed: "It's adding an extra hour to all the bus runs that come from Western Avenue."
However according to Ely councillor Jim Murphy the construction has not affected all residents, with some people taking alternative routes.
Coun Murphy said: "The construction company did give 20 weeks notice with signs on the bridge. I've been caught up in a few traffic jams but a lot of people are going on the other side of the railway on Michaelston Road.
"I think people are finding different ways to get around. For example I went on the motorway to pick my granddaughter up from Llandaff."
Despite this, Coun Murphy admitted that the construction work has caused problems: "It has been an issue, if you're coming from Cowbridge Road East it's alright but it's bumper to bumper. When you come from Western Avenue you're coming from two lanes down into one lane."
A spokesperson for Cardiff Council said the work was needed to build a trench to supply internet cables to the future housing estate, The Mill.
"The reality of any new development is that cables and utilities need to reach the site. Traffic disruption will be for the minimum time possible," they said.