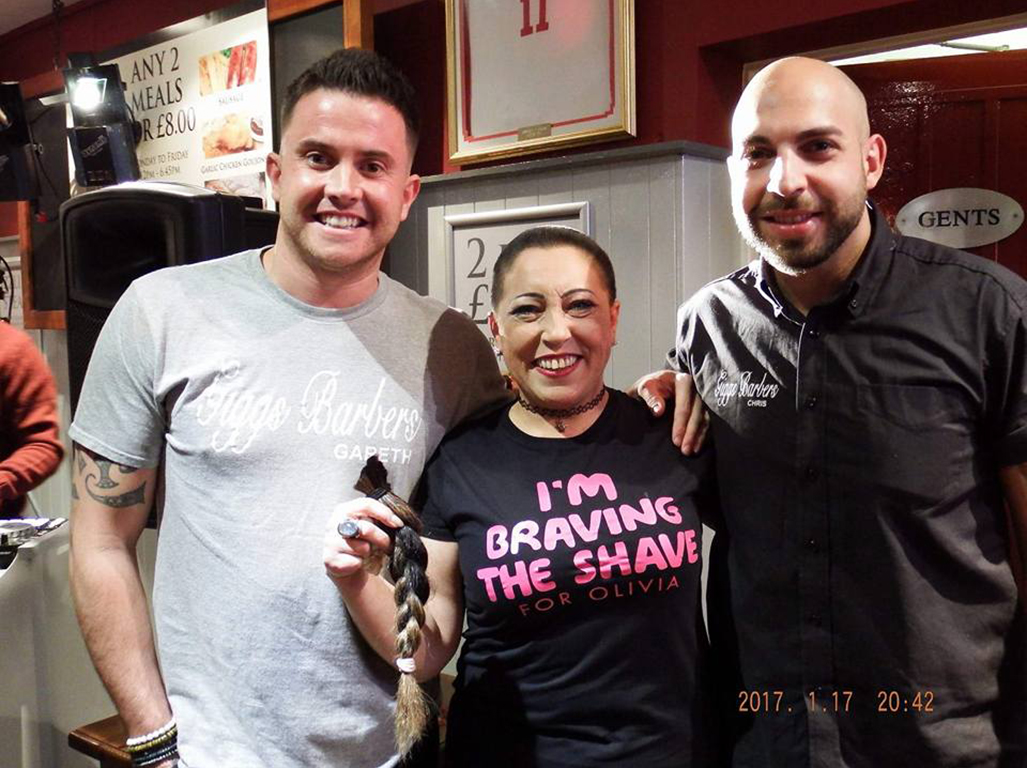 A MOTHER of five has been hailed a hero, after fundraising hundreds of pounds in response to a call for help on Facebook.
Jane Cummings Lawrence, 43, from Heol Muston in Ely, is continuing to raise money for seven-year old leukemia patient Olivia Ferrugia after shaving her head earlier this month.
Mrs Cummings Lawrence held the event on January 17 at the Canton Cross Vaults, where she shaved off her waist-length hair to donate to a children's wig-making charity. The night, which raised £400 with a GoFundMe still running, also had a raffle and DJ to raise money for Olivia's dream Shopkins- themed bedroom.
She now aims to raise more money, with plans for a car boot sale and raffle next month.
The 43-year-old first heard Olivia's story after seeing a Facebook post by the seven-year-old's father Craig Farrugia asking for help. She explained: "I saw Craig's post saying they need help for Olivia since they were struggling a little and money was a bit tight.
"I did the event within a week. I just woke up and said to my husband that I was going to do a fundraiser. With the chemo Olivia asked her mum if she could have her hair shaved and I just thought that if she can do it then I can too."
Mrs Cummings Lawrence described the night as "really emotional", with £500 worth of raffle prizes donated by friends and family.
"Absolutely everyone started crying, we had Olivia's mum Joanne messaging us from the hospital," she said.
After the event, attended by 40 people including family and friends, Mrs Lawrence was overwhelmed by messages of support.
She said: "I had about 300 of them on Facebook. I'll never stop crying thinking about them."
Mrs Cummings Lawrence also explained that she was inspired to act as a parent with a daughter of Olivia's age. She said: "I've got a daughter of the same age with epilepsy so I felt for her. I just thought that if I was in that position I would hope that someone would do the same."
After learning about her mother's work her seven-year old daughter Chardonnay has also shown her support for Olivia by using birthday money to buy her a Shopkins- themed hat, scarf and wallet.
Her mother added: "When she understood what I was doing she wanted to help, she's made her a card. It was a lovely gesture. I'm so proud of her and she was proud of me too."
Mrs Cummings Lawrence would like to thank her friends and family for all their kind support. She is now appealing for people to donate prizes for a car boot sale and raffle to be held next month.