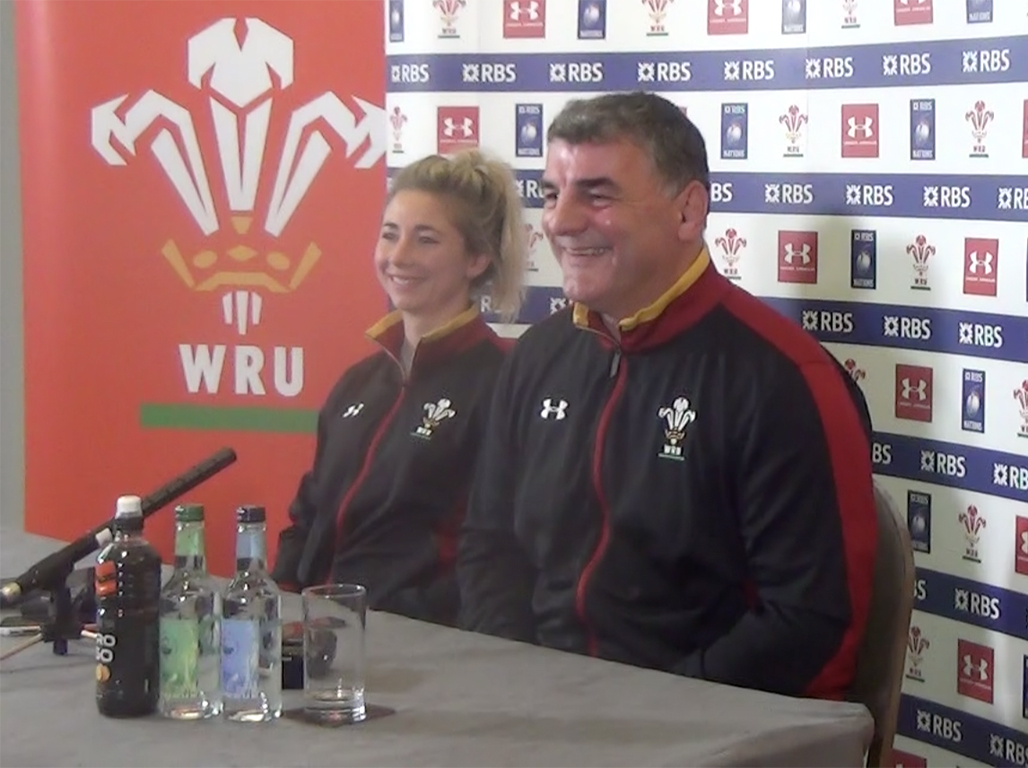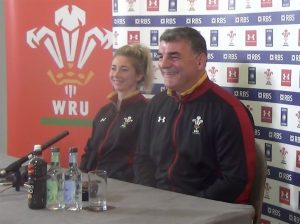 AFTER a stunning set of four victories in a row, confidence, self-belief and consistency were the watchwords at the Wales Women's Rugby six nations press conference.
Head Coach Rowland Phillips and fly-half Elinor Snowsill faced the media to share details of the squad that will take on Italy in Ancona this Saturday.
Phillips said: "We've got an obligation to announce our team by Thursday, and we're happy to stick by that." He paused. "I'll give you one. Elinor's playing. Would've been embarrassing if she wasn't!
"I just want to get into the routine of doing things in an organised way. We're pleased with the way things have gone previously, and the selection we've made."
Phillips discussed Wales' recent win against Ireland. After Ireland seized the lead in the first twenty minutes with two quick tries, Wales rallied, securing the points that would lead to their 22-14 victory.
"Ireland was our first real test. To take nothing away from the other teams, the level was a lot higher. They asked questions of us, and actually that first 20 minutes where we were pulled apart quite a bit, gave us the opportunity to appreciate what we're trying to do and give us a clearer indication of things we need to continue to work on.
"The pleasing thing was how the players came out and pulled it all back together. There's certainly a lot of players who played that game who'll be featuring this Saturday."
When pressed on how strong their campaign start was likely to be, Phillips sounded confident. "We're being positive – there's a lot of things we have to change and bring in, but one of the things was consistency. Consistency around structure, managing challenges, and behaviour, but being able to turn things around on the pitch against Ireland was one of those things.
"We have to be confident, but we also have to be mindful about getting too carried away."
Snowsill agreed. "We're a lot more prepared than we've ever been. Whether it's just the content of training, the meetings we've had, and Rowland has been through it all before – he knows exactly what we're going through. He knows the emotions and nerves that come with a match day, and he can address that, which can really help relax us.
"You go into any Six Nations with pressure. Those previous results do give a certain amount of pressure, particularly the Ireland one – it's the first time I've ever played and we've come back from being two tries down. We can take a lot of confidence from that, it does show we've grown as a group, but they're friendlies. Six Nation games are a whole different beast – all the extra nerves that come with it. And that's something we have to just take to the next level.
"We have struggled against Italy in particular in the last few years, and it may have been because we've underestimated them in the past. But it's certainly not something we're gonna do this year. We're also going out earlier so we have more time to adjust – more time to get your tea and a good night's sleep in!"
The controversial decision not to select Sian Williams, Wales' first female pro Rugby player, was also addressed by Phillips. "The back row in any age country, any age group, is always going to be the most competitive. I met with Sian, and it wasn't a case of 'not good enough, bye', it was a case of wanting to work on things. She's very focused and determined and I'm convinced she is going to deliver on the things we're asking for.
"The players are already selected. It's our responsibility as coaches to develop everyone in this environment and the harder the selection, the greater the testament to the quality of the group."
Wales' campaign in the Women's Six Nations kicks off with Wales v Italy on Saturday, at 3pm.