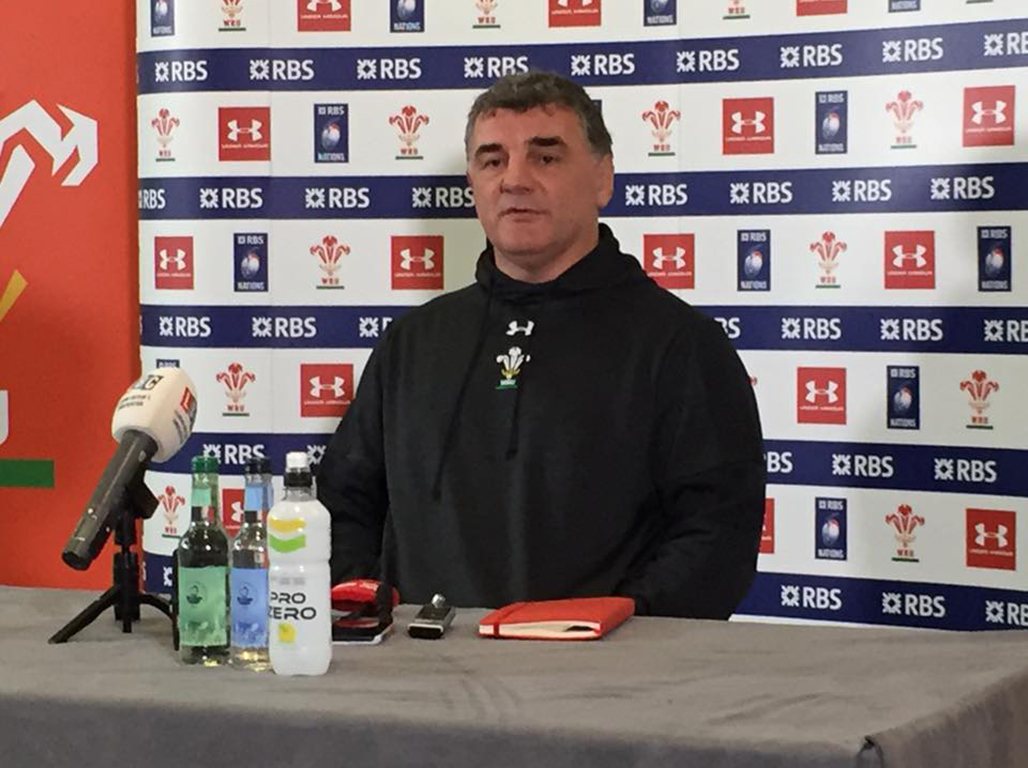 WALES Women have a mountain to climb to avoid further crushing defeats to the professional England machine, a sombre Rowland Philips told today's conference.
The head coach said the 63-0 whitewash reminded him of test matches he played against New Zealand in 1988. "We were feeling like a ball in a pinball machine – knocked around, and we didn't have time to think," he said.
"I did reflect on those '88 games. The difference at the weekend was clear — the physicality and the intensity was at a level we haven't seen before in a women's game, if I'm being perfectly honest.
"It's difficult to pull a list of positives from the weekend. The main thing is we now have 23 players who have experienced the absolute top end of rugby. That's going to be invaluable when we go forward. What we can do now is try and close that gap, and that goes from an individual level to a collective one."
Eight out of 15 of England's starting players were professionals. Wales did not field any. Phillips said: "My reason for sitting here isn't to paper over cracks or make excuses, my responsibility is to accept reality and the reality is England have a full-time, professional set up.
"There's a lot more time for them that goes into planning, reviewing, previewing, training, and, without making it sound like an excuse, we squeeze it into two nights a week. Four or five of the girls from North Wales have four-hour journeys, arrive for training and drive back again. There are certainly some differences between the teams."
But Phillips was proud of the performance. "We were 38-0 at half-time. What you saw in the second half was a team that fought hard and right to the end. We had opportunities to get on the scoreboard, and ok, that's little consolation to the public, but to us coaches we appreciate that those girls were able to pull it together and show that character we're trying to build.
"The girls showed that fighting spirit, and they carried it through to the end of the game.
"It's pleasing and disappointing, just as people are getting behind us. They appreciate the commitment they're putting in. It's just disappointing that we could give a better performance. Regardless of the pro against amateur argument, we wanted to showcase ourselves better than this.
"Prior to this weekend I was happy with the support we get from the WRU. We are certainly supported better than we have been. But this game highlighted the difference between us and a full time professional outfit.
"We could play that game again and again, and the same things would keep cropping up. The fact is they overpowered us in all contact areas. They were bigger, they were stronger, they stretched us all over the park, regardless of how much we want it as a team. If you've got a 6ft 5in second row against a 5ft 9in one, it's difficult, no matter how much your heart is in it, to compete on that level.
"There's really no short term answer. The English team didn't turn up on Monday, become professional and make a performance like that. It takes years. We need to improve our premiership game. We're always reviewing it, finding a way to make it more competitive. I think the regional system is working really well, but the club game is something we need to try and improve.
"I understand some girls going across the border, as the English Premiership is really good, and I think they're looking for something else as rugby players. A higher level of competition. What we need to do is improve ours and bring them back.
"Our league is made up of six teams, and we're just able to fill them all out with a competitive side. The English Premiership is a competitive game top to bottom every weekend. That's where we want to get to."
Phillips' next challenge is Scotland.
"Their performance against Ireland was outstanding. They only lost in the last play of the game. They don't have a World Cup now to focus on, they're focussed purely on the Six Nations, which showed against Ireland. Up against France they were very competitive. But we're confident, going in.
"We all want to strive to be the best. For us to use the situation at the weekend, well, if that's the springboard to review how we look at our game, then so be it.
"We've got to flip things over quickly for Scotland, but there are serious conversations we'll be having in the future."
One possibility is recruiting more players from the faster-paced Sevens rugby in the footsteps of Jasmine Joyce, who played Sevens at the Rio Olympics, and now plays for the Wales Women's XV.
"Sevens is attractive. It's quick, it's exciting. It's a good game to get people interested. We just want to get more girls involved, to pick up a ball and play rugby. And if Sevens is the quicker route that'd be great. But we've got to get a plan, not to look at tomorrow, but to think about where we'll be in 15 years' time."
One positive to take from the game — it was the first time a Wales Women's fixture has made a profit.
"If we're in the black, people start noticing. The girls are supported — we don't want anyone to be out of pocket playing for their country. If we're starting to operate in a profitable environment, I'm sure that'll start to pump more money into our game," said Phillips.
"One thing we're all united on is we want to give these girls the recognition and the opportunity to get to their max. You want to take all the ifs out of everything and give everyone the best chance possible."
Wales v Scotland kicks off at 6.30pm on February 24, at Broadwood Stadium, Cumbernauld, in Scotland.