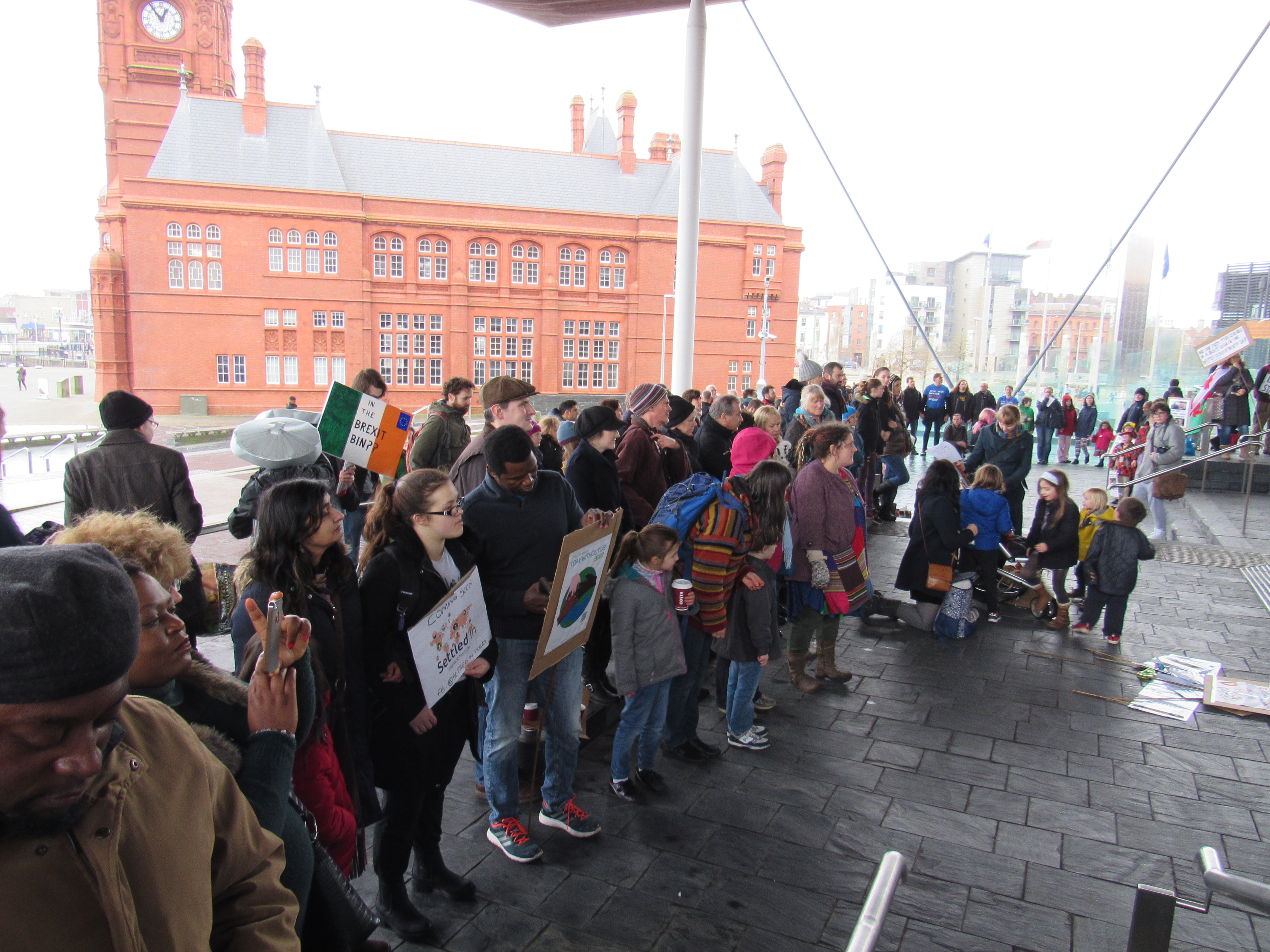 HUNDREDS of people gathered outside the Senedd yesterday to highlight the contribution migrant workers make to the economy in Wales.

The event was organised as part of the One Day Without Us campaign; a day of action across the UK encouraging foreign workers to demonstrate the value of their economic contribution by taking time out of work.

At 1pm, the crowd joined hands in a "human chain of solidarity" – mirroring action in London and other parts of the UK.

The action comes as the House of Lords begins debate on the government's Article 50 bill, with many calling for a guarantee that EU citizens already living in the UK should retain their right to live in the UK post-Brexit.

According to a 2016 report by the Welsh Refugee Council, the number of working age non-UK born residents in Wales has increased from 89,000 in the mid-2000s to 149,000 in 2015. This rise brings the estimated percentage of the total workforce in Wales who are born overseas from 5% to 8%.

The event's organiser Eunice Chipachini, 32, is an entrepreneur from Zimbabwe who closed her business Nibble Nature for the day to take part in the event.

"We are trying to send a message to politicians that it's not about scapegoating migrants or making them feel dejected," Eunice said. "It's about valuing them. We have settled here and this is our home now.

"Migrants work hard, they contribute to the economy, they are entrepreneurial, they are innovative, they are good employees and employers. They are friendly people, so it's about celebrating migrant contributions and valuing them."

Sabina Allen-Kormylo, 52, is originally from Germany and attended the Senedd event with her husband Chris Allen, 57. Chris and Sabina are self employed luthiers and run their business in Merthyr Vale.

Chris said: "I think we are anxious to wake the government up to the notion that their current political stance threatens to destroy countless EU families in Britain.

"There are literally millions of EU citizens who have come and settled here long ago, married, had children and now they seem to risk deportation. We have no reassurance from the government at all that they won't be deported.

"And this is a dreadful dilemma that is dividing up thousands of families up and down the country."

Sabina said: "I feel very angry that the government is leaving us in the lurch, especially people like myself who have lived here for so many years.

"And also now that I know that I have to apply, in due course, for permanent residency. I feel like after all this time I am treated almost like a criminal and I have to prove my status in this country."

Rhian Hawkins, 42, from Merthyr attended the event with her family in native Welsh costume to show support for migrant workers in Wales.

"We want to help celebrate all the diversity that immigration brings and we also want to protest against Trump and make sure it doesn't come to this country so that we can stop that feeling spreading here," Rhian said.

"There are shades of Donald Trump over here at the moment and it's worrying that politicians are starting to think that it is acceptable to voice those kinds of things."