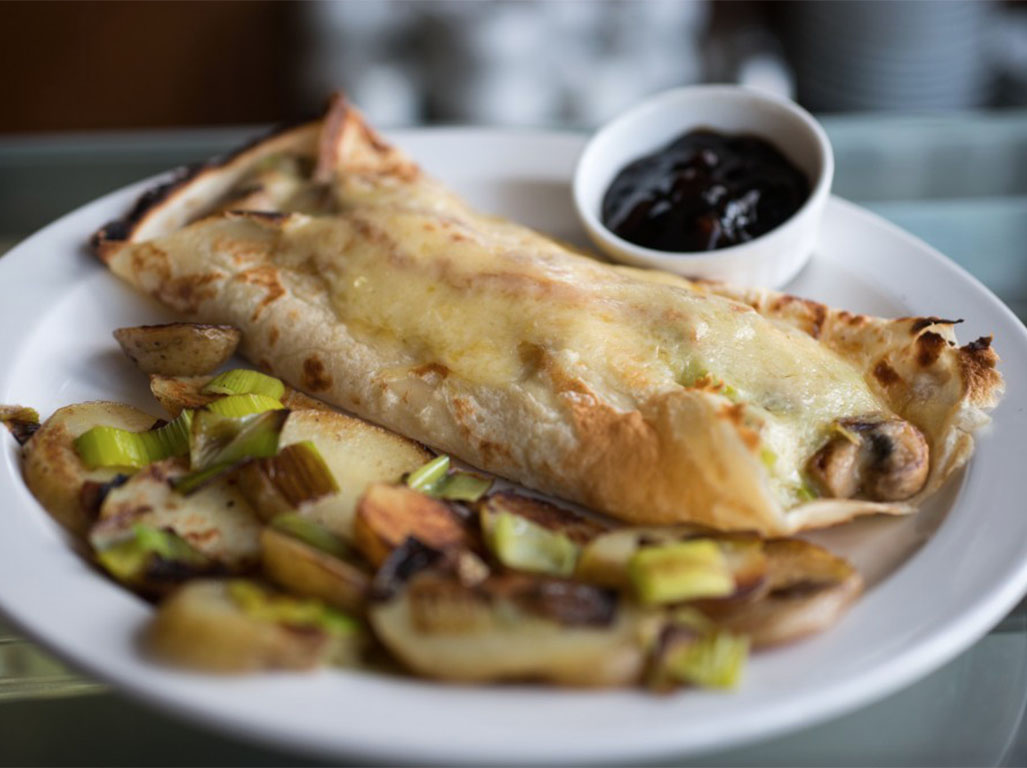 Society Standard 

Best for Date night
Grab a stack of pancakes and a glass of prosecco for £10 at Society Standard, available all day on Tuesday 28. Choose from greek yogurt with a homemade berry compote or streaky bacon and maple syrup.
Where? Whitchurch Road, http://www.societystandard.co.uk
How much? £10 
Seasons Cafe and Bar
Best for Traditional Welsh
Celebrate pancake day the Welsh way and try a traditional Welsh pancake filled with leek, mushrooms and cream cheese sauce. Add chicken, bacon, ham and tomato to really make the occasion.
Where? Castle Arcade, http://www.seasonsofcardiff.co.uk
How much? £6.45
Buffalo Bar
Best for Quantity
Buffalo will be serving unlimited pancakes between 12pm and 9pm for just £5.45 on Tuesday. They have even created a Facebook group for the occasion. 
Where? 11 Windsor place, https://www.facebook.com/events/1841111572803298/
How much? £5.45
Garlands
Best for Gluten free
Garlands will expand their pancake menu, which includes pulled pork (above) on Tuesday. Options will include Strawberries and chocolate and lemon and sugar. All pancakes are gluten free for all to enjoy and made fresh daily.
Where? Duke Street Arcade, http://garlandscoffee.co.uk/
How much? £5.95
Crepe Affaire
Best for Variety
Lent must be a tough time for the chain so lets give them the day they've waited a whole year for. Choose from a range of sweet and savoury options, including Mexican chicken and Mary Berry flavours, or even the chance to design your own. 
Where? St David's Centre, http://www.crepeaffaire.com/uk/
How much? £3.55- £7
Bills
Best for Pre-Pancake day feasting
Bills are making the most of the big day by extending it to a whole week. Choose from lemon cheesecake, banana split and salted caramel between Monday 20 and Tuesday 28 this week.
Where? Wyndham Arcade, Mill Lane, https://bills-website.co.uk
How much? £5.95- £6.95
Barker Tea House 
Best for Presentation and atmosphere
Barker has one of the most lavish pancake stacks in the city. Add blueberries, banana, or bacon and maple syrup to experience what Barker does best. 
Where? High Street Arcade, https://www.facebook.com/barkerteahouse/?fref=ts
How much? £6.50