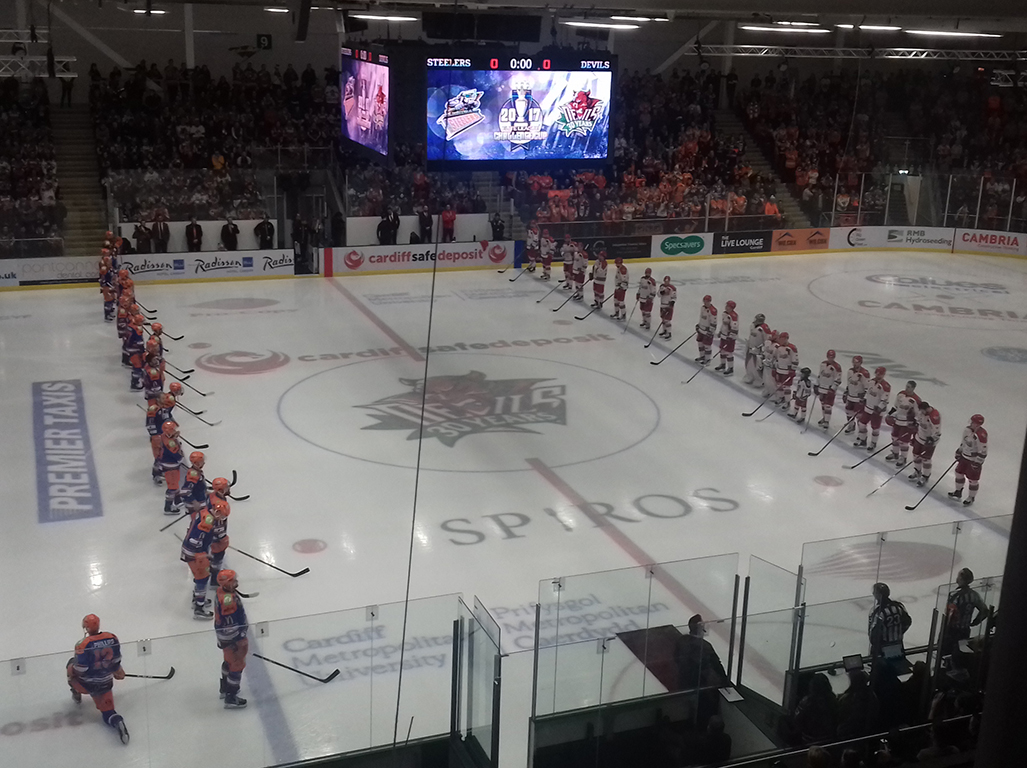 CARDIFF Devils are hoping to win the league title for the first time in their history after winning the Challenge Cup final on Sunday.
Thousands of fans headed down to Ice Arena Wales for the match, which saw the Devils come from behind to beat rivals Sheffield Steelers 3-2.
The Devils started the game confidently, with Gleason Fournier scoring the opening goal within four minutes after firing the puck past the Sheffield defenders and into the net.
However, the Steelers quickly turned the tables. Sheffield forward Robert Dowd equalised the game with 16:24 on the clock before the Steelers leading scorer Mathieu Roy scored on the powerplay.
By the end of the first period the Steelers were leading 2-1, much to the dismay of Devils fans.
The second period saw several opportunities for the Devils who dominated the Steelers and made 17 shots to Sheffield's 2.
Cardiff piled on the pressure throughout the middle period until eventually Mark Louis knocked in a shot from Sean Bentivoglio to equalise.
With the score at 2-2, tensions were high coming into the third and final period. Again the Devils continued to dominate and within minutes, Layne Ulmer scored the winning goal after a set-up by Joey Haddad and Patrick Asselin.
Fans were on the edge of their seats as the Steelers attempted to break through the Devils' defence on a late powerplay to equalise.
However, the Devils managed to fight them back and huge cheers erupted from the crowd as the clock ticked to zero and the Devils celebrated their 3-2 win.
Speaking to The Cardiffian after the match, player-coach Andrew Lord said he was ecstatic with the hard-earned win over Sheffield as well the support from fans.
"I couldn't be happier. Just so proud of the guys, everyone involved. Everyone around the organisation works so hard," he said.
"I'm over the moon for the fanbase. To win it at home like this is something I'll never forget."
Sean Bentivoglio, who got two assists in the game, was also overjoyed with the result.
"We battled all year for this Challenge Cup. We got off to a slow start so to go from that start to this is just incredible," he said.
"Everyone in that room works so hard and I'm just happy to be a part of it."
The Devils' victory on Sunday means this could be the first time in the team's history that the Devils win both the league and the Challenge Cup in the same year.
They are currently clear leaders at the top of the league table with 73 points — seven ahead of second-place Belfast Giants.
Devils' goaltender Ben Bowns was optimistic that their victory on Sunday bodes well for their league campaign.
He said: "We've got three more games to get that title now. We need three out of six I believe, hopefully we'll get six out of six. We can focus on the league for the rest of the year now, that's the big one."