A FAMILY-RUN business in Radyr has been broken into and vandalised by burglars.
Ener-chi, which is on the corner of Heol Isaf and Station Road in Radyr, is an organic and natural beauty spa and salon store which has been in Radyr for seven years. 
Before last weekend, the premises has never been the target of any criminal activity. But on Monday morning, the owners arrived to find the shop had been broken into.
Owner Judith Mancuso said: "They broke our alarm system somehow, they are clearly used to breaking into places. The police and forensics came and said there were definitely two intruders and they had gloves on. There was no evidence left in the building."
The estimated cost of repairs is in the region of £2,000. The majority of that cost is for replacing the broken ceiling light and replacing the till which according to Mrs Mancuso "the burglars broke but did not steal".
"I can claim it on insurance or I can pay it and not increases premiums," said Mrs Mancuso. "I think in the scheme of things I will just pay it, that money was for a summer holiday but now it will be going on repairs."
Mrs Mancuso's daughter Francesca Mancuso, who manages the Penarth branch of Ener-chi, said: "This place is like our home, you just don't expect something like this to happen. I do not understand why anyone would target a small family-run business like this one."

Overall, both Mrs Mancuso and her daughter felt grateful that the damage and theft was not worse. "In the grand scheme of things we are really blessed," said Mrs Mancuso. "It could have been a lot worse.

"They didn't really take that much, they just caused a lot of damage and made a lot of mess. The worst thing is the trauma they have caused."
In the aftermath of the event, Mrs Mancuso was determined to stay positive despite the break in. "We may have had a break in but we have a really solid business," she said. "The place is now looking ship shape except the lights.
"The support we have had on social media has been fantastic, it really shows how many loyal customers we have.
"We hadn't updated the alarm since opening seven years ago. I knew there had been lots of break-ins in our road but I never thought anyone would want to break into our shop to be honest.
"I have put in a new system now that allows me to look in the place at any time, any motion notifies my mobile and I can set off an alarm and call the police."
The number of burglaries in the Radyr and Morganstown area spiked at the start of 2017. In January this year there were nine incidents, as many as there had been in the previous five months combined.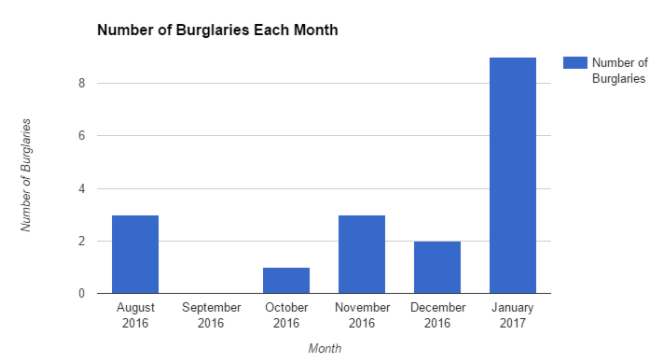 South Wales Police are yet to issue a statement about the burglary.