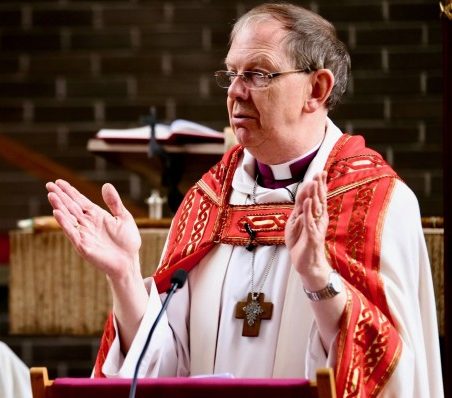 THE election of a new bishop is set to go ahead despite allegations of homophobia and the shock resignation of a Llandaff clergyman.
The Church in Wales announced this week that although Welsh MPs and rejected nominee Jeffrey John had called for a halt to the recruitment process it will push ahead to find a new Bishop of Llandaff.

In another announcement today, the Church confirmed that Llandaff's assistant bishop, the Right Rev David Wilbourne, a supporter of  Dr John's candidacy, has resigned from his post.
In his resignation letter, Bishop David said: "It has been the greatest privilege to be Assistant Bishop of Llandaff these past eight years, a diocese which serves the beating heart of South Wales, teeming with life and hope.
"It has also been the greatest privilege to have worked with Dr Barry Morgan, the former Archbishop of Wales, and share in his very personable ministry, whose hallmark has been a remarkable reaching out to the lost and forsaken and those on the margins of society, making them feel truly welcome in the name of Christ.
"Though the weeks since Dr Morgan retired have been full and fulfilling, increasingly I realise it is time to hand over the baton to the newly appointed Bishop of Llandaff, so he or she can run free, enabling the Church which I have cherished these past years to flourish."
Bishop David was elected in 2009 to help Dr Morgan, while he carried out his role as Archbishop of Wales. He has continued his duties since Dr Morgan's retirement in January.
He has been a vocal supporter of Dr John who was nominated as a candidate for the Bishop of Llandaff but was later rejected amid rumours that his sexuality and civil partnership played a factor.
Bishop David told Church Times: "Ever since I knew that Jeffrey was in the frame for Llandaff, I thought it would speak mountains about our policy of inclusion. Wales has led on that; so I can't under­­stand why the Bishops aren't of the same mind."  
The Church in Wales senior bishop, the Right Rev John Davies, Bishop of Swansea and Brecon, who currently oversees the Llandaff Diocese, paid tribute to Bishop Wilbourne and thanked him for his ministry.
He said: "Bishop David makes it clear in his own statement why he has made the decision to step down, and it is important that we respect that decision and the prayerful manner in which he has reached it."
The Church in Wales have denied that "homophobic remarks" were made during the election process and defended the decision to move forward with the nomination. They will no longer be considering candidates nominated by the first electoral college.
In a statement, the Church in Wales said: "We understand the disappointment felt by all the candidates considered by the Electoral College who did not secure enough support to be elected as Bishop of Llandaff. However, we are satisfied that the Electoral College process was carried out properly and fairly.
"The appointment process is underway and we see no reason to halt it.
"The Bishops have stressed during the whole process that whoever becomes Bishop of Llandaff, whatever their circumstances, will receive their full support."
There is no set timeframe to chose a candidate but the bishops are keen to elect someone as soon as possible.  
Church elections are highly confidential. However Heather Payne, one of the elected lay people in the electoral college, has revealed her thoughts on the process.
She said that if the meeting had, "failed to produce an agreed nomination for the bishop, this must raise the question whether the process is still fit for purpose.
"This is not a comment on any previous electoral colleges, which were undertaken at different times and circumstances. It is, however, an opportunity to look forward to the future and consider possible refinements to the process."
Ms Payne also comments on the Equality Act 2010 and its role within the college: "A mechanism is needed to ensure appropriate challenge to oppressive attitudes and language, especially covert prejudice, where these occur.
"A charitable interpretation of some speakers could include that speakers are unaware of the effect their language may be having. This underlines the importance of widespread training, education, and skills in equality and diversity.
"We must all be alert to our own individual potential frailties and prejudices, but the key responsibility for ensuring a safe and non-oppressive environment lies with the organisation's leadership."