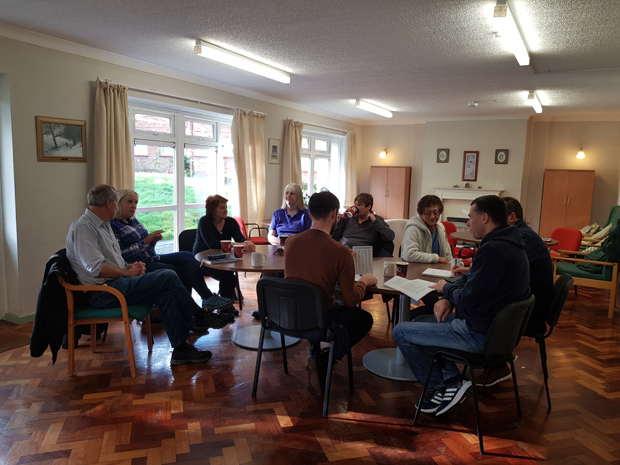 WHITCHURCH residents have met up to discuss their opposition to the proposed site for the new Velindre Cancer Centre.
The £200m specialist cancer treatment centre will be built on land to the north-west of Whitchurch Hospital Playing Fields.
Locals feel that without proper mitigation the development could have serious ramifications for the Hollybush Estate, which sits adjacent to the proposed site, and for the environment.
A proposed emergency access route for the centre via the Hollybush Estate would be located near to Poplar House, an Older Persons Accommodation.
Community Coordinator Pamela Coombes works closely with residents of Poplar House.
She feels that these residents have been "treated as second class citizens" during the application process.
Planning documents are available on Cardiff Council's website, but many Poplar House residents do not have internet access.
Even those who can access these plans may find them difficult to understand due to the sheer number of documents, their length and technical language.
Ms Coombes worries that extensive development around Poplar House could cause disruption for its residents and exacerbate their existing health and mobility issues.
Parking is already a problem for Poplar House and on the Hollybush Estate in general.
Despite accommodation for 755 parking spaces in the current plan for the new centre, those on the estate worry that parking issues will only get worse.
Environmental concerns have also been raised due to the proposed site's location on Whitchurch Meadow, and proximity to the Glamorganshire Canal Local Nature Reserve, Forest Farm and Longwood – which has been designated as a Site of Special Scientific Interest and is protected in law to preserve wildlife or geography.
"We need more green space," said Penny Bowers, who feels that potential environmental impact has been disregarded during the planning process.
Without mitigation local bird and bat populations could be adversely affected.
A breeding population of grey herons (known as a Heronry) has established itself on a site behind the Hollybush Estate, which locals worry has already been disrupted during the pre-planning stage.
"We are not against the hospital," said Julie Dyos, who along with many others who attended a public meeting on Sunday, feels that critics of the proposed site have been unfairly labeled as Nimbys (a pejorative acronym standing for "Not In My Backyard").
Ms Dyos and Janice Hughes, a former Velindre nurse, have been involved in charitable work raising thousands of pounds for the existing Velindre Cancer Centre.
"Everyone has supported the hospital in some way," said Ms Dyos "This would be a lot simpler if they put it somewhere else."
Both believe that a Brownfield site elsewhere in South East Wales would be a more viable option.
The planning application for the proposed Velindre Cancer Centre can be found on Cardiff Council's website.
The public consultation ends on Thursday.