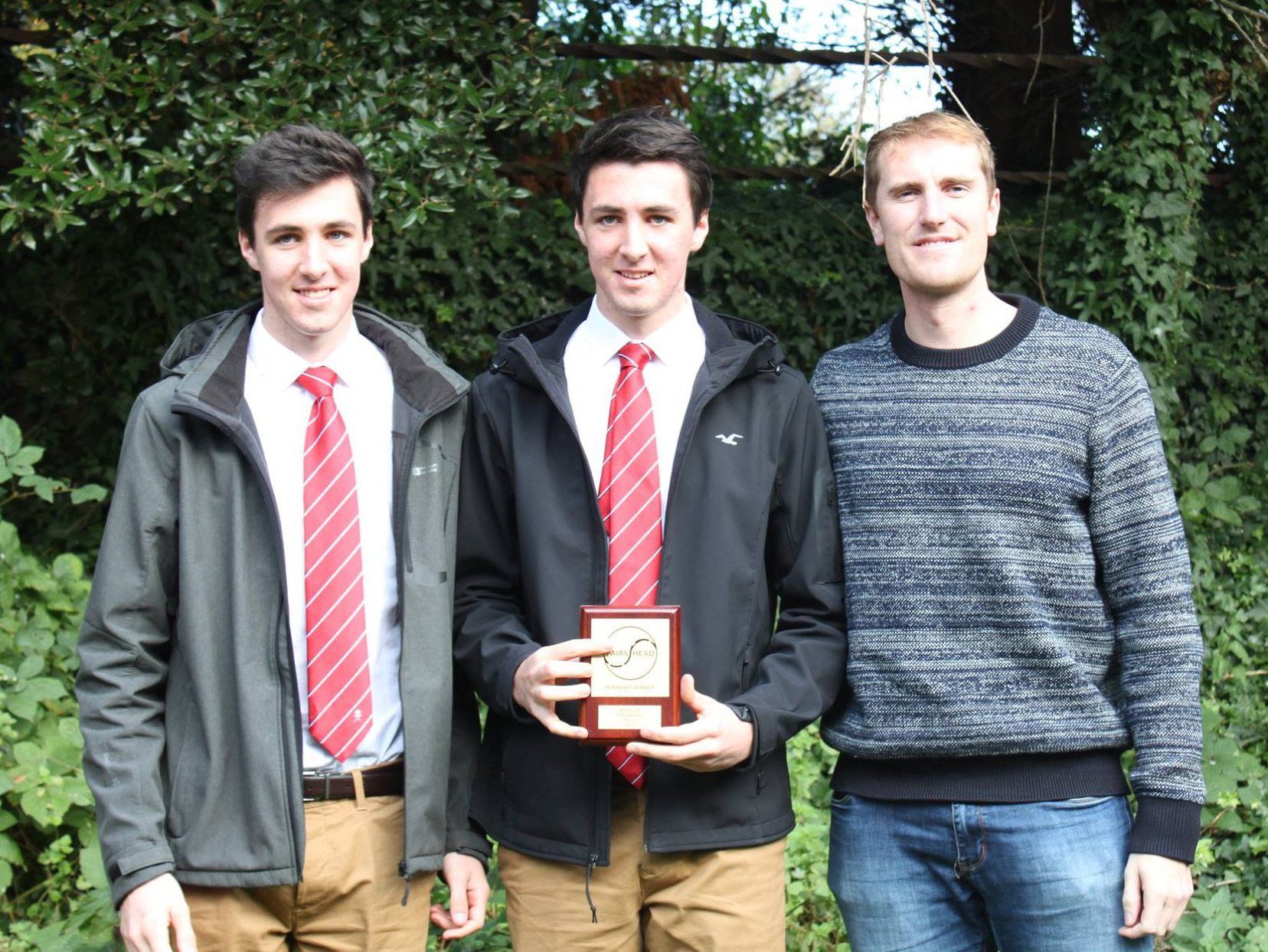 IDENTICAL twins Rob and John Davies have rowed their way into the record books at Llandaff Rowing Club by becoming the first ever members to win a major rowing competition.   
The 17-year-old brothers from Whitchurch raced together in the Pairs Head on the River Thames last month in an event which brought together some of the top crews in the country.  
"The feeling of finding out we'd won was definitely a great moment, especially considering that last year we came 5th," said Rob.  "We raced with confidence knowing that we were potentially faster than all the other crews".
Sarah Thomas, who oversees the junior coaching at Llandaff Rowing Club, explained that their win was a massive achievement and well deserved.
"The boys have raced hard through the summer but this is their first first place at a major event and is the first pennant at this event for Llandaff Rowing Club," she said.
Pennants are awarded to the winning crews in each racing division.
The award ceremony was held separately on October 29 at the Civil Service Boat House at Barnes Ladies Rowing Club, London. Olympic rower George Nash, who won gold at Rio, presented the twins' award.
"When John and I first saw George the first thing we said was 'he's massive.' But then to think that we are the same height as him makes us realise that we do have the potential to be as quick as these Olympians one day," said Rob.  
It has been a successful summer for the brothers, who rowed for Wales for the first time at the Home Countries Regatta in Scotland in July.  
They took up rowing four years ago after attending after-school sessions started by their PE teacher, Mr Williams, at Whitchurch High.  
At the same time, they saw an advert for a Learn2Row course at Landaff Rowing Club.  
"To be honest, because we were quite shy we were very close to not doing it, it's only thanks to our friend Owen doing it too that meant that we attended the Learn2Row. From there we have never looked back", said the brothers.  
They balance their school work with a demanding training schedule, which includes four sessions in the evening after school, and two 6am sessions on a Wednesday and Thursday.  They also train four times on the weekend when they are not racing.  
It is a punishing schedule but Rob explained how they fit it all in. He said: "To me now the training sessions are just a part of my life. I say to myself 'oh I'll revise after training or I'll do this bunch of questions before training' things like that and that way I get through all my work".  
Ensuring the boys are well fed in order to fuel their training is also a struggle according to their mother, Laura Davies. In a typical week, the two shovel down 50 bananas, 85 pints of milk and around 40 eggs between them.  
The family are extremely proud of the dedication and determination of both boys. They have huge ambitions, Laura explained, and both have set their sights on selection for representing GB at under-23 level.  
"Landaff has supported them in so many ways, there is a nice group of people and a really nice atmosphere," said Laura.
Landaff have had a large intake of junior members in the past few months and are fundraising for a new boat for them to use.  
"We need £12,000 to buy the brand new boat," said Sarah. "Members have organised events including a children's activity weekend through the summer, a pop-up firework evening for Bonfire Night and a quiz night."
The Parents' Association is also bidding for £5,000 from the Aviva Community Fund to raise the remaining amount. "We really need as many votes as we can get," said Sarah.  
If you would like to help LRC raise more funds you can vote by clicking on the link here, and registering your details (it takes less than two minutes).  
"We want everyone to vote and encourage family, friends and colleagues to do the same. The link can be shared on social media. You receive a set of votes per email address, so if you've got several email addresses you get several sets of votes" said a spokesperson from the Parents Association.