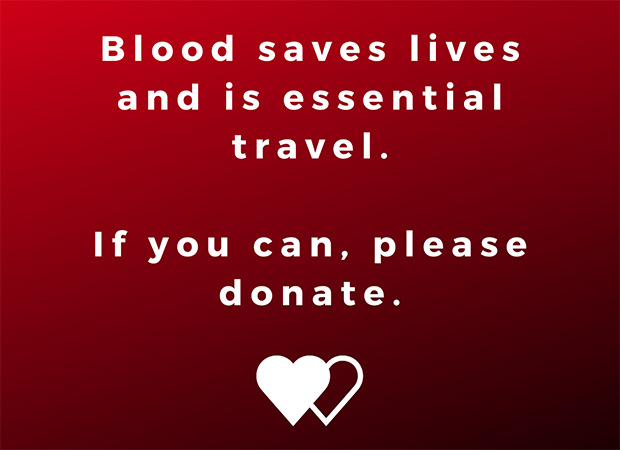 Donating classed as 'essential travel', confirms Welsh Blood Service
[Credit: Welsh Blood Service]
WELSH Blood Service (WBS) has launched a new donation hub system and is asking registered donors in the Cardiff area to consider travelling further to continue donating during the Coronavirus crisis.  
Temporary donation 'hubs' have been set up across Wales which will operate on selected dates over the next few weeks.
These include Highlight Park, Barry (April 6 – 9) and Cardiff City Hall (April 14 – 17).
Alan Prosser, Director of WBS, said: "We are asking our amazing blood donors to go the extra mile, literally, to help our NHS at this difficult time.
"Under normal circumstances we organise donation sessions close to where our donors live but these aren't normal circumstances so we are condensing our collections programme into fewer venues."
Although donation numbers in Wales have dropped by around 30% compared to usual levels, this has been matched by a 30% reduction in demand from Welsh hospitals, according to WBS.
The new system, which starts today (April 6), allows donors to continue making appointments despite government-mandated restrictions, and WBS has stressed that attending the hubs is classed as 'essential travel'. 
The new hubs will allow the service to continue operating despite a decrease in staffing and venue availability, and all designated venues will meet necessary safety measures. 
WBS has also been working with community councils and organisations across Cardiff to spread the word about the available appointments.
Amanda Thorpe, of Pentyrch Community Council, said: "Many of the normal, smaller blood donation clinics are shut because the host venues are shut and, whilst WBS are ok for blood supply at the moment, they are quite rightly planning for the future.
"We have an amazing community who, if they can help by donating blood, I know they will."
Alan Prosser, Director of the Welsh Blood Service [Credit: WBS]

Amanda Thorpe, Pentyrch Community Council
Donations sessions are accessible by appointment only. Donors who are already registered will receive notification of their nearest hub via phone call or text message.
WBS will be posting the schedule of hubs each month on their website and social media. The full list of April sessions has now been announced:
Week commencing 06.04.2020
MERTHYR LEISURE CENTRE
April 6, 7, 8, 9
HIGHLIGHT PARK BARRY
April 6, 7, 8, 9
HAVERFORDWEST
April 6, 8, 9
PEMBROKE HOUSE
April 6, 7, 8
BANGOR COED MAWR
April 7, 9
LLANTRISANT LEISURE CENTRE
April 11
Week commencing 13.04.2020
CARDIFF CITY HALL
April 14, 15, 16, 17
NANTGARW
April 14, 15, 16, 17
PEMBROKE TOWN HALL
April 14, 15, 17
LLANDUDNO JUNCTION
April 14, 16
MOLD THEATR CLWYD
April 15, 16. 17
Week commencing 20.04.2020
PONTYPOOL
April 20, 21, 22, 23, 24
NEATH PORT TALBOT
April 20, 21, 22, 23, 24
CARMARTHEN
April 20, 22, 23, 24
WELSHPOOL
April 20, 21, 22, 24
ABERGELE
April 21, 23,
Week commencing 27.04.2020
RHONDDA CYNON TAFF
April 27, 28, 29, 30. May 1
SWANSEA GRAND THEATRE
April 27, 28, 29. May 1
CHIRK
April 27, 28, 29. May 1
LLANTRISANT LEISURE CENTRE
April 27, 28, 29, 30. May 1
HOLYHEAD
April 28, 30
"We urge anyone who is eligible and would like to make a lifesaving blood donation to visit our website to find and book an appointment at a regional donation hub near them – even if it isn't the venue they usually attend," said Mr Prosser.
"We thank donors in advance for their support at this challenging time."