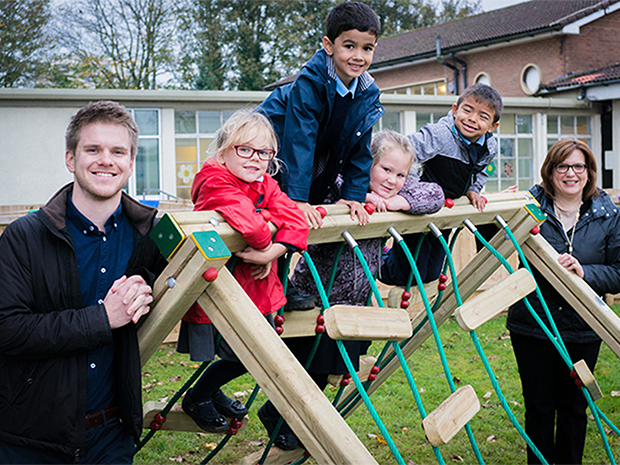 CHILDREN at Gabalfa Primary have had their playground renovated by a Cardiff company after struggling for outdoor space while their new school is being built.
Lee Wakemans, a development consultancy, stepped in after Trafalgar Business Interiors, asked if it could help.
The firm donated and installed a climbing frame, crawling net and balance beam worth £2,500 on an empty area at the school.
Mrs Carrie Jenkins, head teacher at Gabalfa Primary said: "Outdoor learning experiences encourage creativity, promote well-being, help in the development of social skills, develop independence and allow children to take risks, pushing boundaries and become confident in learning to try new things.
"Having the team from Lee Wakemans with us was a super opportunity to bring the world of business together with our community."
Gabalfa Primary is the first school to benefit from Lee Wakemans Better Breaktimes initiative, in which employees donate their time to work with schools and create better play areas for children.
Tom Woodward, assistant project manager at Lee Wakemans, said: "As a company, we really value the community many of us live and work in. We were really keen to work with a local school to enhance the children's outdoor play experience by creating a fun and good quality play-space that students can enjoy, and that would enhance their school experience.
Outside space is limited while a new building takes shape to house the merging Gabalfa and Ysgol Glan Ceubal schools. This is part of the Welsh Government's 21st Century Schools funding programme.
Mr Woodward added: "Considerable construction work is going on around the Gabalfa Primary School site, which has limited the play-space available, so we felt that the benefits of an enhanced play area would be of particular value to them.
Fourteen members of Lee Wakemans Cardiff team were involved in meetings and helped on the day.
"Not only has being involved in this community project benefited the school, but it has really made a difference to us as a team."