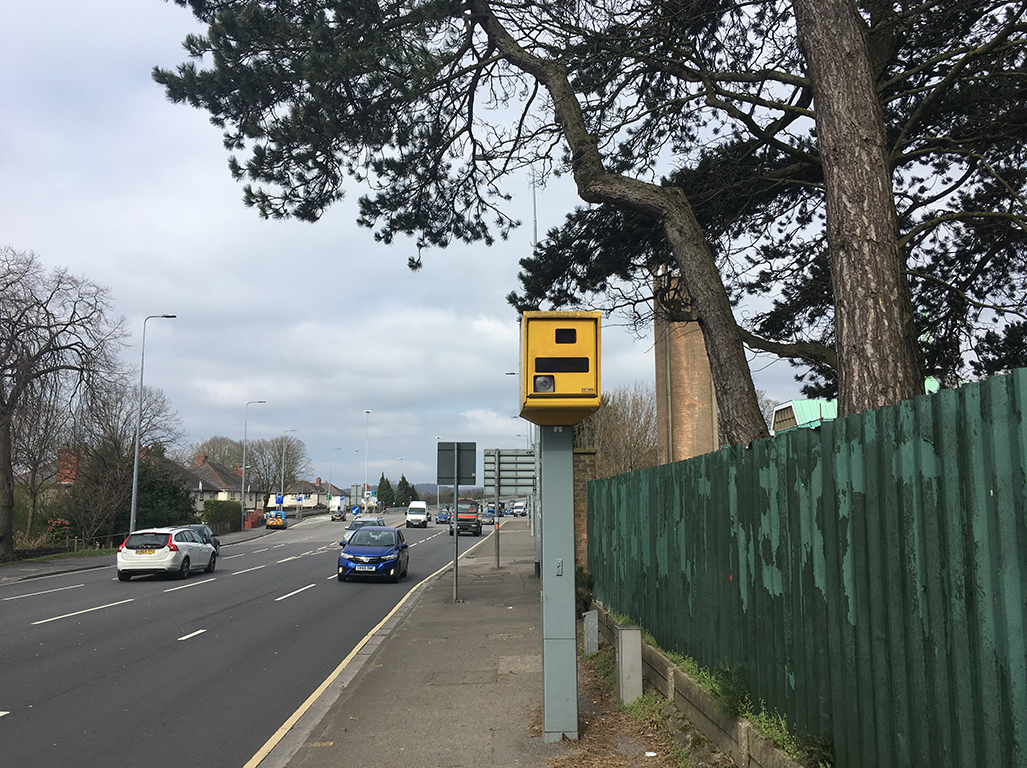 MOTORISTS driving into the city via North Road are more likely to be caught than anywhere else in the capital, a Cardiffian study has found.
The speed camera on the A470, located just outside St Joseph's Roman Catholic Primary School, caught 8,875 drivers in 2016 exceeding the 30mph limit going south along the road, which connects the city to valley towns such as Merthyr Tydfil and Caerphilly.

On average, 24 drivers a day were caught by the camera, meaning a vehicle was caught speeding once an hour.
The camera caught almost twice as many offences as the next busiest camera on the junction between Newport Road and Rover Way, which was labelled as  "the most lucrative speed camera in Britain" by the Daily Mail in 2014. But last year, only 4,769 drivers were found to be speeding by that camera, a drop of almost 10,000 in the last two years.
Below is a list of Cardiff's busiest speed cameras:
| | | |
| --- | --- | --- |
| Location | Camera type | Number of offences (2016) |
| North Road (Southbound) | Static | 8875 |
| Newport Road (Junction with Rover Way) | Static | 4796 |
| A470 Merthyr Road, Whitchurch | Mobile | 2383 |
| A48 Eastern Avenue, Llanedeyrn | Mobile | 2064 |
| North Road (Northbound), | Static | 1974 |
| North Road (Junction with College Road) | Static | 1881 |
| A470 Northern Avenue, Whitchurch | Static | 1679 |
| Cowbridge Road West (Outside the Dusty Forge) | Static | 1249 |
| Newport Road, Rumney | Static | 1144 |
| Cowbridge Road West, Ely | Static | 866 |

Speeding is far less common on the northbound side of North Road, where only 1,974 fines have been issued, putting it in fifth place on the city-wide list.
But Ed Bridges, Liberal Democrat councillor for Gabalfa ward, where the North Road speed cameras are found, said residents were not worried by the speeding in their ward.
"I can't say I'm particularly concerned. It is not something that comes up with residents," he said.
"The fact that these cameras are there and are so prolific in terms of catching people, that seems to be, quite broadly speaking, a deterrent. But the vast majority of people do slow down for these cameras so it is not a big issue for residents.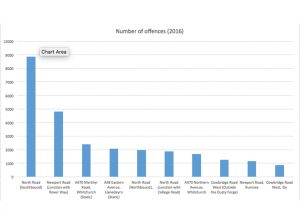 "It is one of the main thoroughfares in and out of the city which has to carry a lot of traffic and there is a balance between keeping it flowing. There is much more of a desire from residents for 20mph zones on side streets rather than dealing with traffic on North Road."
The third and fourth busiest cameras are not permanent fixtures, but regularly taken out on speed patrols by the police.
The camera on the A470 Merthyr Road in Whitchurch was only used on 85 days last year, clocking an average of 28 speeding motorists per day, a higher total than the camera on North Road.
But GoSafe Wales say that considering the volume of traffic in the city, these numbers are fairly low.
A GoSafe spokesman said: "GoSafe operate fixed and mobile cameras across Wales and deal with speed offences, red-light offences, seatbelt and mobile phone offences.
"All our cameras are sited in accordance with a clear criteria which can be found at our website GoSafe.org. We enforce the law for a reason. All of our sites are reviewed on a regular basis.
"Speed limits are there for a reason and are to be adhered to. The vast majority of motorists do respect the speed limits. Those that do not will be the subject of further action
"We publicise the majority of our sites on our website and would ask that people ensure that they drive to the conditions and within the appropriate limit."