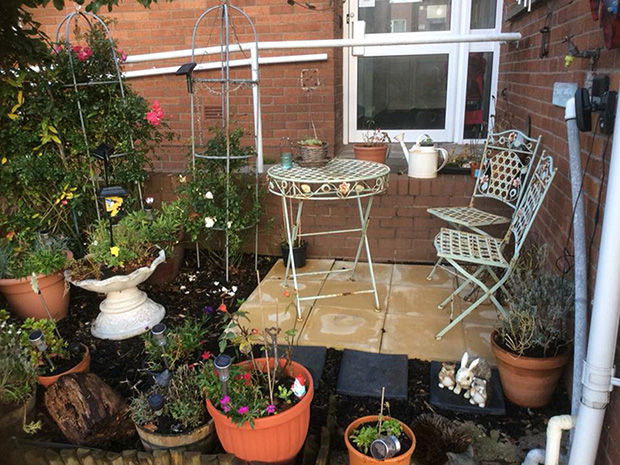 A STONE bird bath has been stolen from an award winning garden in Ely, during the week it was awarded first prize in a local gardening competition.
The Green Fingers Gardening Club, which is run by the residents of Wheatley Road Sheltered housing, was awarded first prize in the communal garden category of Blooming Marvellous 2017.
The stolen ornament sat in the middle of a garden that is shared by residents of the sheltered accommodation. The community share the care of the area so that they can cultivate a nice space for them all to use.  
Ray Nolan, who is chairman of the club said: "I can't make sense of it, of all the things that they could have stolen. We have some lovely lights up, there are some lovely statuettes and they take this bird bath.
"They not only took the bird bath but tried to take quite a large stone tortoise and a black stone Buddha, but they were dropped outside our window. It would have been very difficult for it to have only been one guy as the bath was so heavy."
Mr Nolan's wife, Katrina, who helps look after the garden said: "The bird bath was stolen between 9pm on Wednesday and 6am Thursday. The burglars must have taken off a large pot on top before taking the ornament.
"The bird bath was quite distinctive. It had a squirrel on the side of it, so we hope that someone might recognise it and let us know. Someone in Ely must know something."
The awards ceremony was held at the Senedd, on Monday 17 November, where the winners were given two workshop sessions, which included basic first aid and budgeting advice, before being awarded a prize.
Other award categories included best young gardener, best front garden, best back garden and best restricted space garden.
Councillor Lynda Thorne who was at the awards ceremony for Blooming Marvellous said: "I am really disappointed for the residents. The group has gone from strength to strength and it is such  shame that they have worked so hard and have had this set back.
"I am sure that the council will support the group with the issue and I hope that the group continue their great work."