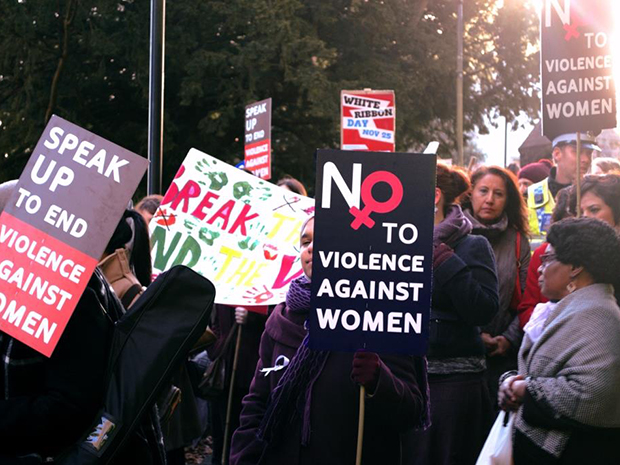 ORGANISERS of a White Ribbon march to Llandaff Cathedral hope to raise awareness of violence against women and empower survivors to share their stories.
Bawso, a Welsh charity supporting around 5,000 BME women affected by domestic abuse each year, is leading the march on Monday in collaboration with Llamau, Cardiff Women's Aid, Safer Wales and other charities.
Marchers will set off from the Llamau offices on Cathedral Road at 9.30am and arrive at Llandaff Cathedral at 10.45am.
Mutale Merrill OBE, CEO of Bawso, said: "We march from Cathedral Road to Llandaff Cathedral just so that we're visible and get people who are driving their cars hooting and supporting us. We sensitise the general public that way and we find it works."
Evelyn Namatovu, part of the Bawso team leading the event, said: "I think it's a powerful statement because it's not only women who turn up to the march, it's males as well. People from all backgrounds and all professions.
"Council members turn up and march with us, as well as assembly members, social services and the survivors themselves. It's a powerful moment to see all these people coming together."
The event is part of an annual Light a Candle, which marks the International Day for the Elimination of Violence against Women on Saturday.
A Light a Candle service will be held in Llandaff Cathedral from 10.45am on Monday. It is the only service of its kind to be held in a Cathedral in Wales.
Ms Merrill said: "The venue itself lets us be quiet and reflective. The programme is about being reflective and searching your soul as to whether or not you are doing something towards eliminating violence against women."
Each year, a survivor who has been supported by one of the charities is invited to share their journey at the event.
"The only way you can tell the story is to ask the people who've experienced it to tell it as they've felt it. We want the survivors to have a voice, participate and contribute," said Ms Merrill.
I will be marching with my Bawso colleagues and very proud to be a White Ribbon Ambassador – Come and join us to support ending violence against women!

— Stephen Chapman: Anti-Slavery Co-ordinator (@ASC_Cymru) November 16, 2017
Religious leaders from six faiths, including Christianity, Islam, Buddhism and Hinduism come together to light a candle during the service. The gesture symbolises zero religious tolerance towards domestic violence.
An assembly member traditionally speaks at the event but the death of AM Carl Sargeant, who spoke last year, has delayed the announcement of this year's speaker.
A fundraising lunch at Llandaff Rugby Club will follow the service, from 12.30pm. Ushers will guide attendees along the route from the Cathedral to the club on Western Avenue.
Guests will pay £5 for a meal provided by Deli Fuego, which goes towards services helping women who have no recourse to public funds to pay for clothes, food and childcare.
You can pay for the meal on the door.
To register, email publicity.event@bawso.org.uk or call Evelyn on 02920 644633.