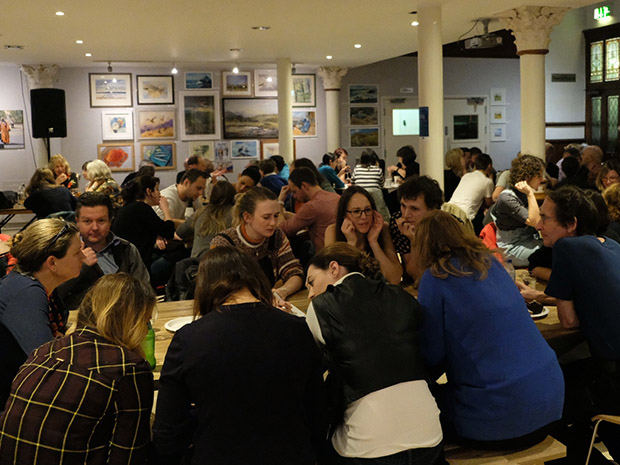 VISITORS to a quiz night last week raised nearly £400 for refugees in Cardiff.
The event, organised by Splott-based refugee charity Oasis Cardiff, took place at Roath's Gate Arts Centre last Wednesday.
"With the ticket sales and cake sales we made roughly £380," said Tess Seymour, head of marketing and communications at Oasis.
Of this, £61 came from cakes made and sold by Charlotte Amos, who works for social enterprise Redefined Futures – and is also climbing Mount Kilimanjaro in aid of Oasis next month.
Something is lacking in Cardiff when it comes to refugee support, she said.
"There hasn't been, and still isn't, enough support for refugees and asylum seekers in Wales," she added.
"Oasis is doing their damnedest to make sure that everybody is catered for, and everybody is cared for, including the most vulnerable in our society."
Other guests on the night also spoke highly of the group's work.
"We're massively in support of charities that do work with refugees, and massively opposed to the current political climate," said Splott resident Dave, who was visiting the quiz with his family.
Situations like Brexit and countries closing borders are "fuelled by fear and misunderstanding of the whole immigrant situation," he said – a fact which makes him more likely to support charities like Oasis.
"Plus it's on our doorstep, and it's good to help local projects," he added.
Siblings Richard and Nicola also felt a connection to the charity.
"Knowing people who work there, you get to hear about all the good things they do," they said.
On offer at the quiz night were two tickets to Black RAT Productions' Christmas performance of Hansel and Gretel, two tickets to Chapter cinema, and free room hire at Oasis.
The next big project for Oasis is a community choir being launched with Wales Millennium Centre.
The charity is also taking part in this year's The Big Give: Christmas Challenge, which gives organisations the chance to double their donations for one week starting on November 28. Check out Oasis's profile on The Big Give here.