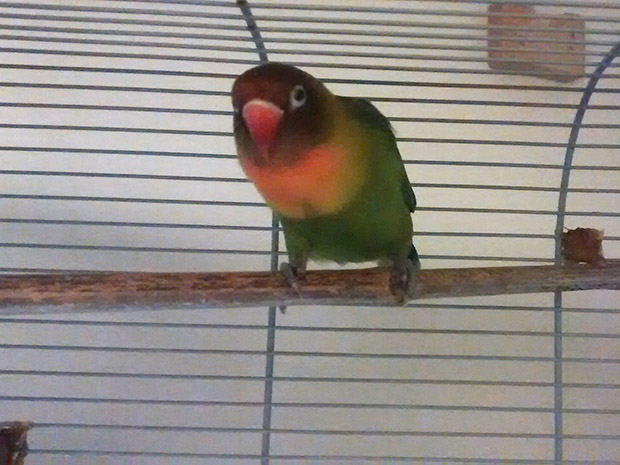 A CAFE on the border of Splott and Tremorfa was forced to stop customers leaving for half an hour last week, after an escaped lovebird ruffled some feathers.
RSPCA Cymru is still searching for the owners of the green lovebird parrot, which flew into Luvly Grub Cafe just after lunchtime on Thursday – much to the surprise of the staff.
Hi all we have found a parrot type bird it's in the Cafe in Tremorfa now

— LUVLY GRUB (@luvlygrub) November 16, 2017
"We were all running around like idiots, scared to death," said owners Julie and Paul Lane-Anderson.
The staff closed all the doors, and customers had to wait around 30 minutes before the bird – which they nicknamed Elvis – was safely caught.
"We chased him around with empty boxes," Mr and Mrs Lane-Anderson explained.
They even briefly caught Elvis at one point, before he escaped again.
"It was madness," they said.
Once Elvis was under control the couple, who describe themselves as "animal lovers," took to Twitter to try and track down the bird's owners.
"A friend on Facebook sent a photo as they saw a similar looking bird by St Peter's School the day before, and we couldn't believe it – it's only the same bird," said Mrs Lane-Anderson.
However, with still no clue where the bird had come from, they took it to Valley Vets in Whitchurch, where the RSPCA collected it.
Elvis is now at a boarding vets, awaiting transferral to an RSPCA centre.
"The bird is healthy and has not been injured," an RSPCA Cymru spokesperson said, adding that they do not know yet whether Elvis is male or female.
"We're appealing for information to try and track down the owners of this beautiful bird who may be looking for them," they said.
They urged anyone with information relating to the lovebird to contact the RSPCA on 0300 123 8018.