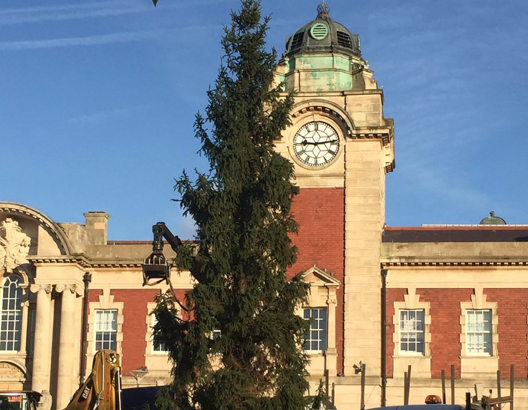 A SECOND Christmas tree has been put up in Barry's King Square after the original threadbare conifer was mocked by residents.
Vale Council received so many tweets after the first 40-foot tree was erected last Thursday morning that it was removed just hours later.
Among the tweeters was Coun Ian Johnson, who captured the tree on his way to work.
"As Wales' largest town, you would expect that Barry would have a Christmas tree designed to impress. I am surprised nobody realised there was a problem before it was put up at full height," he said.
This is not the first time Barry's festive preparations have attracted controversy.
In 2006, vandals destroyed its centre-piece tree. Four years later, against the backdrop of the Great Recession, a small artificial tree was placed in King Square.
"At least in 2010 we still had a decent tree alongside the joke one. Now the actual tree has become the joke. It's mad," said passer-by Genna Fuller.
Coun Jonathan Bird, the council cabinet member for regeneration and planning, responded: "The Barry town centre Christmas tree arrived on Thursday morning and once put on display was clearly not of sufficient standard.
"The council took the immediate step to remove the tree and the suppliers sent a replacement on Saturday morning."