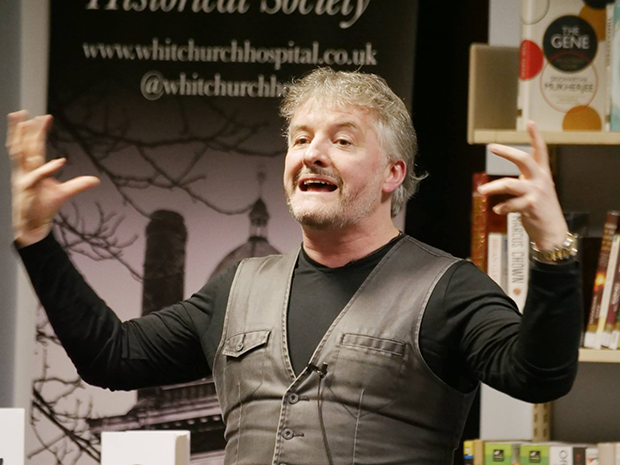 LAUREL and Hardy fans shared their memories of the comedy duo with author John Connolly when he made a guest appearance at a Cardiff library.
The award-winning author's book, called "He", reimagines the life of comedian Stan Laurel and his beloved friendship with Oliver Hardy.
Mr Connolly is the author of the best-selling "Charlie Parker" crime fiction series, the "Samuel Johnson" series and "The Book of Lost Things" amongst others.
He was speaking at a free event at Rhydypennau Library in Cyncoed, last week when almost 100 people attended.
Mr Connolly said "stylistically this book is very different", but Stan Laurel's bereavement of Oliver Hardy spoke of a similar "grief, loss and male friendship" met in crime fiction.
He said: "Male friendship very rarely gets discussed, so much of it goes unexpressed. We are very solicitous of each other.
Laurel and Hardy always seemed to me to be creatures of a different past. Everyone knows what they look like, but not who they are. Their career spans such an interesting period which explodes in the great era of celebrity, and declines during the sixties."
During the talk, Mr Connolly showed two Laurel and Hardy films "Helpmates" and "Their First Mistake" from 1932.
Mr Connolly said: "The films were both released in the same year. I like the contrast between them, they are funny in a very adult way."
Alongside readers of Connolly's fiction novels were a number of long-standing Laurel and Hardy fans.
Ted Marchant, from Heathwood Road in Heath, said he has always loved their films.
"I've followed them all my life, I thought they were hilarious," he said.
Mr Marchant proudly shared his story of how he met Stan Laurel and Oliver Hardy at New Theatre, Cardiff in 1952.
"It goes back a long way, I was friendly with the doorman so I managed to get an autograph from both of them."
Mr Connolly said was touching to see how much Laurel and Hardy meant to the people of Cardiff.
"They were iconic and thousands of people came to see them in Cardiff. I'm glad people came to remember and share their own experiences of them here tonight."
Friends Sarah Hall and Sheila Palmer-Smith, from Penylan and Heath, said: "Before tonight, we'd only ever seen Stan Laurel on the TV."
Clive Harry, from Pontprennau, who attends the monthly speaker events at Rhydypennau Library said Mr Connolly's talk was "fantastic".
"Events like these make the library into more of a community hub," he added.
As well as monthly guest speaker talks, Rhydypennau Library holds quiz evenings, a twice monthly cinema night and community mornings for children.
Sue Thomas helps run the Friends of Rhydypennau Library group, who organised the event. She said:
"A range of people came along, including long standing fans of his work and would-be writers. It was very special that he signed books and talked with people afterwards.
We want to create more value for our community and somewhere people feel they belong, as well as being a library."
Tickets and information on John Connolly's next events and tour dates can be found here.