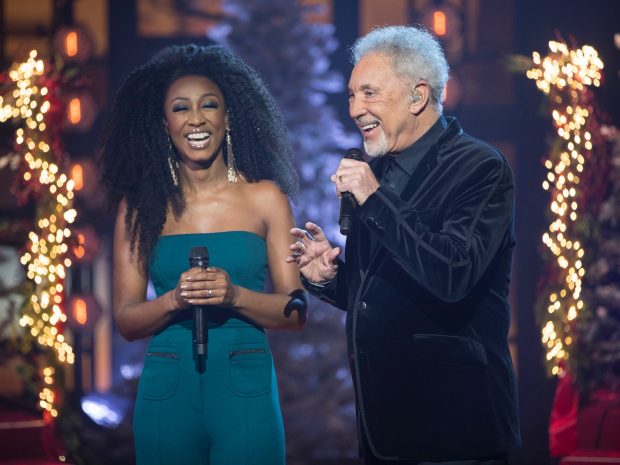 SIR TOM Jones and Beverley Knight have recorded a gospel-themed show in Cardiff Bay, to be broadcast on Christmas Day.
Hit-maker Sir Tom and other well-known musicians gathered at the newly-refurbished Coal Exchange Hotel on November 28 to put together a selection of songs harking back to the singer's musical roots.
Sir Tom, 77, said: "It will be an evening of beautiful singing and playing in the heart of Cardiff at the historic venue, and I hope to share this joy with you all at home on Christmas Day."
About 270 guests were invited into the Coal Exchange's Grand Hall for the intimate three-hour performance. In 2015, Sir Tom was one of many locals to support the restoration of the historic building, and he has returned to celebrate its re-opening.
Sir Tom and Beverley Knight were joined by singers Jessie Ware and Kwabs, with the London Community Choir and House Gospel Choir.
Highlights include a duet of Silent Night by Sir Tom and Knight, Have Yourself A Merry Little Christmas, sung by Jessie Ware and Kwabs, and Prince's The Cross covered by Knight.
Sandra Crawford was overjoyed to get a ticket to the recording. "I thought that it was a wonderful performance. The choice of songs was excellent, the arrangements they used were excellent. Sir Tom and Beverly Knight were great hosts."
Sir Tom performed a cover of Bob Dylan's I Believe in You for the first time. "Back in 1979, Bob Dylan re-discovered his faith before recording Slow Train Coming. This song from that album really means a lot to me," he said to the Coal Exchange crowd before the performance.
Audience member Jon Thomas said: "It was a lovely heartfelt performance, hearing Tom Jones do gospel songs was something special and I can't wait to watch it again on TV."
Knight has previously hosted four series of Gospel Nights on BBC Radio 2, "exploring the origins and impacts of gospel music".
This show, Gospel Christmas, will be broadcast on Christmas Eve on BBC Wales, and Christmas Day on BBC Two.