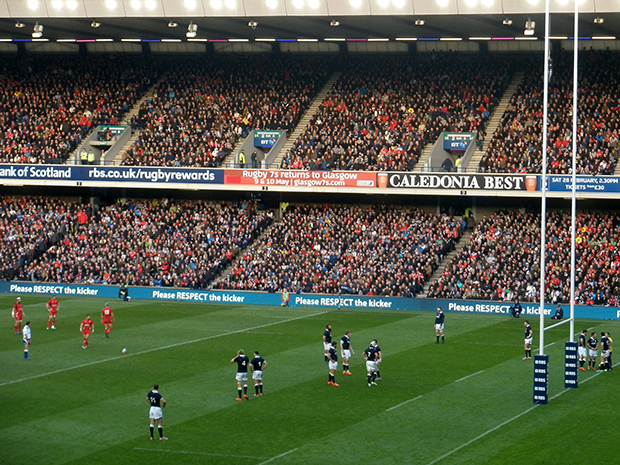 WARREN Gatland wants to close the roof on the Principality Stadium on Saturday to "create a spectacular atmosphere" at the game against Scotland.
"I spoke to Gregor [Townsend, the Scotland coach] last week and he seem to be comfortable with having the roof closed which I see as a positive," the Wales coach told a press conference at the Vale resort on Tuesday.
"We are going to go out and hopefully create a spectacular atmosphere and let's hope it's a great game of rugby.
"I think we need to be consistent about the roof. My opinion about the roof is that it's our stadium and we should decide whether it's open or not.
"At the moment, we have always been consistent that we want it closed. It gives us a great atmosphere but at the moment it feels like it's decided by the away team," said the New Zealander.
When it was pointed out that debutant Josh Adams was the only non-Scarlet in the back line, Gatland smirked "Ex-Scarlet".
"He's done well," he continued. "He's top try scorer in the Premiership and probably the advantage he has had over the other guys is that he has is that he has been playing regularly.
"Leigh Halfpenny has not been paying a lot of rugby, Steff Evans has been out for a few weeks as well. Hallam Amos hasn't had much rugby, so the fact he has been playing on a regular basis and been scoring tries means he gets a great opportunity to stake a claim.
"He is a right winger as well, so there's a great chance for him.  
"We have been having a look at him recently and the fact he has been starting regularly for Worcester and scoring tries for a team who are not necessarily at the top of the table – he's got to take a lot of credit for that.
"He's played a lot at full-back too and we've been impressed with him over that past couple of weeks he has been in camp."
Gatland's team is two-thirds Scarlets and he said their European form was a big factor in his selection.
"We looked at combinations and guys being familiar with each other. Combinations in terms of that 9, 10 midfield area in particular and the front row as well.
"That familiarity is important to fast track us in terms of preparation and it will hopefully get us off to a good start in the Six Nations.
"I think it's great that the Scarlets have made the quarter-final. Having a group of players come in with the confidence and self belief in their individual performance but also as a collective performance is great.
George North has not been selected for Saturday after pulling up in the warm-up of Northampton's game against Sale.
Gatland said: "He needs some rugby. He was hoping to get a run out last weekend for Northampton, but his hamstrings were a little tight after quite a heavy week of training.
"He is going to be released back this weekend to get a game so hopefully he can get 60 minutes and put himself in contention for possibly selection against England."
Number 10, Rhys Patchell, is selected for his first Six Nations game, having last played for Wales four and a half years ago.
"It's great! It feels a lot longer with the bumps and bruises I've picked up along the way and I'm looking forward to having the opportunity on the weekend.
 "Moving to the Scarlets has been good in terms of the development of my game and playing a team so full of confidence obviously helps.
"We have been fortunate in the way we have gone this year. There's a few of us Scarlets in the squad and hopefully that sort of understanding will stand us in good stead because the Principality Stadium is a very difficult place to play in terms of noise.
"I know it sounds really daft but the sound was the biggest thing that struck me in the autumn – how difficult it was to communicate.  A couple of familiar faces around the place will help."